Before we start our story, here is the short list of frequently used terms with explanations:
The Rocky Mountains, a major mountain range in the western part of Canada and the United States.
Banff National Park, the park located in the Rocky Mountains of Canadian province Alberta. Being the oldest national park in Canada, Banff National Park is home for the most famous Lake Louise and the luxe hotel The Fairmont Chateau Lake Louise.
Town of Banff, a resort town located in Banff National Park.
Jasper National Park, the largest park in the Canadian Rockies, famous by its glaciers.
Town of Jasper, a resort town located in Jasper National Park.
For you to better understand how far from each other the main destination points in the Canadian Rockies, here some distances:
Calgary – 80 km (50 miles) – the town of Canmore – 25 km (15 miles) – the town of Banff – 58 km (36 miles)– Lake Louise – 230 km (143 miles) – the town of Jasper
From Montreal, we flew into Calgary.
Travel tip
The Canadians do not need a passport to fly within Canada. A driving license or an insurance card will be enough. It was funny when I showed by mistake my Costco membership card -:) at the registration desk.
From Calgary, you take the Trans-Canada Highway to get to the town of Banff or to the town of Canmore. To get to the Lake Louise from the town of Banff alternatively, you can also take Bow Valley Parkway. From the Lake Louise to Jasper you follow Highway 93 called Icefields Parkway. The Bow Valley and the Icefields are two famous scenic driving routes in parks of Banff and Jasper.
During our summer trip, we drove back and forth on Bow Valley and Icefields at least five times!
Town of Canmore, the gate to Banff National Park
What makes the town of Canmore special? Unlike the town of Banff and the village of Lake Louise, the town of Canmore is located outside of Banff National Park. For us, tourists, this means that hotels prices in Canmore are much cheaper. However, there is ONE EXCEPTION. We will tell about it later on.
If you have never seen the mountains (our case before that trip), you will be charmed by Canmore surrounded by rocky peaks. The most famous of them are called Three Sisters.
We wanted to have lunch outdoors. Searching for a picnic area, we discovered a spectacular Querry Lake Park with panoramic mountain views.
Address: Querry Lake Park
We fell in love with that beautiful park and spent there the rest of the day until it was getting dark. It was Querry Lake Park where we saw the turquoise water for the first time.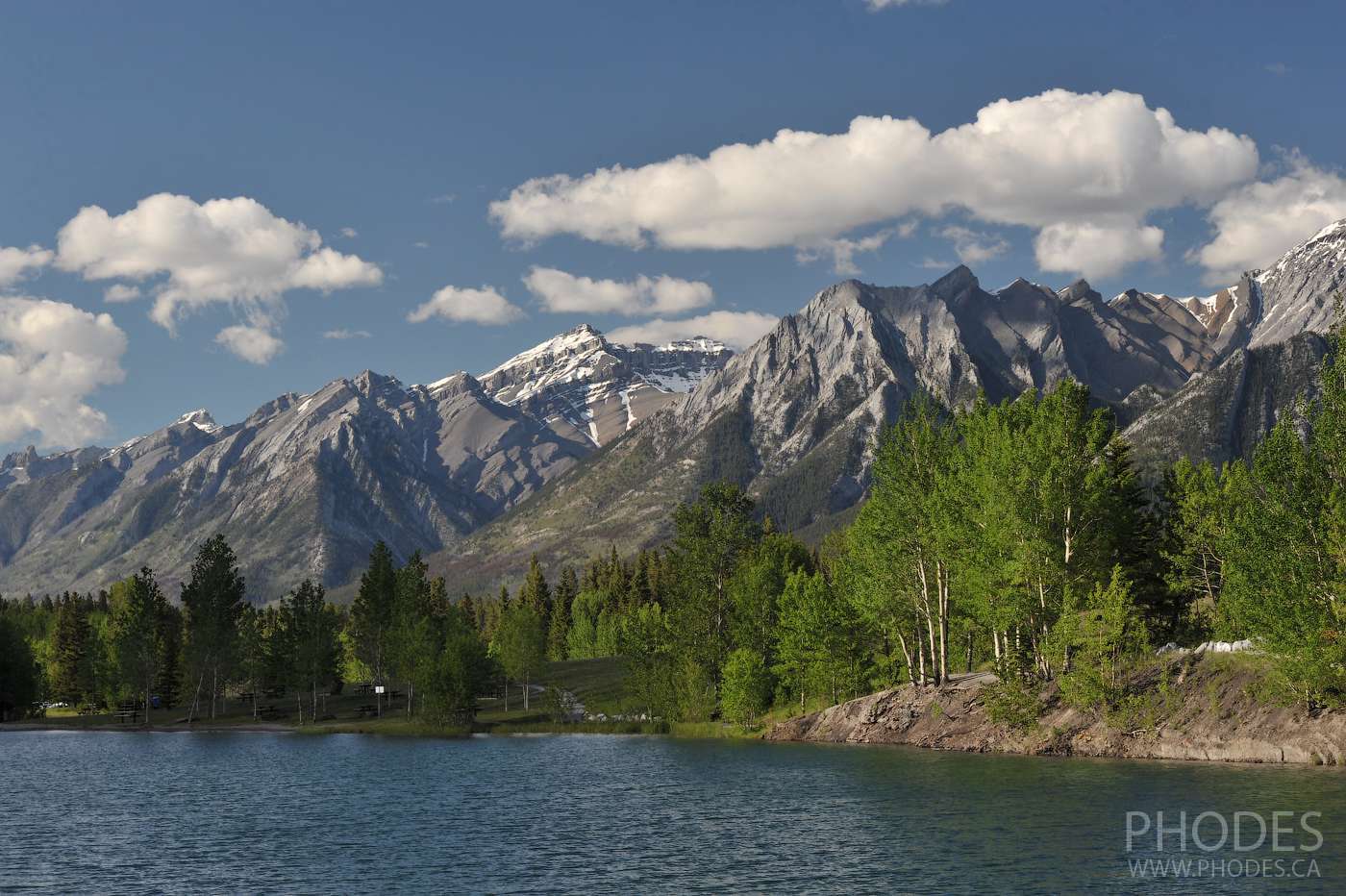 Good news for those who travel with a dog. The Querry Lake Park is off-leash dog park.
Later that night we stopped at the Canmore Nordic Center which is located a few kilometers from Querry Lake Park. We promised to ourselves to come back here in winter to do cross-country skiing on the Olympic ski trails. We wrote about our winter trip to Banff earlier.
Lake Louise, hiking to glacier Victoria, Grizzly Express gondola
Lake Louise… The most famous and most visited lake in National Banff Park!
To be honest, until we saw the color of water with our own eyes, we were sure that all pictures of Lake Louise on the Internet are photoshopped.
When we saw Lake Louise, we exclaimed in one voice: "It is really blue!"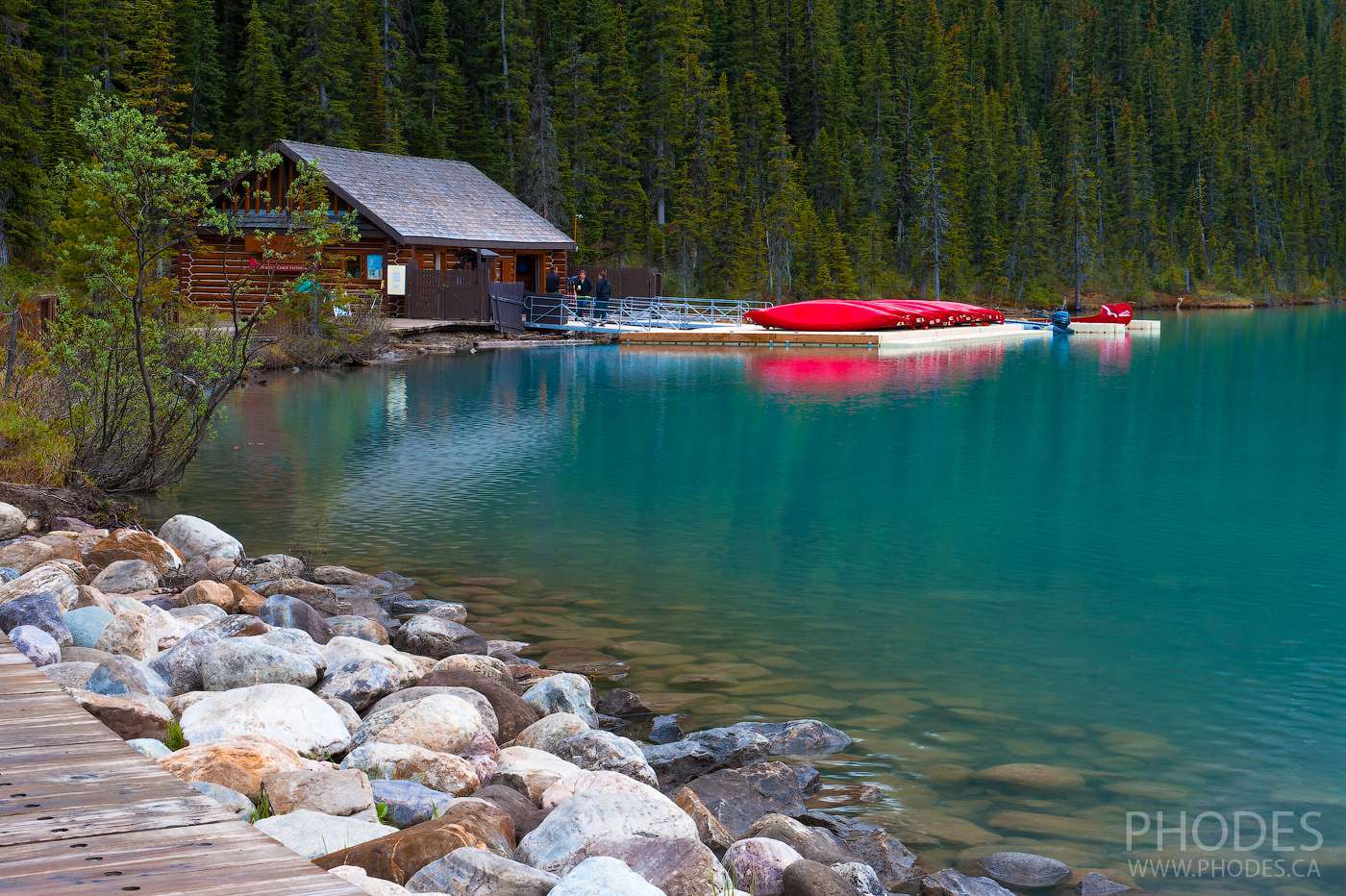 It was funny to look at one of the tourists who filled a plastic bottle with water at different points around Lake Louise. It seemed like he wanted to bring the water as a souvenir. He did it in vain. Every time the water in the bottle was colourless.
Do you know why the water is blue?
Rock flour with meltwater flows to Lake Louise. Being very light the rock flour stays suspended in water for a long time. The sunlight reflects off the rock flour gives a turquoise blue color to the water. Depending on the season, the color of the lake changes from blue to green. By the way, the water temperature in Lake Louise, even in summer, no more than 7° C (44 °F).
As we have already mentioned, the luxurious Fairmont Chateau Lake Louise is located on the shore of Lake Louise. Even if you are not a hotel guest, you can always go inside and take a walk on the ground floor. There is a small exposition of photographs of the construction of the railway and the hotel itself.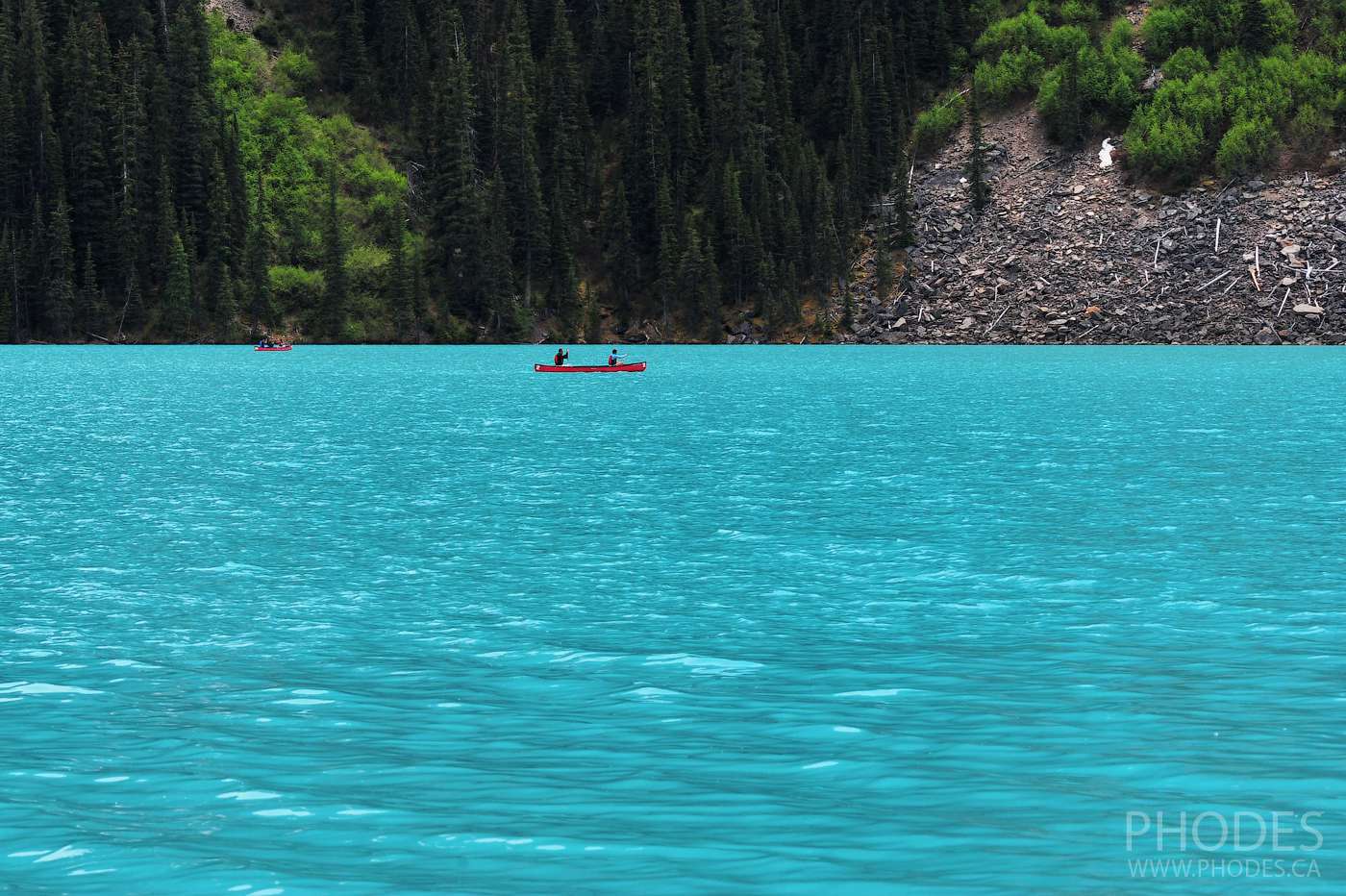 What to do in Lake Louise? You can explore Lake Louise by kayaking. Around the lake, there are multiple trails for hiking. Since we did not have a lot of time, picked the most interesting hiking trail for us Plain of Six Glaciers.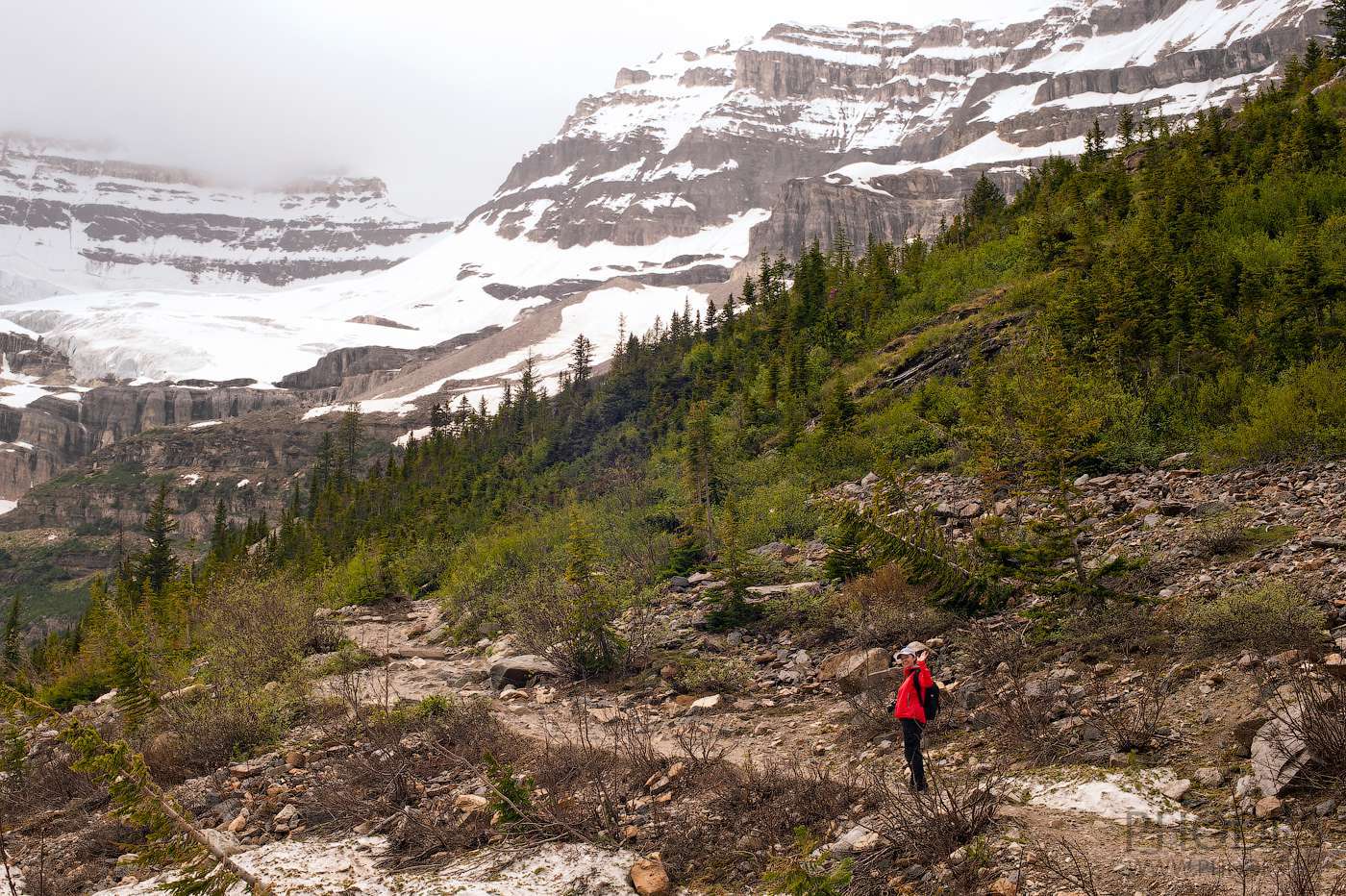 The start of the trail was pretty easy – we were walking along Lake Louise. Then the trail became steeper, the air was getting colder. At the endpoint, we looked at the glacier Victoria, and the clouds were floating below.
Travel tip
We can not imagine hiking or skiing without our buffs. Must to have headwear for outdoor activity! We like that the buffs absorb sweat and dry quickly. During long hiking, the photographers will be happy to have a chest vest for a photo camera.
We had another reason to take the Plain of Six Glacier trail. According to a guide, at the end of the 5-kilometer trail, there will be a Swiss-built tea house, a place to have a snack. The last kilometer of hiking was the most difficult. Our driving force was the thought about hot tea.
To our surprise, at the tea house, they served not only tea but hot soup. All food in the tea house is prepared on gas. There is no electricity. However, they accept credit cards.
That was one of the best lunches in our lives! With glacier view and avalanche rumble!
You can enjoy another Lake Louise view if you take Grizzly Express.
We bought a package with breakfast included. We should admit was a good idea. Sunny morning, the area is not crowded, delicious buffet breakfast with mountain view…
At the end of the gondola ride, we saw microscopic Lake Louise.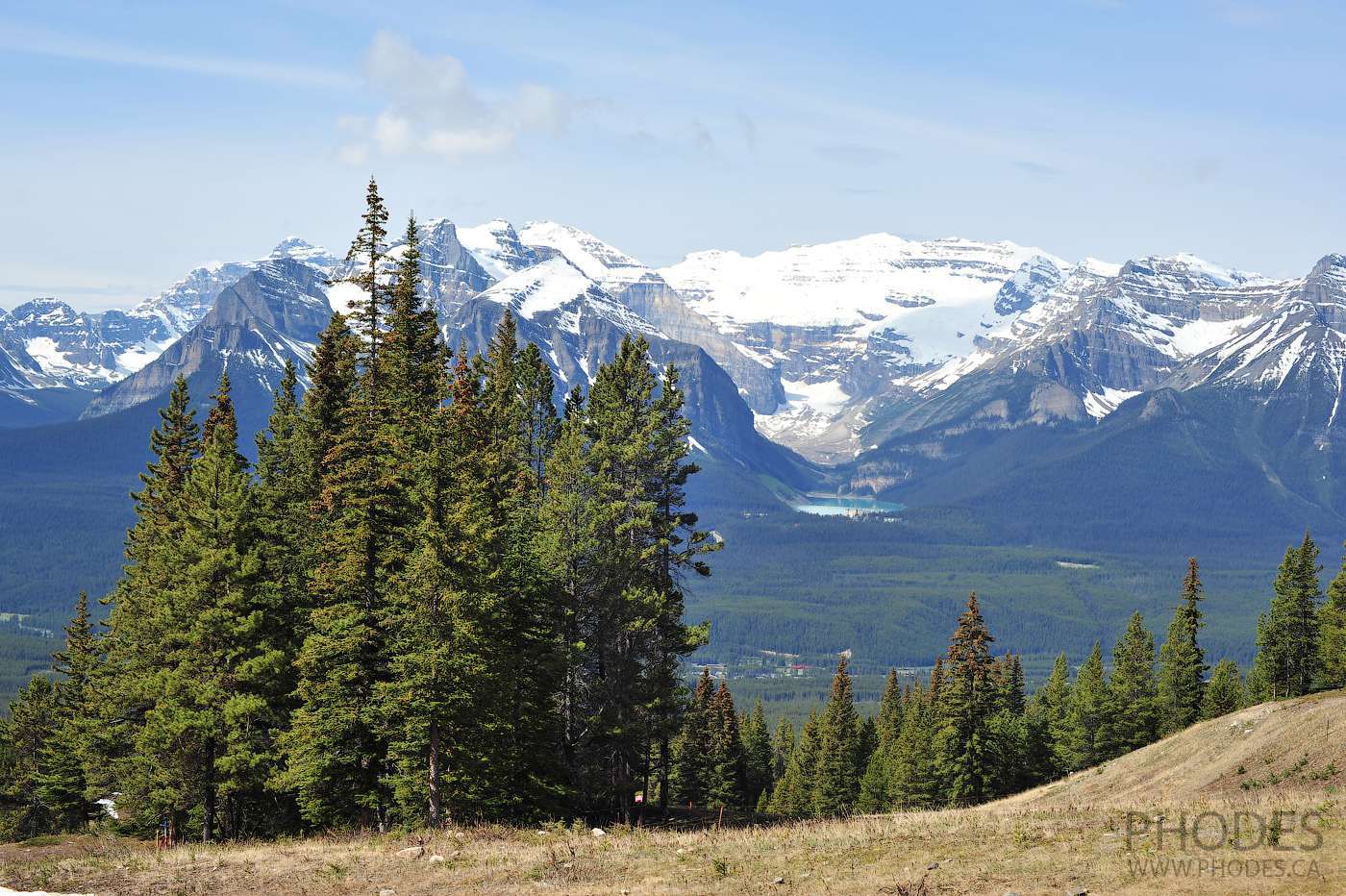 On our ride back we spotted Grizzly bear mom with cubs.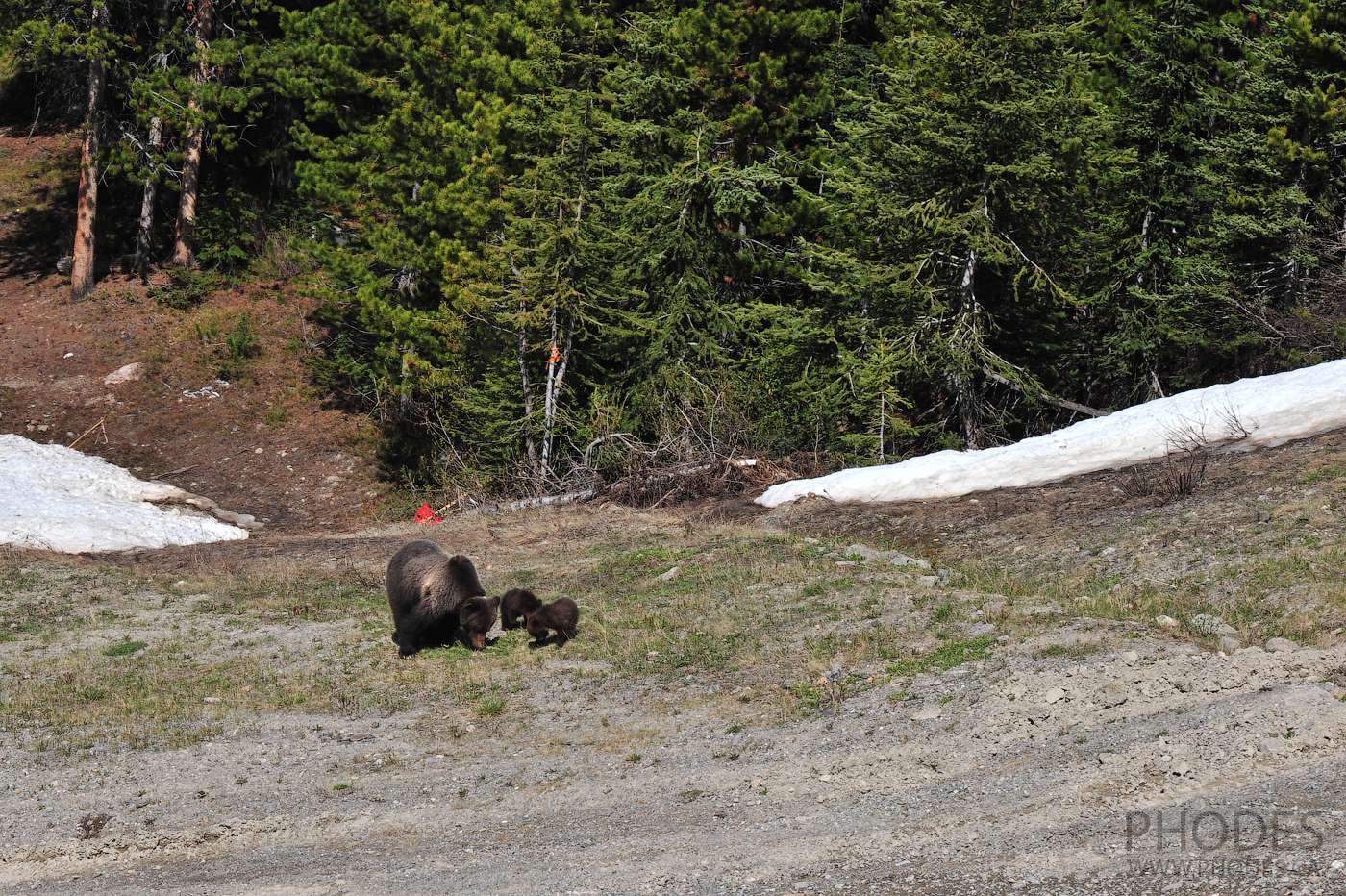 Being on Lake Louise you simply must visit another beautiful lake, Moraine Lake. Both lakes are within 15-kilometre (9-mile) distance from each other.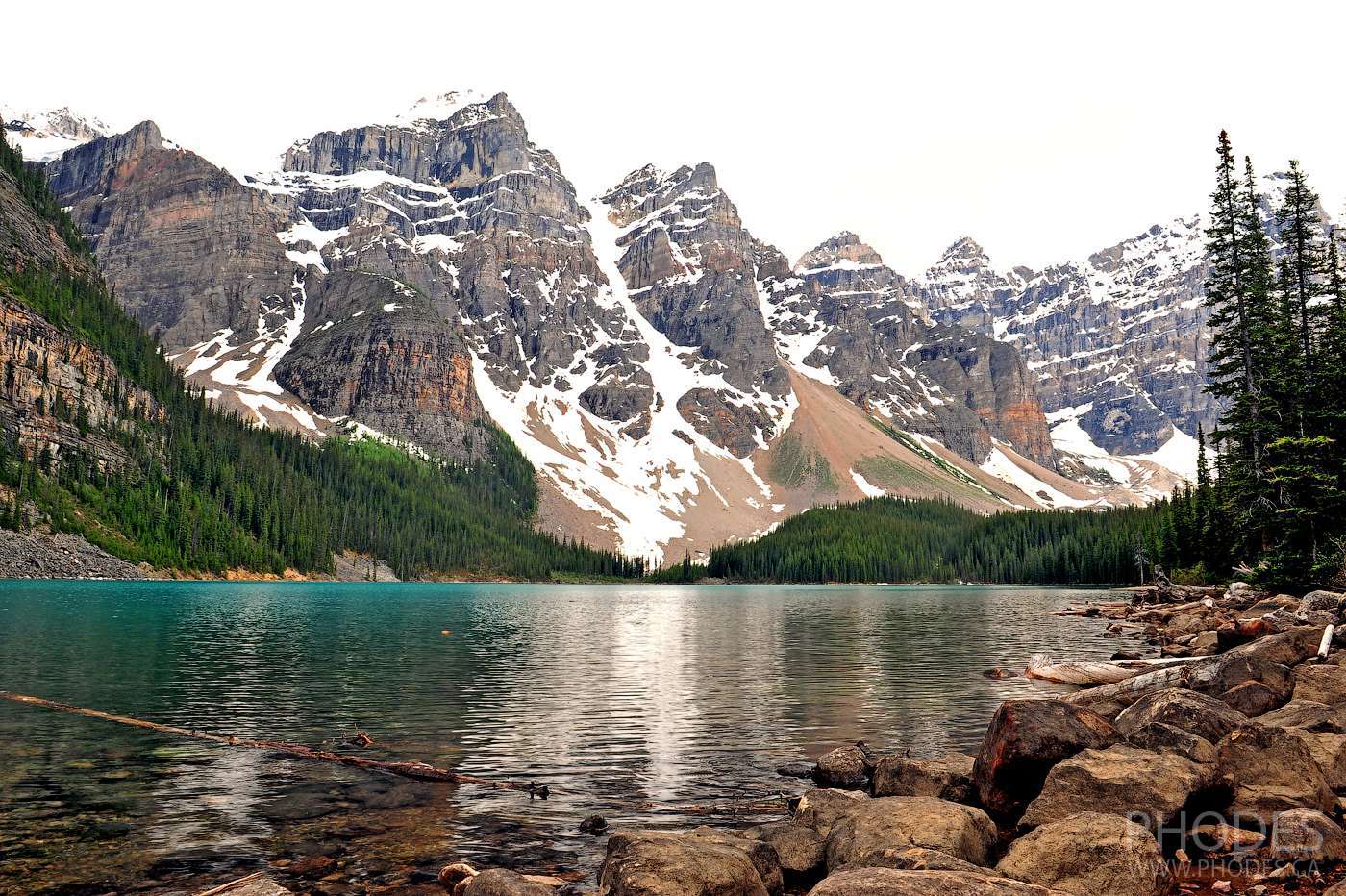 Town of Banff, Miniwanka Lake, and Johnston Canyon
After our two trips to the Rocky Mountains, we can say for sure that the town of Banff has a perfect location, close to the main attractions. So it makes sense to book a hotel in the town of Banff for a few days. We strongly recommend doing it in advance so as to avoid having bad surprises. Not our case…
We are of those travelers who book hotels last minute. All our stops are usually spontaneous. Plus, our itinerary depends on the weather.
Let's go back to the ONE EXCEPTION we promised to tell above. After a tasty dinner at Banff Ave Brewing Co (by the way, we highly recommend) we started looking for a hotel. All applications like expedia, trivago… returned "no vacancies" within a radius of 100 km from the town of Banff.
As we found out, that weekend the town of Banff was hosting a cycling event. That is why all hotel were sold out even including the town of Canmore.
Where did we stay for a night after all? This is another story… with a happy end!
What is special about the town of Banff? It is nice to walk around at any time. The town of Banff is also located in the middle of the mountains like Canmore. The main street Banff Avenue seems to go up to the mount.
Our travel goal was to see the nature of the Rocky Mountains. Therefore, we did not stay long in urban areas. Let's discover new scenic landscapes!
Miniwanka Lake is located 5 km (3 miles) from the town of Banff. Miniwanka Lake is the second largest lake in Banff National Park. You can stop here for camping or just to have lunch in one of the beautiful picnic areas. Around Miniwanka Lake there are a lot of hiking trails. Also, you can rent a boat or canoe to enjoy the mountain view from the middle of the lake.
Johnston Canyon is located within 25 km (15 miles) from the town of Banff towards Lake Louise.
You can go to Johnston Canyon after visiting Miniwanka Lake. Only half an hour of driving and you enjoy the cool air of the canyon.
Johnston Canyon round hiking took about 4 hours. The trail is about 11 km (6.8 miles). In the afternoon there are a lot of tourists. So come as early as possible.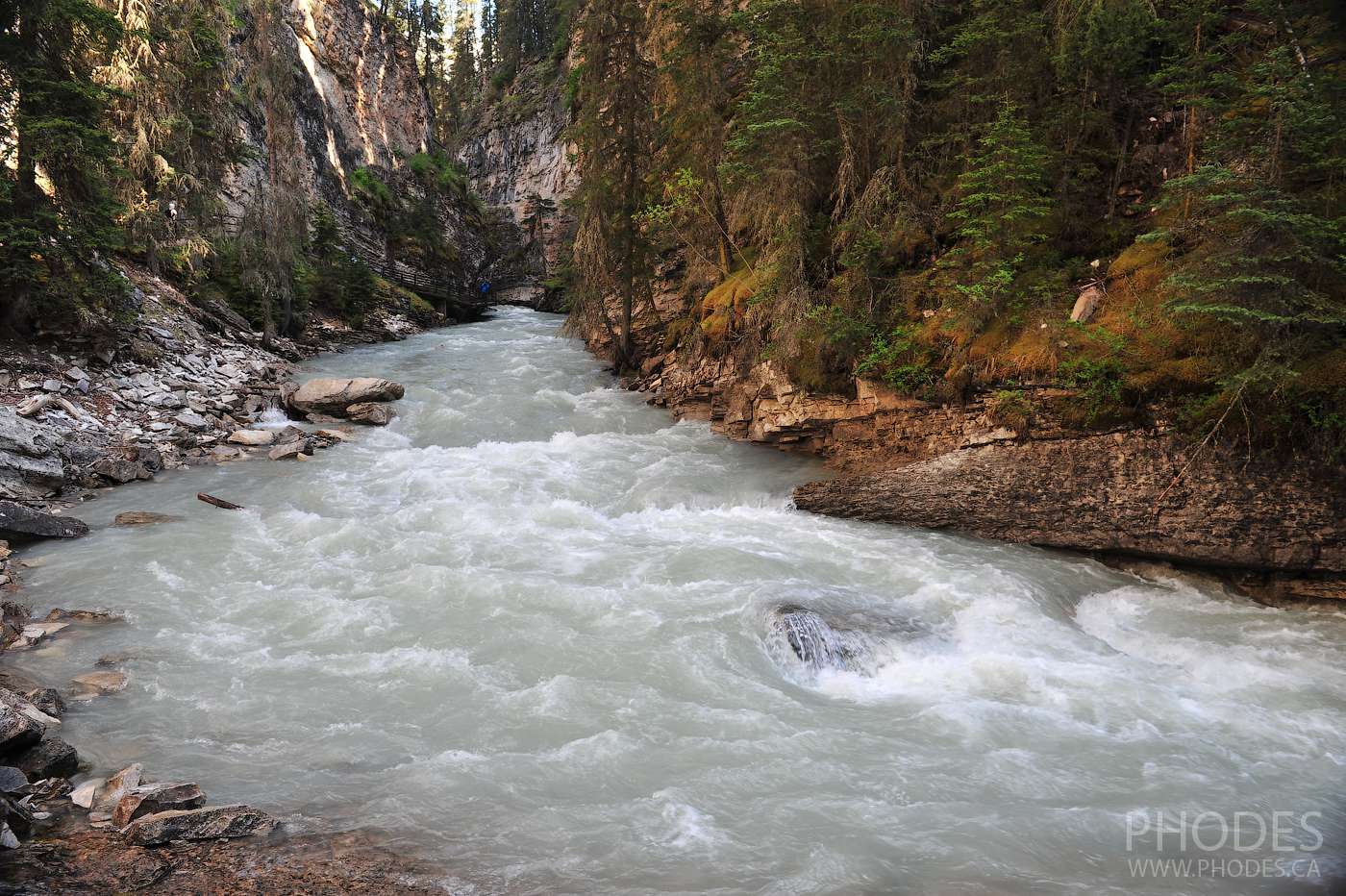 Radium Hot Springs
So let's finish the story… Where did we stay for a night when "Banff" was fully booked? We expanded the search radius and found a room at Tyrol Motel. The motel is located 130 km (80 miles) from the town of Banff in the village of Radium Hot Springs in the province of British Columbia.
Address: 5016 BC-93, Radium Hot Springs, BC V0A 1M0
The motel was wonderful! Nice clean room with a kitchenette. If we ever go to the same area, we will definitely stay at Tyrol Motel again.
The following morning we spoke more with the owner. He was as talkative as we are. It is from him we learned about Radium Hot Springs, which are within 5-minute of driving from the motel.
We really recommend you to find some time to enjoy the hot mountain bath in a swimming pool surrounded by the Rockies. Radium Hot Springs are open all year round! While we were soaking in the hot bath on a cool summer morning, we already knew that we would come to Radium Hot Springs in winter.
Travel tip
The Radium Hot Springs pools are located on the territory of Kootenay National Park. We suggest buying an annual Discovery pass. It pays off very in a blink of an eye in the Rocky Mountains. Plus, you do not need to worry about entering the National parks anymore.
You can visit the similar hot springs in the town of Banff (Banff Upper Hot Springs) and in the town of Jasper (Miette Hot Springs).
We did not have a chance to visit Miette Hot Springs. As for the Hot Spring in Banff, we have been there twice. Anyway, our choice is Radium Hot Spring: less crowded and we like more the landscape around.
Peyto Lake hiking
During our first trip to the Rocky Mountains, Peyto Lake became our favorite. We gave it a nickname "little fox" because of its shape. Its blue color is something unreal!
Peyto Lake is located 45 km (28 miles) from Lake Louise on Icefields Parkway. If you go from Lake Louise to Jasper, you need to turn left from the parkway to get to Peyto Lake. The turn is not very prominent. Once we bypassed.
The main lookout is always full of tourists.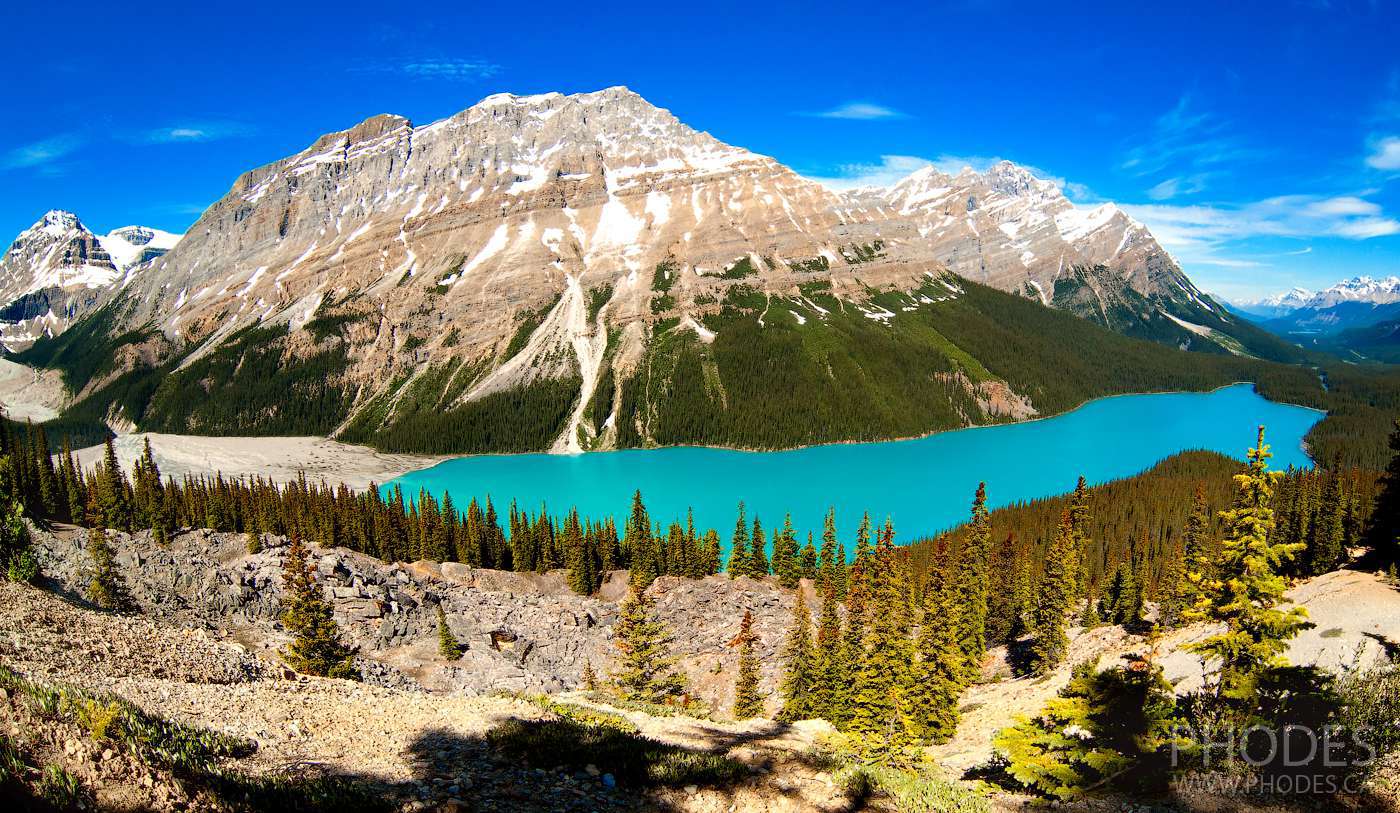 Looking for a quiet place we decided to hike down to Peyto Lake. It was the most extreme hiking we have done so far. A couple of kilometers of steep downhill and the same distance uphill to go back. It was harder than usual because we were in sandals. We thought the hiking would be easy enough, and we do not need our shoes for hiking. Big mistake!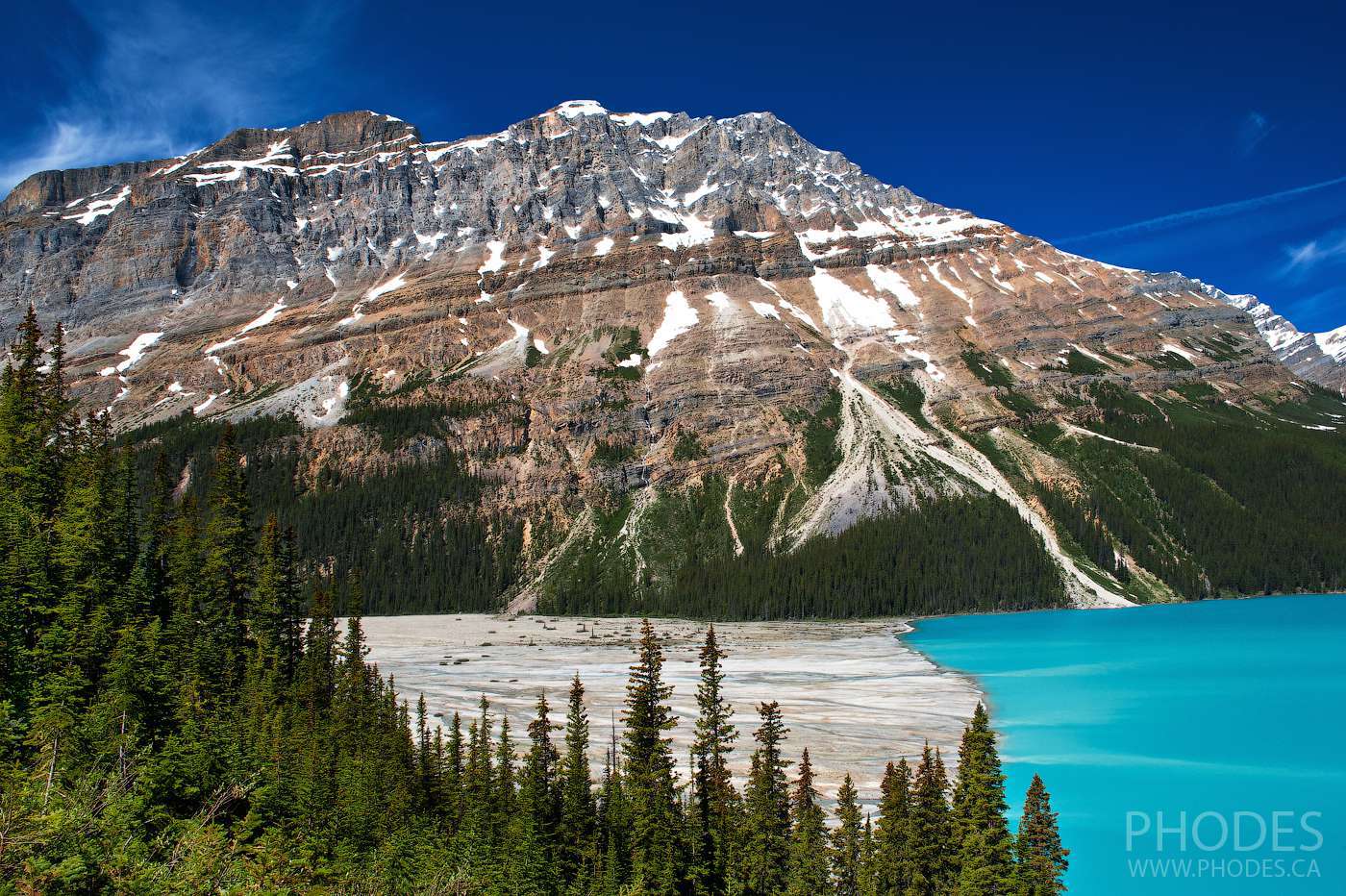 We enjoyed the beauty of Peyto Lake not very long. The bear tracks on the ground made us hurry up.
Did you know?
To prevent bear attack you can buy a special bear spray. Another way not to meet face to face with a bear is to walk in a group. On some trails, it is even forbidden to go hiking, if the group is less than four people. Moreover, it is better to speak loudly.
Jasper National Park, glacier Athabasca, Maligne Lake
No matter how attractive the mountains are, after a few days of travel, "Wow!" effect disappears. Mountain landscape became something ordinary for us. Until…
As soon as we came to Jasper National Park, a new wave of emotions caught us! Mountains covered with white snow, glaciers… The views are completely different!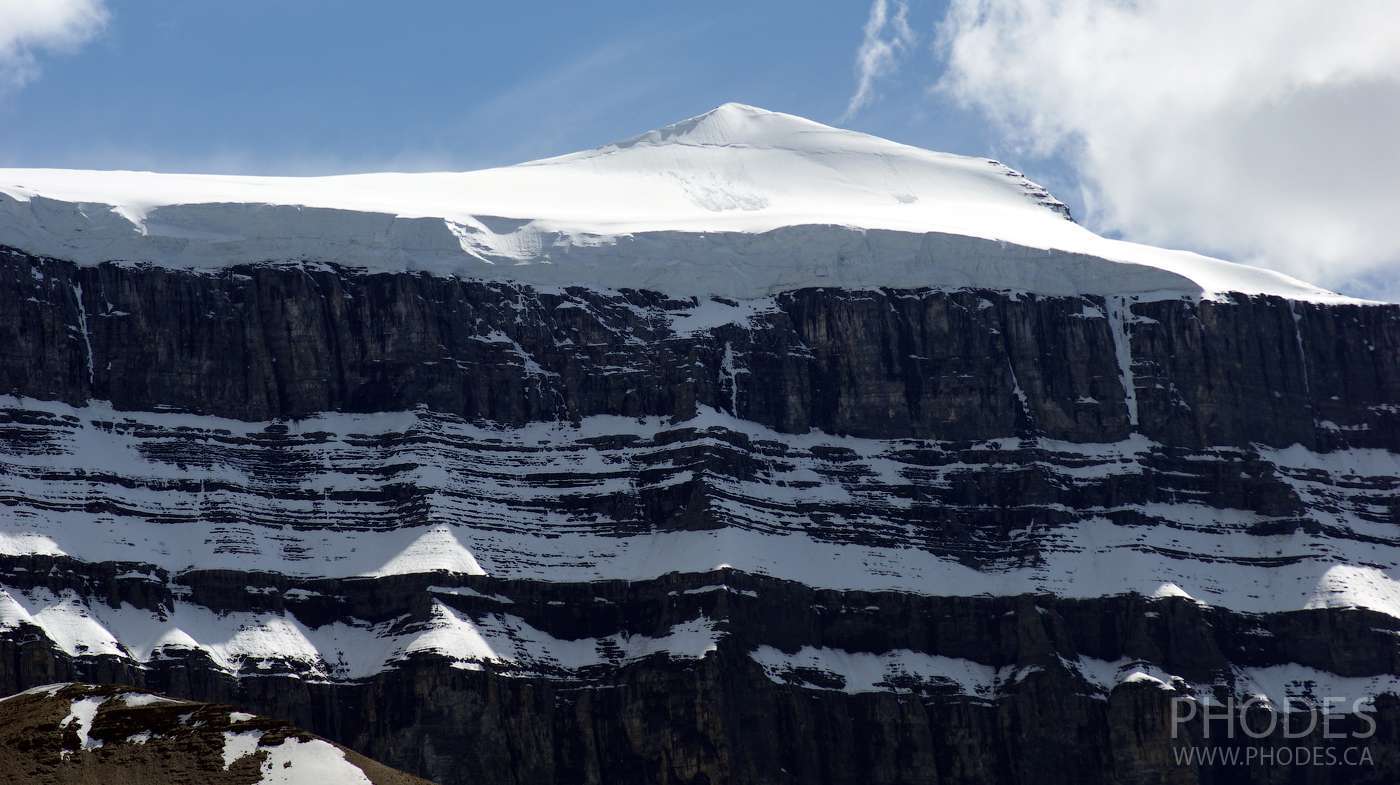 Travel tip
Grab warm clothes! Even mittens! In Banff park, and especially in Jasper are not the hottest places in the world, even in summer. One morning driving through Jasper, we noticed the temperature outside was 6° C (42° F). It was the end of June.
Our walk to the Athabasca Glacier was one of the highlights in Jasper National Park.
The Athabasca Glacier is located 200 km (124 miles) from the town of Banff. To get to the Athabasca Glacier you take Icefields Parkway to drive to the Columbia Icefields Discovery Centre which has a parking lot.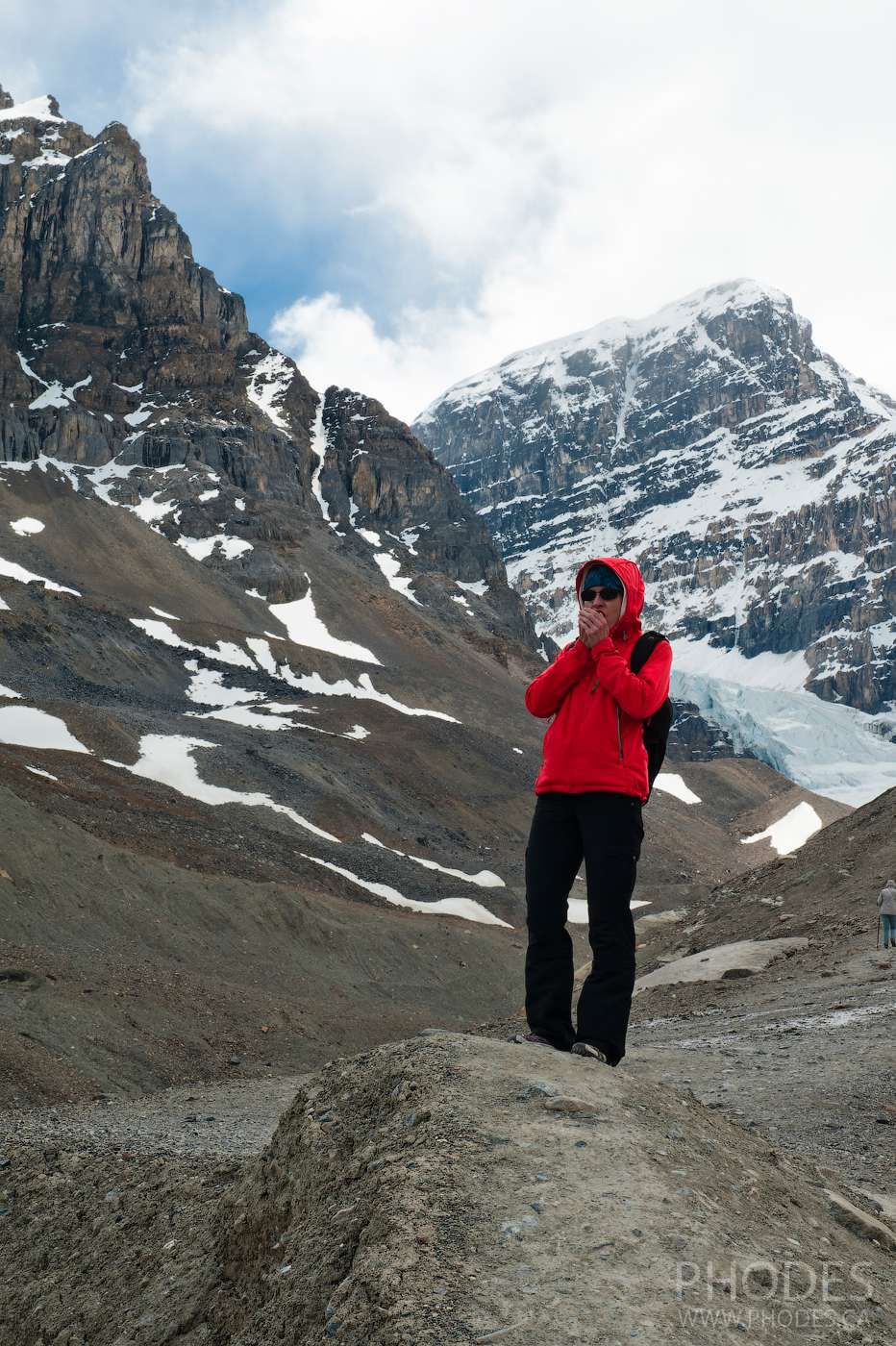 At the Athabasca glacier, you easily spend a whole day. At the Columbia Icefields Discovery Centre, you can buy tickets for Columbia Icefield Adventure Tour, and many other tours like Columbia Icefield skywalk.
Maligne Lake is located 335 km (208 miles) from the town of Banff in Jasper National Park. As for us, we go to Maligne Lake from the town of Jasper. In that case, you drive only 45 km (28 miles).
Website: Maligne Lake
Address: Maligne Lake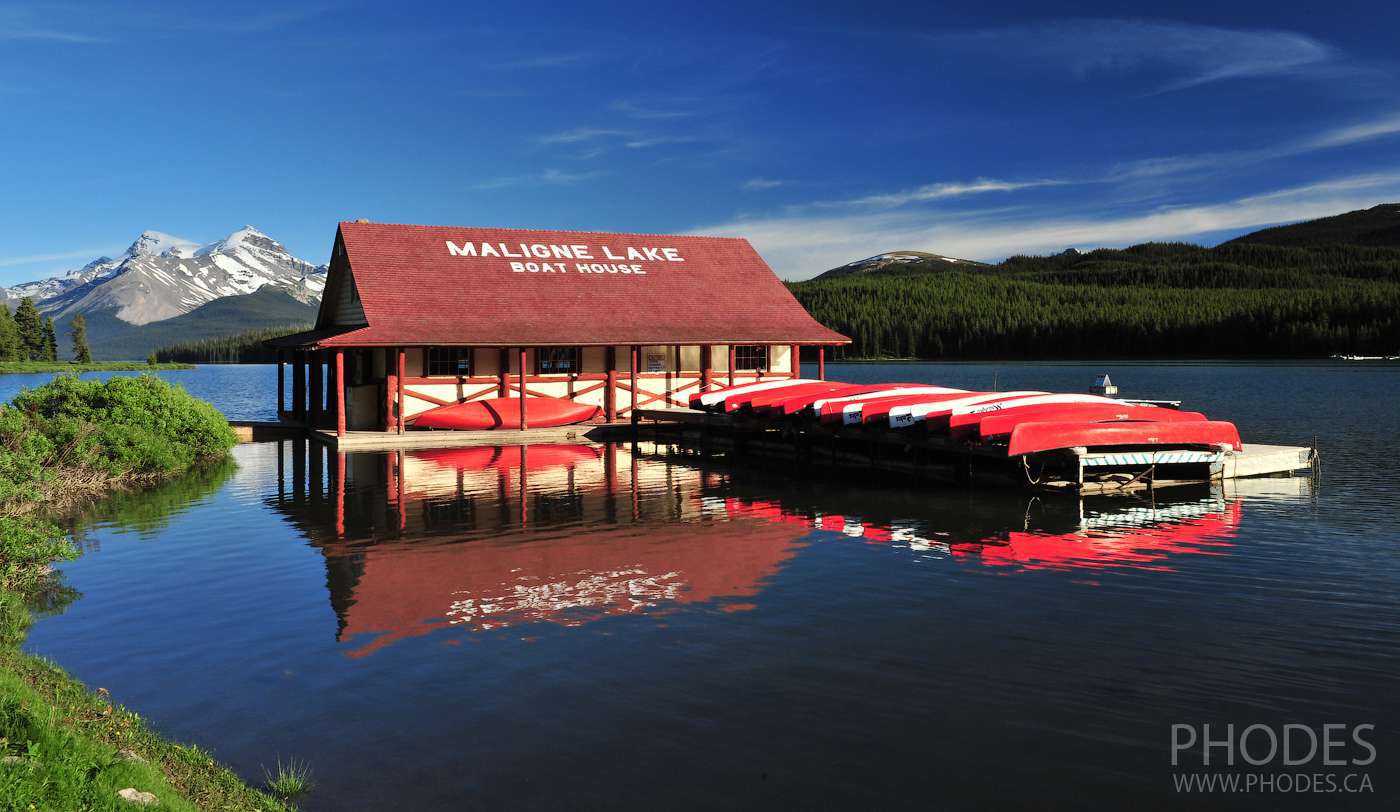 Maligne Lake is huge! Its length is 22 km (13 miles). Maligne Lake is the largest lake in Jasper National Park. You can stay at one of the three campsites and travel on the lake by canoe or kayak. There are also picnic areas.
When we arrived at Maligne Lake, the boat rent had been closed. It was a sunny quiet afternoon. So we simply enjoyed short hiking along the lake at sunset.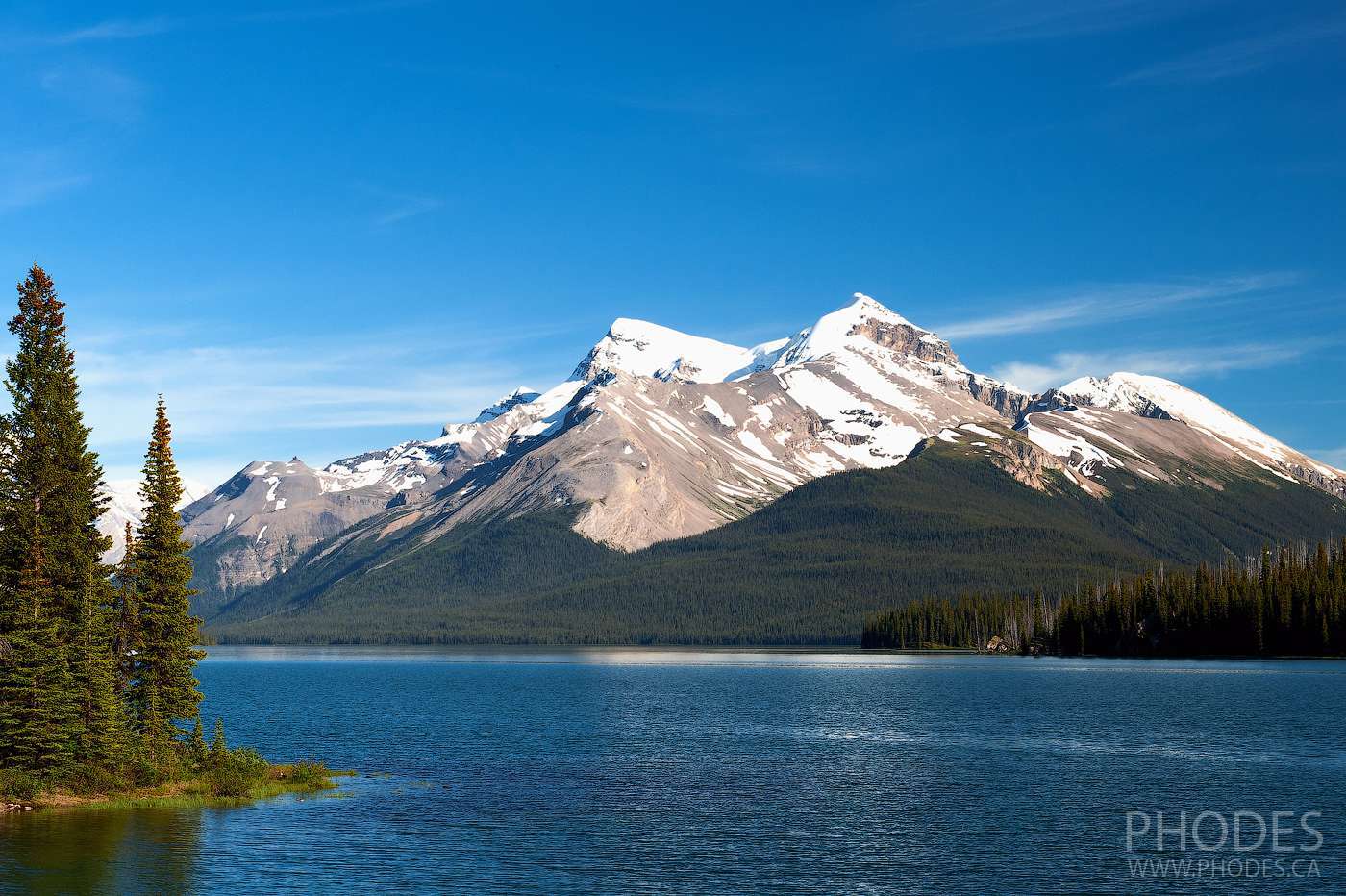 Jasper National Park is one of the best places for stargazing in Canada. We read it in a travel guide and decided to check it out. We stayed one night in our car hoping to take amazing pictures of the stars. We have to admit, that kind of adventures are not for the faint-hearted people. We could not even imagine that the dark night might be SO dark! You get off the car, close the door, and you are in a black room.
In order to take photos of the stars, we need to walk around 100 meters (300 feet) to get to open space. In the pitch darkness of Jasper Park, we were not brave enough to cover that short distance seemed. To make the story short, we did not bring any picture of the stars from Jasper Park.
By the chance, we found out that you can watch the stars in the Mont Mégantic Park in Quebec. In August 2018 we went there to watch the Perseids.
The city of Vancouver, Fly Over Canada, Mount Robson
So many times the city of Vancouver has been honored as the best city for living in the world! Being "only" within 900 km (560 miles) from that "dream city" (the starting point was the town of Jasper), we could not miss the opportunity to visit it for a couple of days.
We agree two days is not enough to get a complete picture of the city. However, more than enough to get a first impression.
Indeed, the city of Vancouver really stunned us. No, it amazed us! Maybe two weeks in the mountains made us forget what civilization is. That is why the city of Vancouver looked even a little bit futuristic. Perhaps the location of Vancouver impressed us: on the one side, the Strait of Georgia, on the other the mountain.
In Vancouver, we visited the oldest urban park in North America, Stanley park.
Website: Parking in Stanley Park
In Stanley Park, you find tons of activities for the whole family! For photographers, Stanley Park is a real paradise. We know what we are talking about. We walked around the park! The views are fantastic!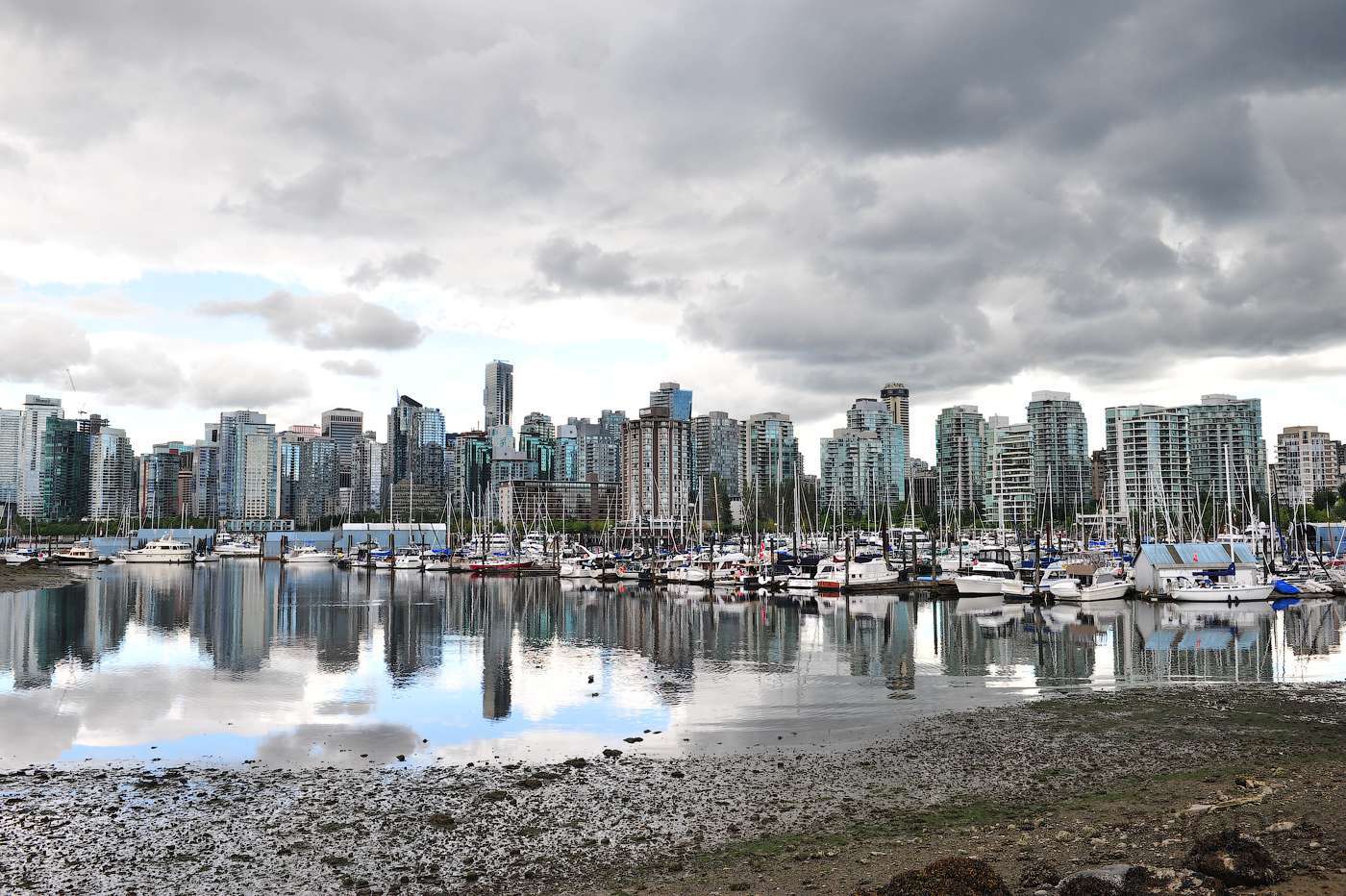 We walked along one of the street, Beach Avenue, with palm trees on each side. In Canada, it has been the first and the last time we have seen the palm trees growing outside.
Vancouver is famous for its rainy weather. From our experience, we can not confirm it. Our 2-day stay in July was full of the sun. But as a souvenir of Vancouver, we took a picture of a giant drop rain statue.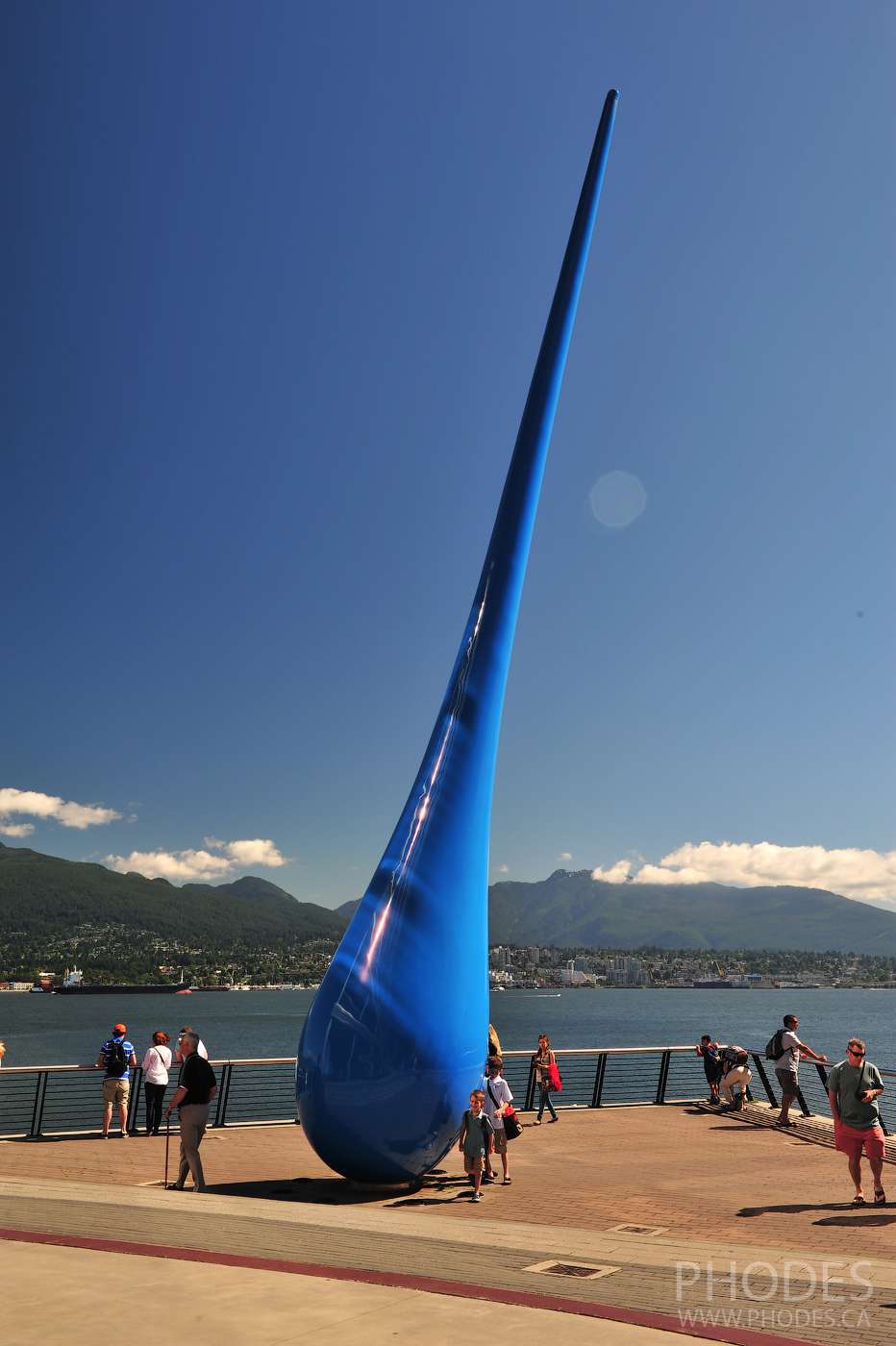 Flyer over Canada is MUST to visit attraction in Vancouver. We are not going to go into details. Just fasten your seatbelts and have a good flight!
We were excited about the center of Vancouver! But we decided to look at a part of the city far from downtown. To do that, we took a first SkyTrain, an automated train. Our ride lasted at least 40 minutes. Looking from the train windows our positive opinion about Vancouver did not change. Streets and sidewalks are cleaned and well maintained. In SkyTrain you can imagine yourself as a train driver by standing near the window in the first car.
When we had dinner in a Vancouver restaurant, we had a chance to see a scene which made us speechless for a moment. In front of the restaurant, as is usually the case, there was a homeless man with his stuff. At some point, he grabbed all his belongings and started… sweeping the sidewalk area in front of the restaurant! Along with our dinner, we were digesting what we just saw thinking "That must be a reason why Vancouver is so clean!"
On the way back from Vancouver, we stopped at the Mount Robson provincial park.
Address: 3222+22 Red Pass, Fraser-Fort George H, BC
You can not miss the park. Mount Robson is visible from the highway. Mount Robson is the highest point in the Canadian Rocky Mountains.
Our visit was on July 1, Canada Day. So we "celebrated" the holiday with Mount Robson.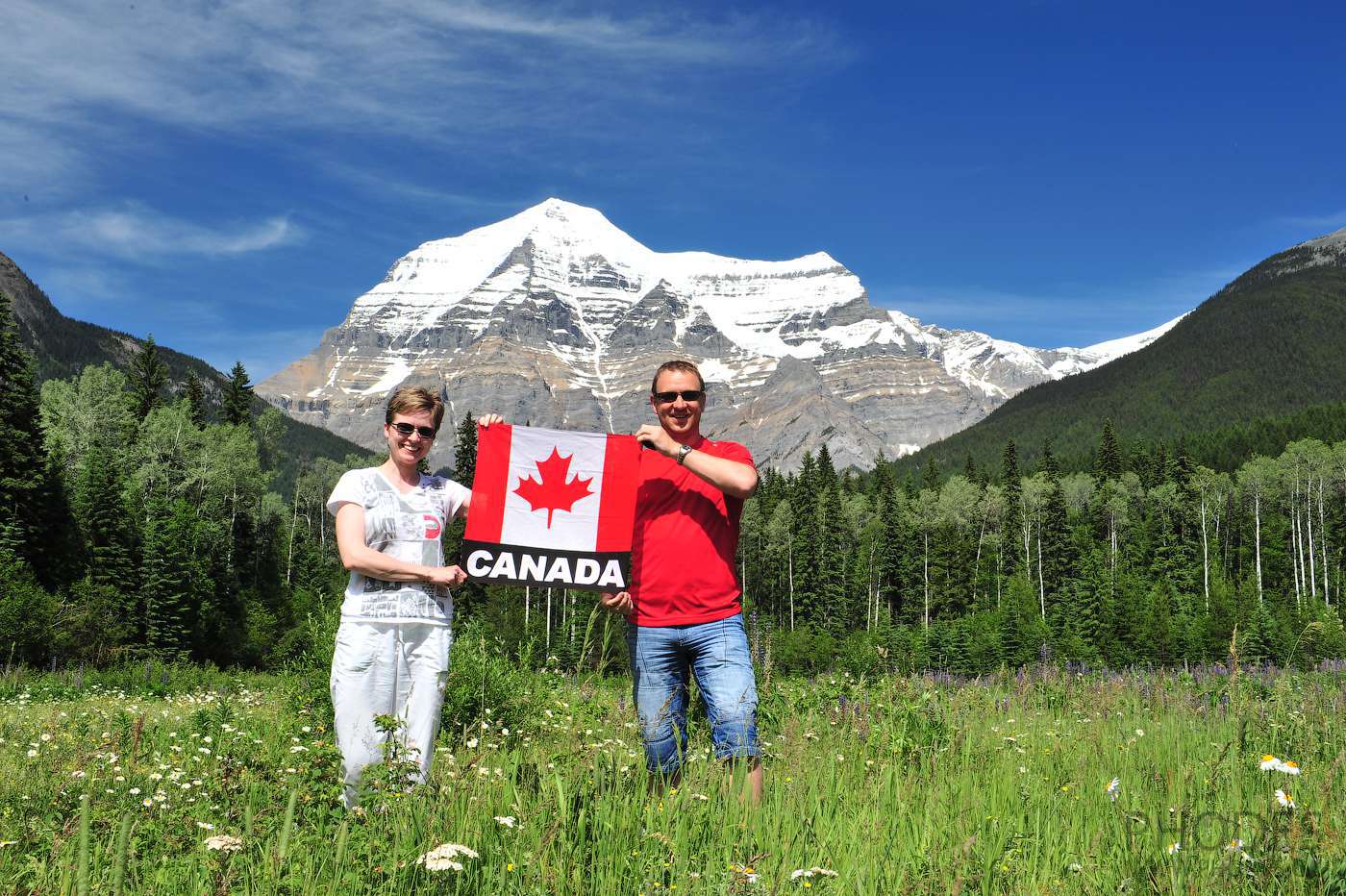 Wildlife in Banff and Jasper or how to see bears?
Driving through Banff and Jasper parks, get ready to meet all kinds of animals. You can spot them everywhere: crossing the parkways, walking in the towns and villages… This is normal. The animals consider the parks as their home. The animals are not rushing. So be patient! Just enjoy the wildlife!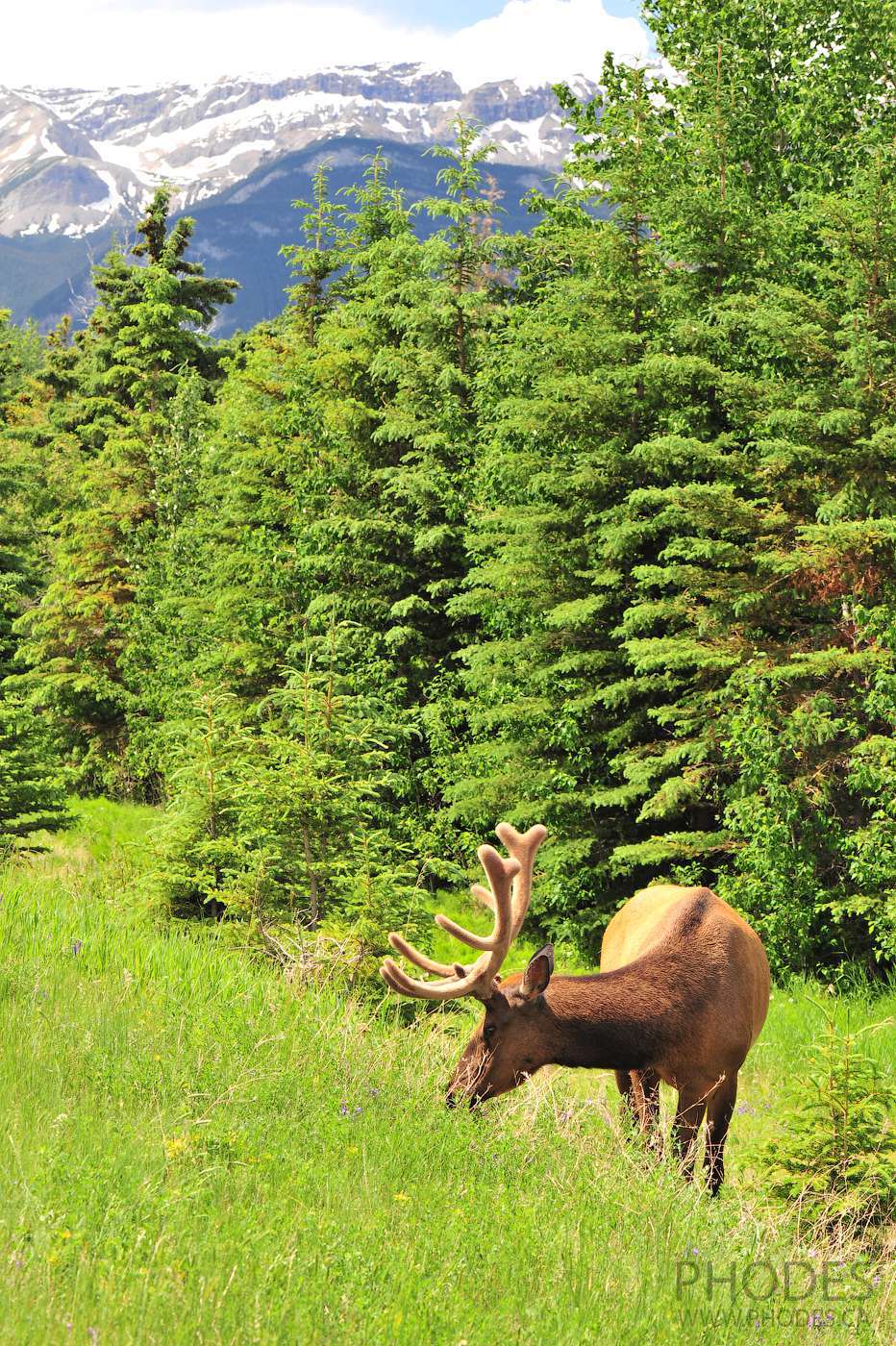 While driving, the sure sign of wildlife presence is vehicles parked off the road flashing by hazard warning lights.
The saddest part of our trip happened when we saw a bear. It was one more time when we stopped in traffic in Jasper Park to watch the wildlife. All of a sudden, we spotted a grizzly bear appearing from the right and slowly walking in front of our car. I managed to grab the phone, but… I did not press the record button. Unfortunately, back then we did not have a dashboard camera. Since then, one famous Russian song "Bear, bear, where is your smile?.." brings very sad memories.
That's been a short story about our first trip to the western provinces of Canada, Alberta and British Columbia.
Useful links