Home
What do we mean by Banff?
From a geographical point of view, everything is simple! There is the Banff National Park located in the Canadian Rocky Mountains. In its turn, a resort town Banff is located within the park 126 km (78 mi) from Calgary.
For us, the word Banff has become a household name, and it is more like a state of euphoria being among endless mountains.
Reasonable question: "Why Banff in winter?" The answer is simple: we visited the national parks of Banff and Jasper in the summer of 2014. Since then, our dream was to see the beauty of the Canadian Rocky Mountains covered by snow.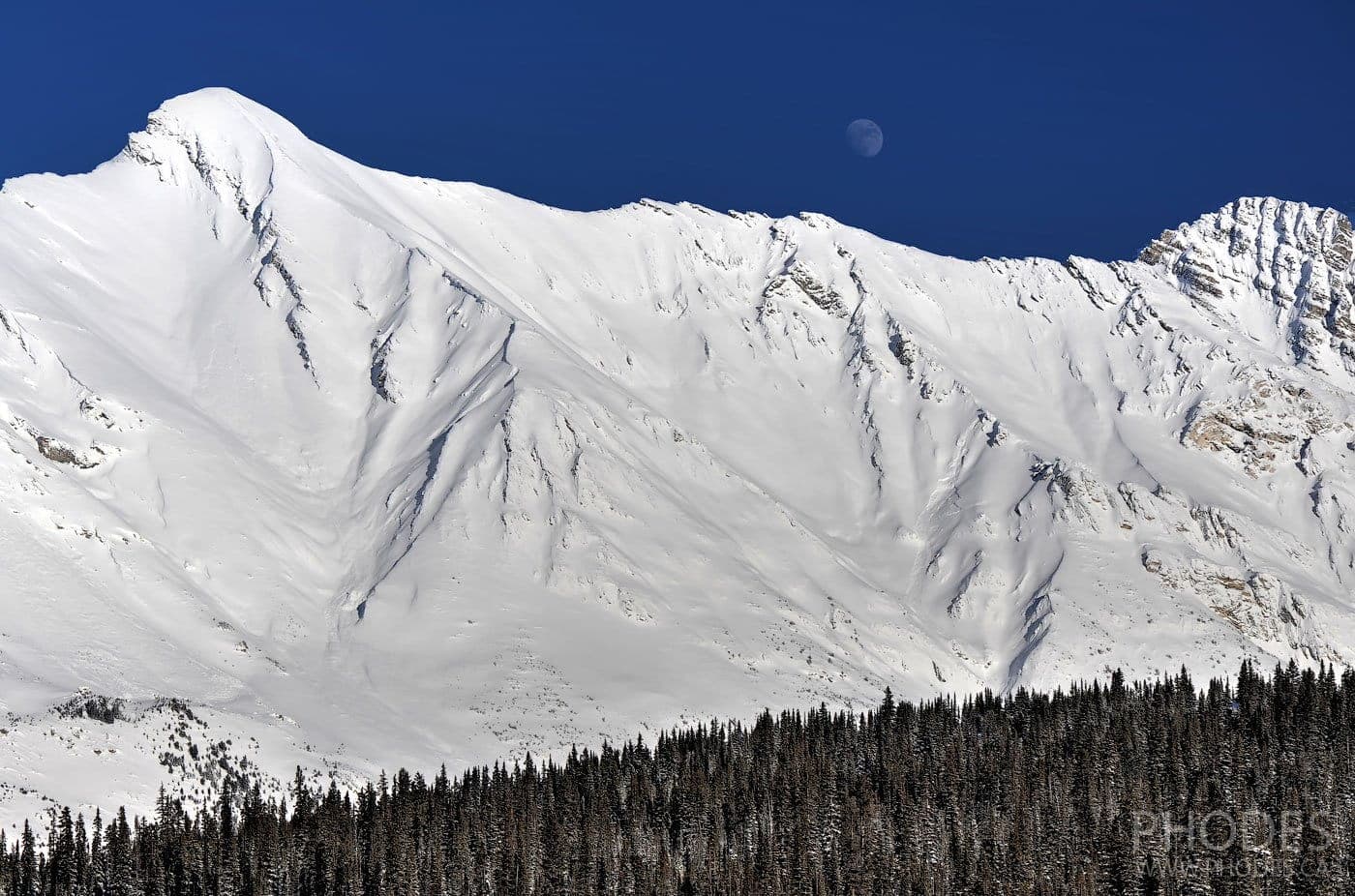 You can see most places we visited during our 7-day winter trip to Banff on the Google map.
We should admit, it was a very active vacation. We brought our skates and cross-country skis with us. And yes, we did skiing every day. So we paid for the baggage for good reason!
Tip for skiers
We brought all the luggage including our skis in our own car to the airport and used the service Park'n Fly, i.e. we paid for one-week parking. For seven days it was not very expensive (in 2017). It is great if you have a solid ski case for traveling. We only have a simple ski travel bag and ski straps. As per Air Canada, the solid case was not required. They asked though to tie well the skis. A couple of utility straps and our skis were ready to travel. Keep in mind your ski bag is one piece of luggage.
To cut a long story short, let's say in the very beginning what was the most memorable in our winter trip to Banff.
The most interesting that that place is located in the neighboring province of British Columbia, a half hour drive from the town of Banff.
No matter how active or passive your vacation is, in any case, you will spend a lot of time in a car. At some point you get tired, and then Radium Hot Springs bring you back to life.
Relaxing in Radium Hot Springs
Address: 5420 Highway 93 Radium Hot Springs, BC, VOA 1M0
The village of Radium Hot Springs named for the hot springs containing radon. We found that place by luck during our summer Banff trip looking for accommodation.
In the summertime, we enjoyed the giant rocks around us, bathing in a hot pool. By the way, water temperature is kept between 37ºC (98ºF) and 40ºC (104ºF). In winter at -15ºC (5ºF) surrounding by the same rocks covered by snow and catching snowflakes on the tongue, it was magical!
So, long story short, grab your bathing suits, shorts and go! To learn more about pricing in Radium Hot Springs.
You can bath and relax in similar hot springs called Banff Upper Hot Springs in the town of Banff. We visited both places in winter and summer. We prefer the Radium Hot Springs. The main reasons are the hot pool is much larger and less crowded.
Cross-country skiing in Canmore Nordic Center Provincial Park
Address: 1988 Olympic Way, Canmore, AB
You may already know from our previous post Top 10 classic and skate cross-country ski places near Montreal that cross-country skiing is our favorite winter activity. Going to Banff in February we dreamed about skiing surrounded by the mountains in Canmore Nordic Center. Canmore is the best place in Canada for both cross-country ski and biathlon.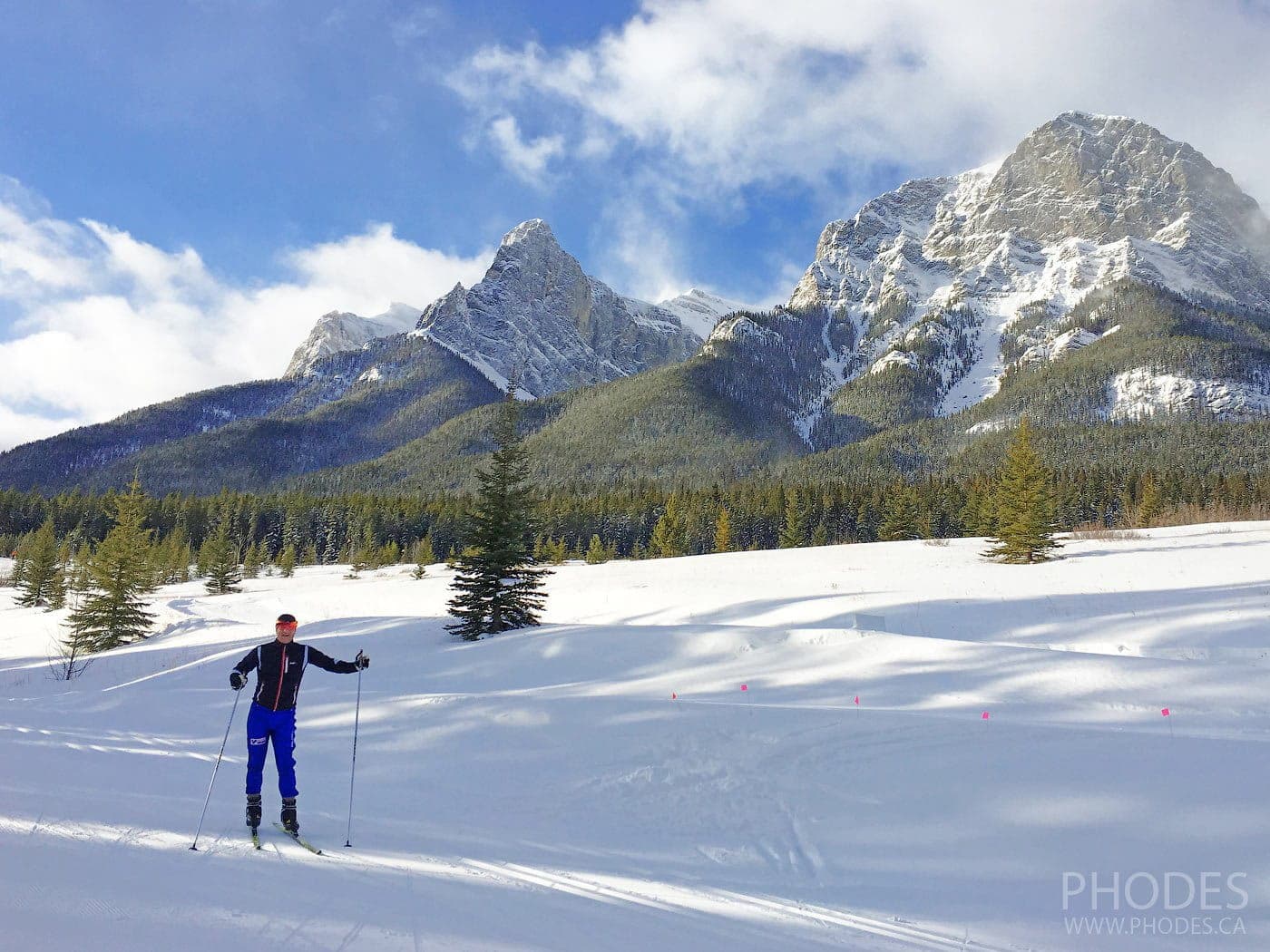 Did you know?
The Canmore Nordic Center hosted the 1988 Winter Olympics. Currently, throughout the year you can enjoy all kinds of competitions including the Ski World Cup and our favorite Biathlon World Cup.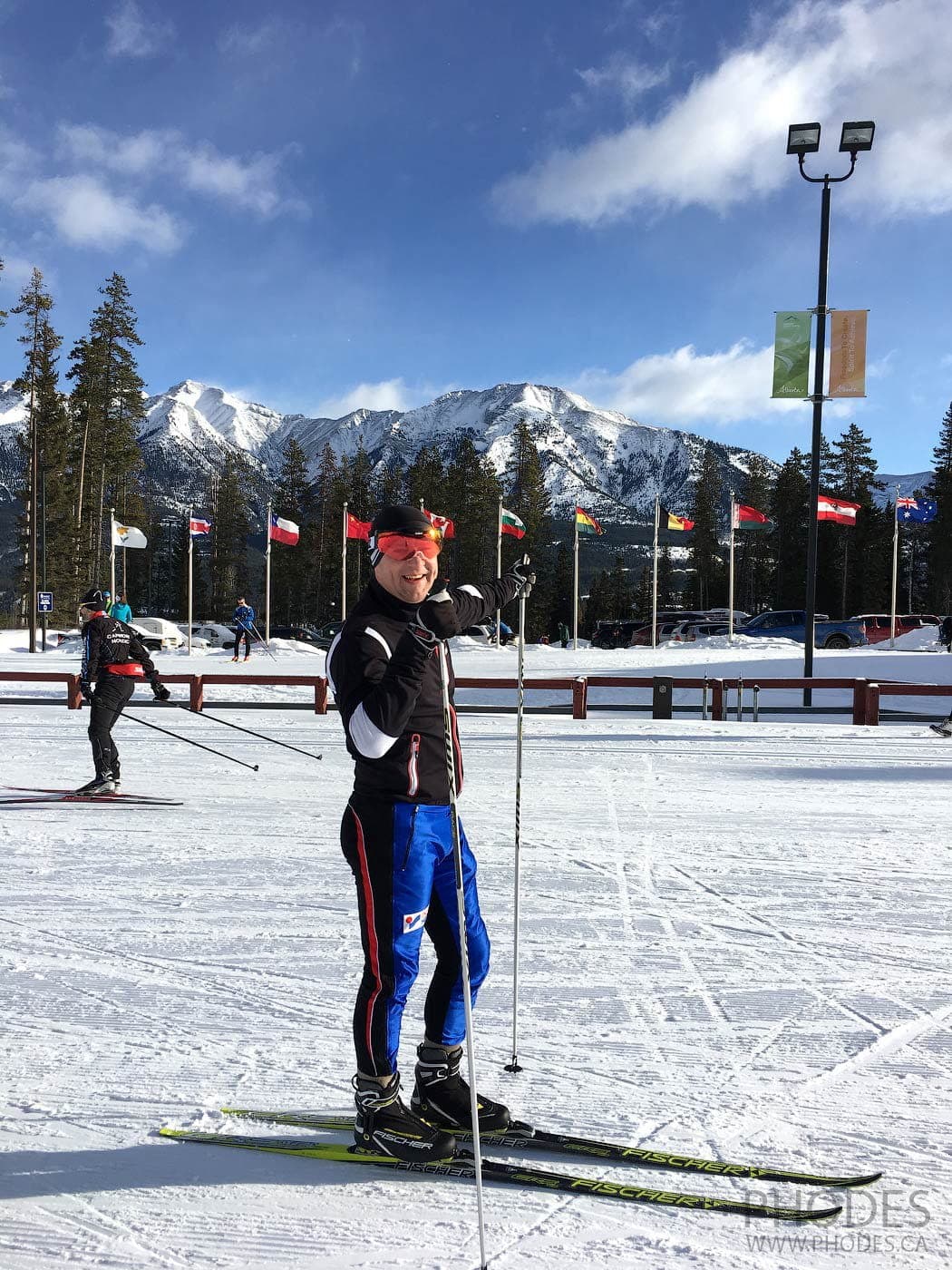 The town of Canmore is located on the road to Banff National Park, 105 km (65mi) from Calgary and 25 km (15mi) from the town of Banff surrounded by mountains. The most famous peaks are called the Three Sisters.
One of the top traveler question is where to stay in Banff? Since we planned to do cross-country ski every day, we settled in the town of Canmore seven minutes drive from the Canmore Nordic Center Provincial Park. In fairness, we should say Canmore is a small town. Wherever you find accommodation, everything will be close.
If you are a fan of alpine (downhill) skiing, in this case, it will be more convenient to book a room in the city of Banff or Lake Louise. Given the fact that both those places are the most visited and are located in Banff National Park, be prepared to pay more.
So, for 7 nights our home was in Sunset Resorts Canmore.
Address: 1151 Sidney St, Canmore, AB T1W 3G1
We agreed that our room for the winter trip has to have a kitchenette, washing machine and dryer. After skiing we always have a lot of laundries to do!
Although all seven days of our stay the weather was freezing, we did skiing every day at the Canmore Nordic Center. In addition to the stunning scenery around, we were surprised in a good way by the service in the park. From five to nine in the evening, you can ski absolutely free on lighted cross-country ski trails. We have never seen the service like that anywhere else.
Speaking about attractions in Canmore Nordic Center, we can name a couple of them. You can visit the Museum of 1988 Olympic Games in the visitor center. Also, you can spot some deer fearlessly walking around in the parking lot.
Tip for skiers
Drop by the ski shop at Canmore Nordic Center where also ski rental is located. This is where the experts work! They will answer all your "ski" questions!
In all honesty, we have controversial emotions about the Canmore Nordic Center. On the one hand, we were excited to ski on the trails, where the Olympic battles took place 30 years ago. On the other hand, you look around and it feels like the infrastructure has remained at the same 1988 level.
At the same time, we are rather happy for the Canadian future in the ski and biathlon. We saw multiple ski and biathlon sports groups on ski trails.
Once we went skiing to the province of British Columbia to Nipika Mountain Resort. That day in Canmore was -30ºC (-22ºF), so we had to look for a "warmer" place to ski.
Address: 9200 Settlers Road, Kootenay, British Columbia
We arrived at Nipika Mountain Resort early in the morning after a big snowstorm the day before. The ski trails just had been finished grooming. We were first!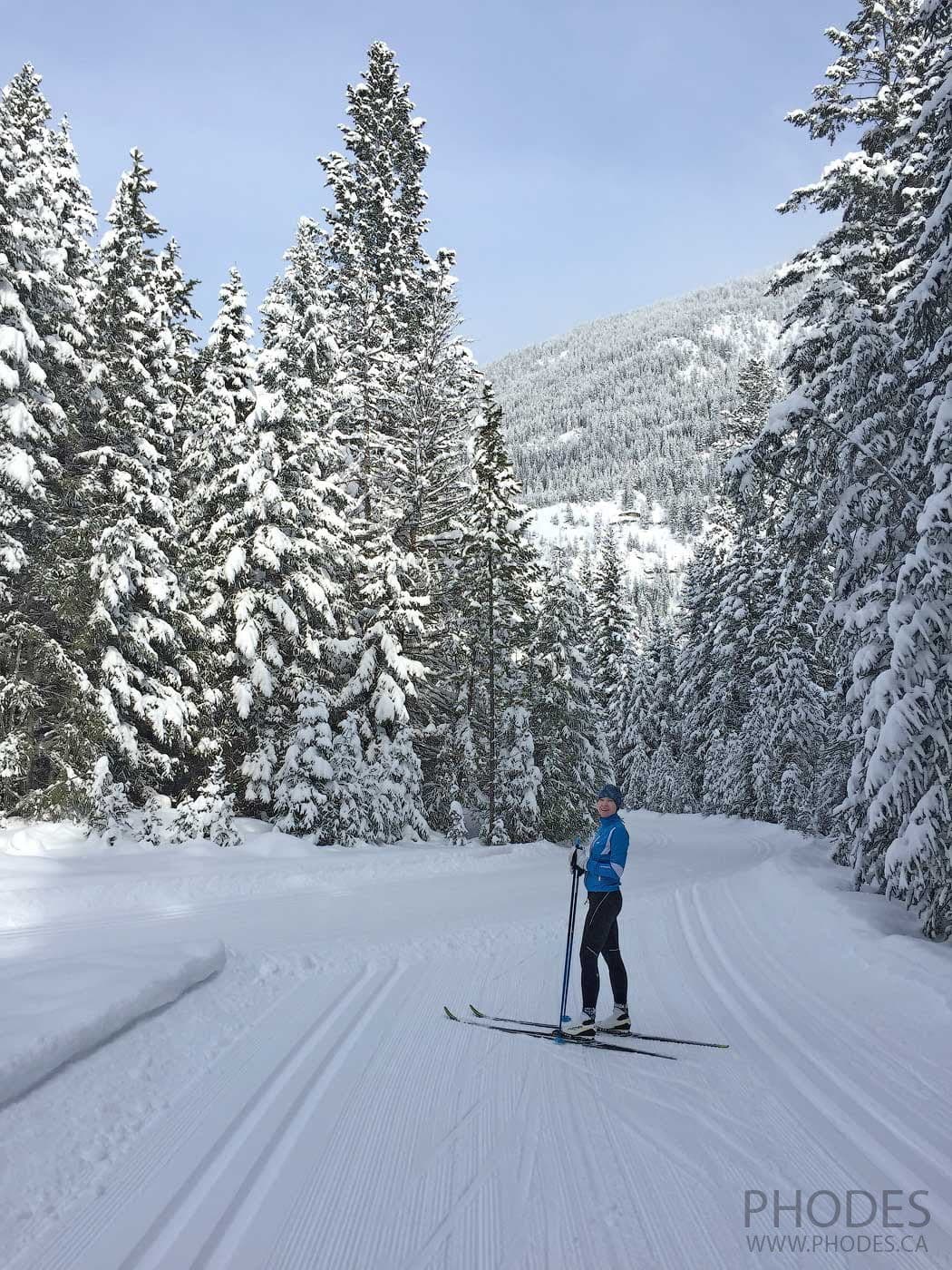 Even if cross-country skiing is not your forte, you should go there just to enjoy the stunning panoramic views!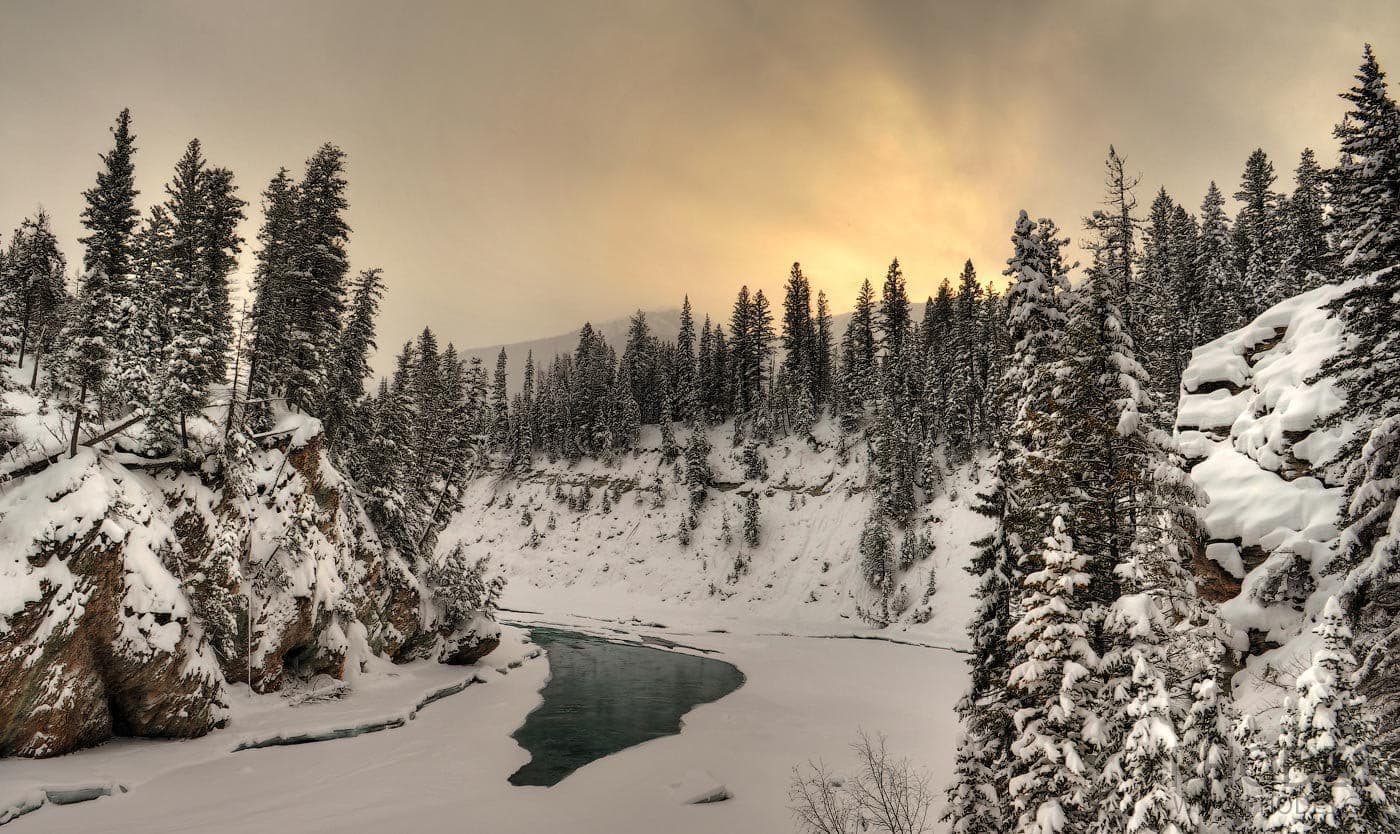 Just be careful on the country road leading to Nipika Mountain Resort. It is very narrow especially with oncoming trucks loaded with wood. Someone must give way to someone!
By the way, after a couple of hours of ski activity in Nipika Mountain Resort, we went straight to the Radium Hot Springs. The highway is a real serpentine road, but so beautiful any season!
Miniwanka Lake scenic walk
Bow Valley Parkway is a 51-km (31 mi) scenic road in Banff National Park connecting the town of Banff and Lake Louise. The road offering a lot of lookouts to breathtaking landscapes. We strongly recommend driving Bow Valley Parkway in both directions. You will be fascinated by how different the landscapes are.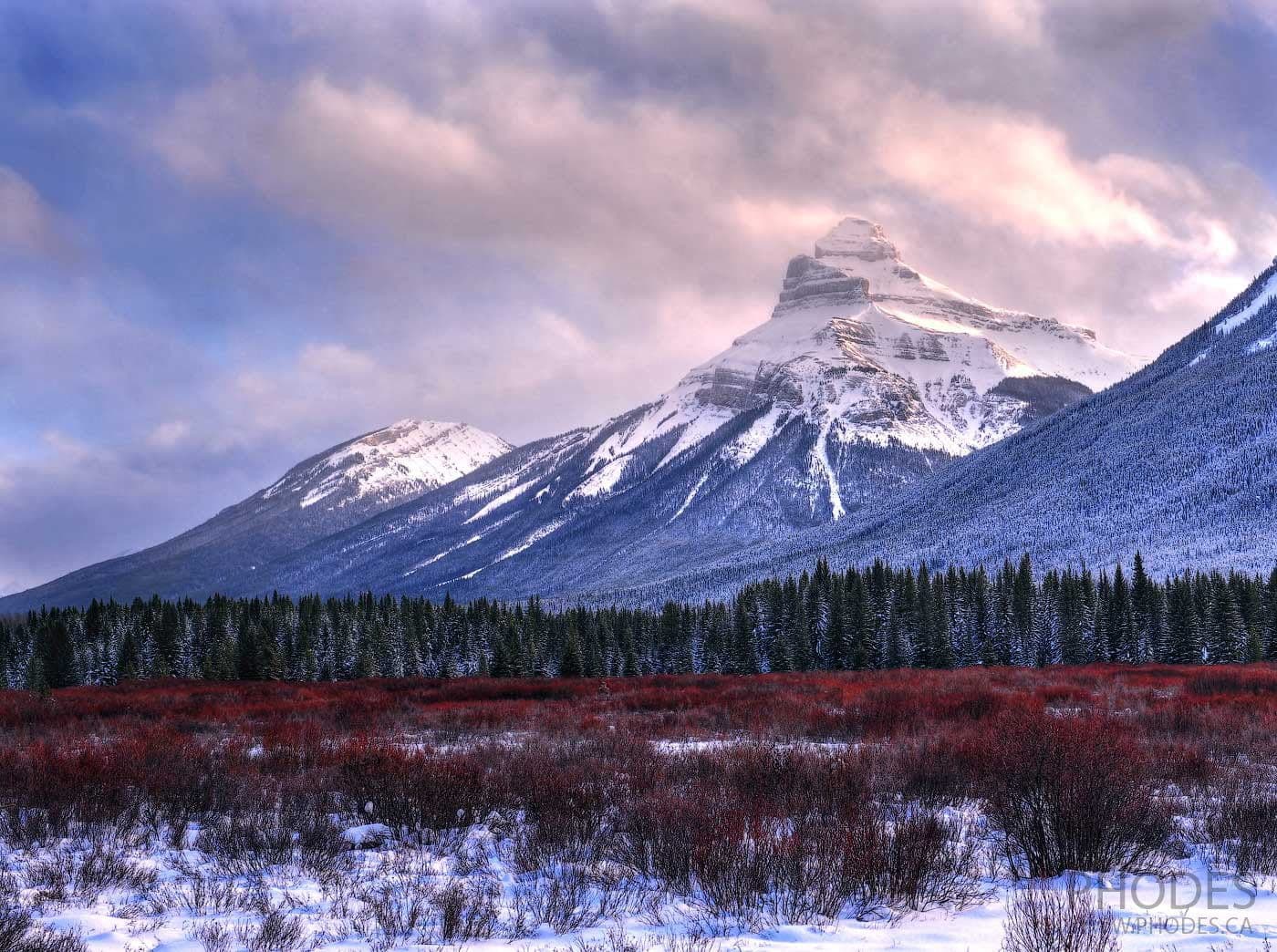 Travel tip
To get access to Canada's National Parks you need a pass. You can always buy a day pass at the park entry. We like better the other option is to purchase online Discovery pass valid for one year. The Discovery pass gives access to parks for one vehicle with a group up to seven people. We remember during our summer trip the pass paid for itself in a week when we drove through Banff and Jasper National Parks 5 times back and forth.
However, in 2017 for the 150th anniversary of Canada, entry to all national parks was free!
Not all the lakes in Banff National Parks are accessible in winter. Miniwanka Lake was one of them we could drive close. The lake is located on the right hand of the Bow Valley Parkway road, 20 km (12mi) from the town of Banff.
The short path to Miniwanka Lake was closed for traffic to protect wildlife, i.e. wolves and cougars. The winter road is longer but more spectacular. In winter, you can walk to the boat house in the middle of Miniwanka lake and enjoy mountain landscapes around.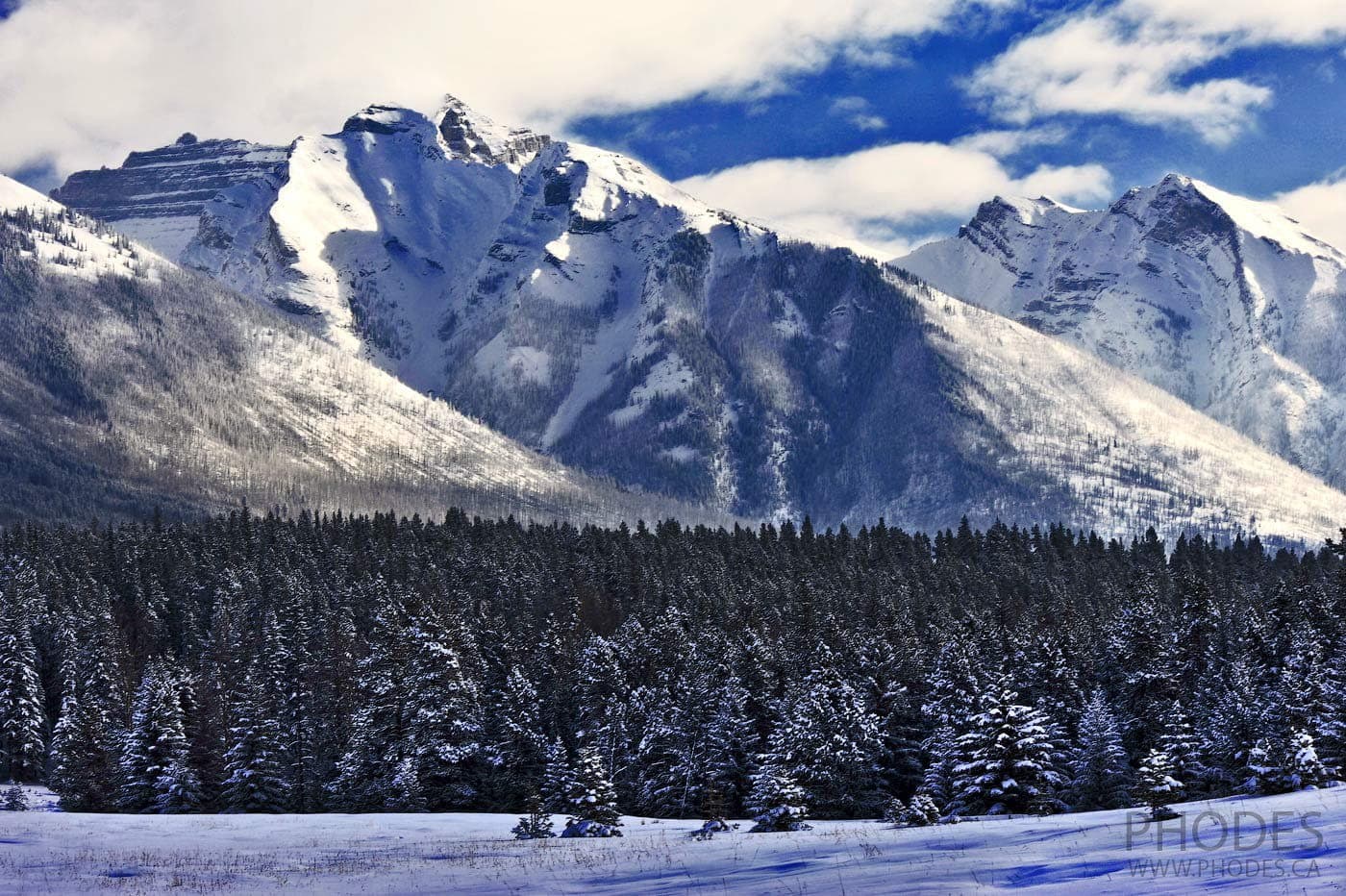 In the summertime, you will find a campground here, in winter you can hike and ski. Honestly, after we read about the wolves around Miniwanka Lake, we confined to photography hunting.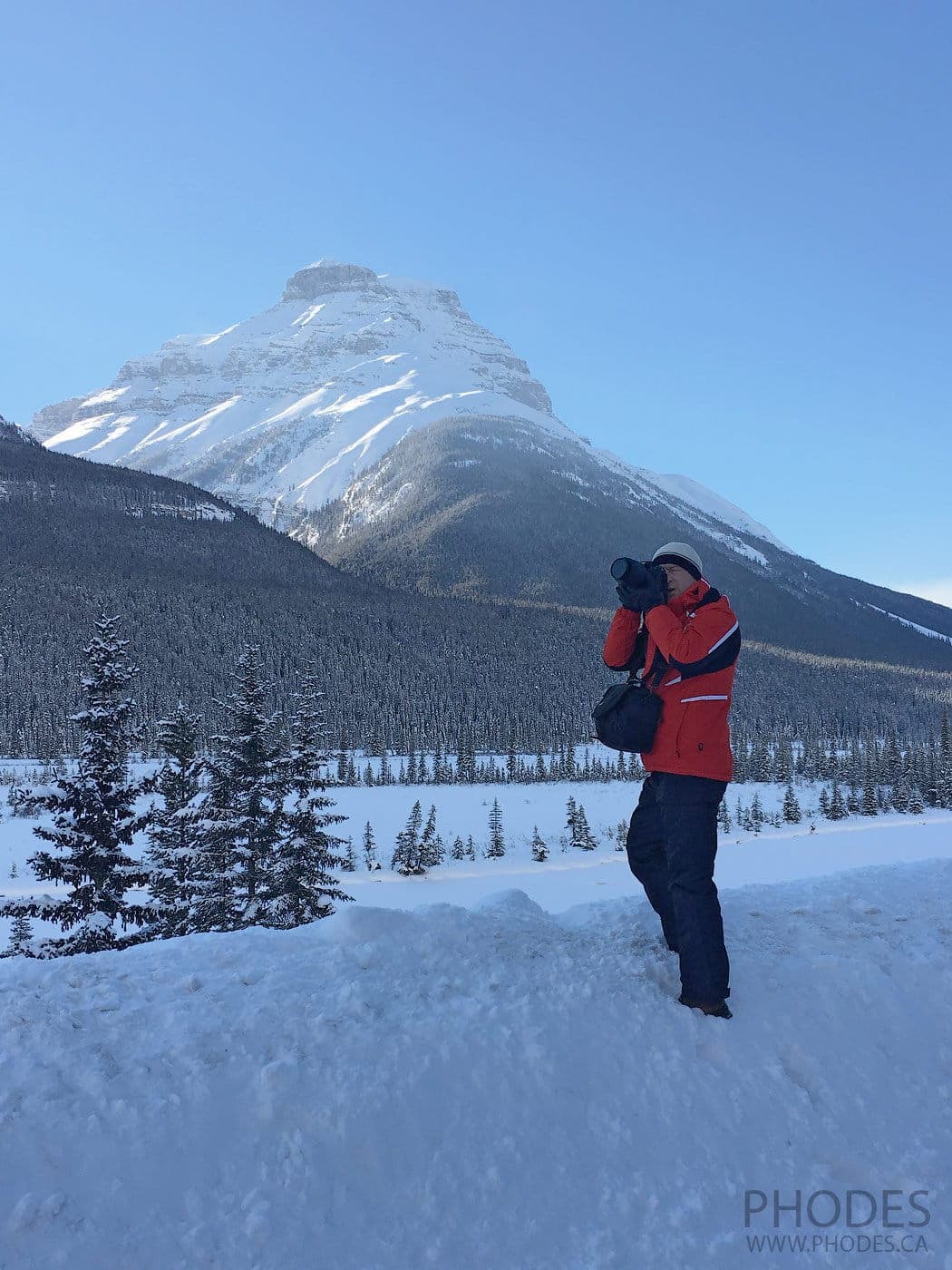 Johnston Canyon scenic hiking
Johnston Canyon is located 25 km (15mi) from the town of Banff on the right side as Miniwanka Lake. Keeping the best memories about our summer hiking in Johnston Canyon, we were looking forward to the same rocks in the winter time.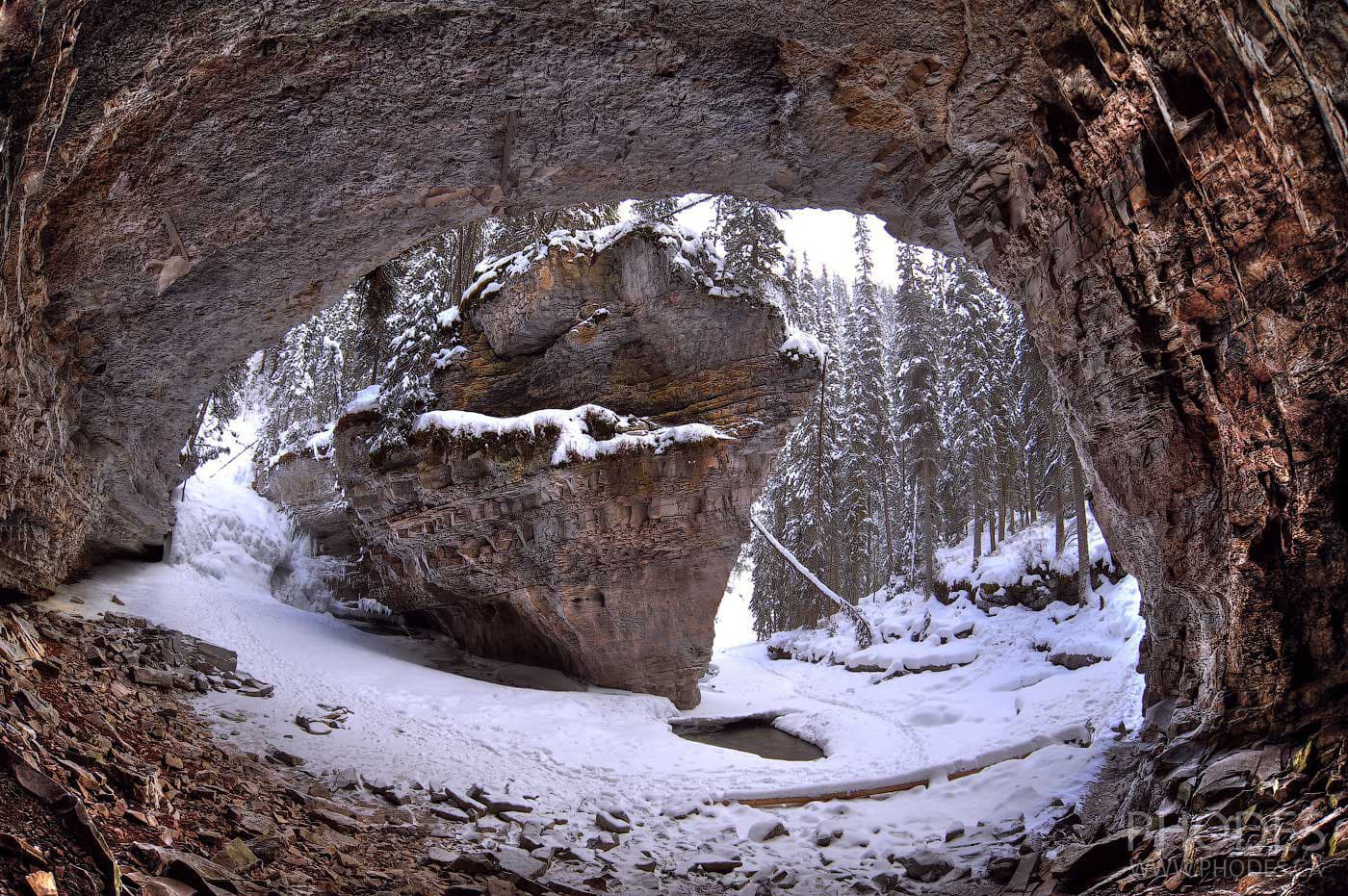 We must admit the winter hiking in Johnston Canyon is a bit extreme. We do not recommend going for a walk with baby strollers.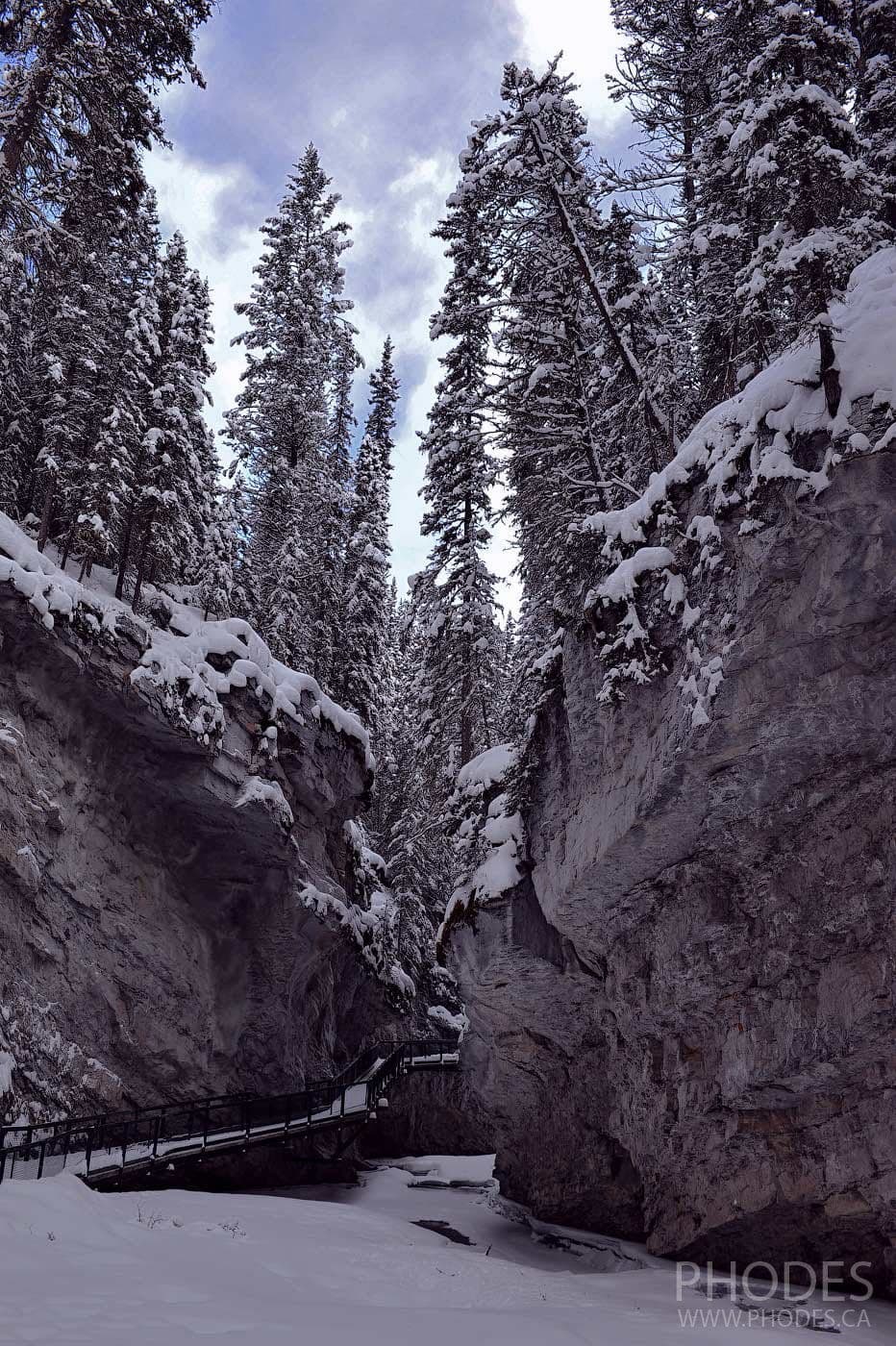 The Johnston Canyon trails are well indicated. You just need to know that to go back you will take the same path. And … as you may already guess, the views are completely different!
In Johnston Canyon, we were lucky to observe ice climbing training.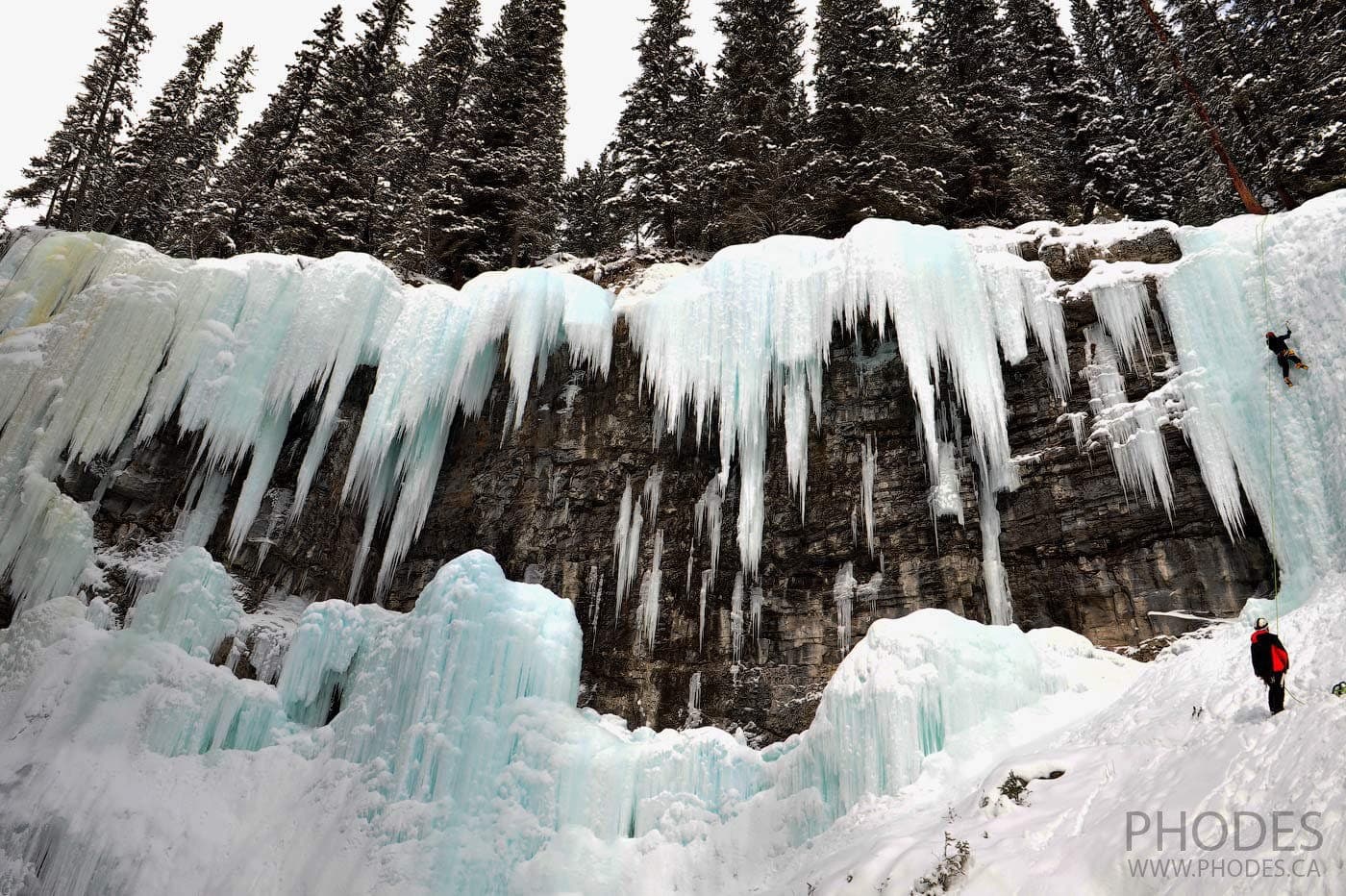 In addition to the winter beauty of the canyon, we remember how we got stuck in snow in the parking lot… twice in 15 minutes. As a rental car, we had a front wheel drive Volkswagen Tuareg. In total, we got stuck in snow four times during our winter trip. There were always good samaritans who helped us. We do not know their names, but we are very grateful to them!
Travel tip
We booked a car at Calgary Airport in advance at AVIS company, as they have a good deal for Costco members. If you pay with an American Express credit card, you can save money on car insurance. As it turned out at the end of our trip, we got scratched the car. The way AMEX handled the incident deserves praise. We called them, afterword we sent all the required documents and we … forgot about it.
By the way, we were surprised to see pure white snow on the roads in Banff. The quote from the official website of the town of Banff "We don't use salt on the roads. It's corrosive to vehicles and our infrastructure. It's also harmful to the environment."
Now we know the secret of the Banff magic winter!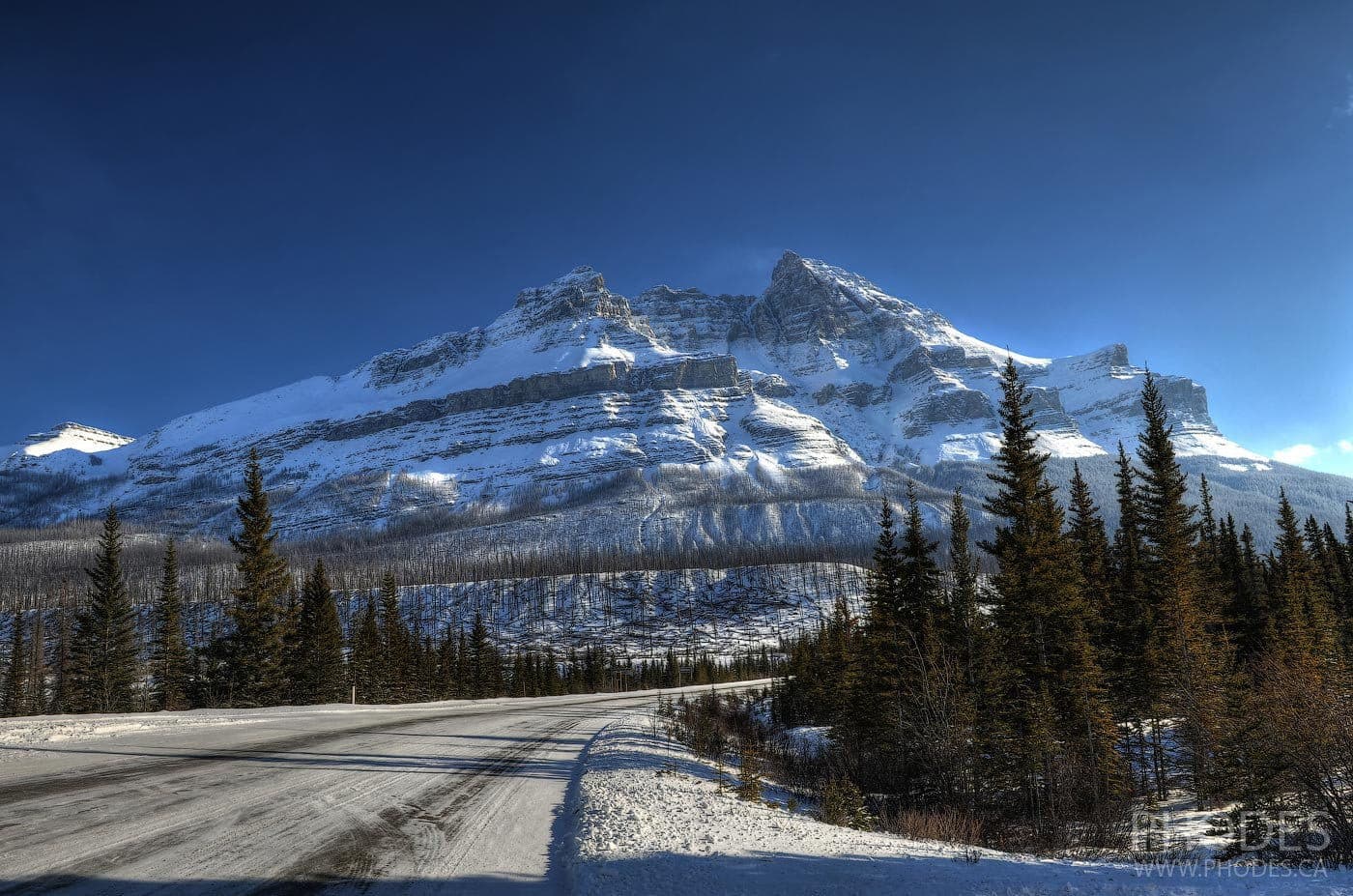 On Bow Valley Parkway you can spot some deer buried in the white snow. Here is one of them: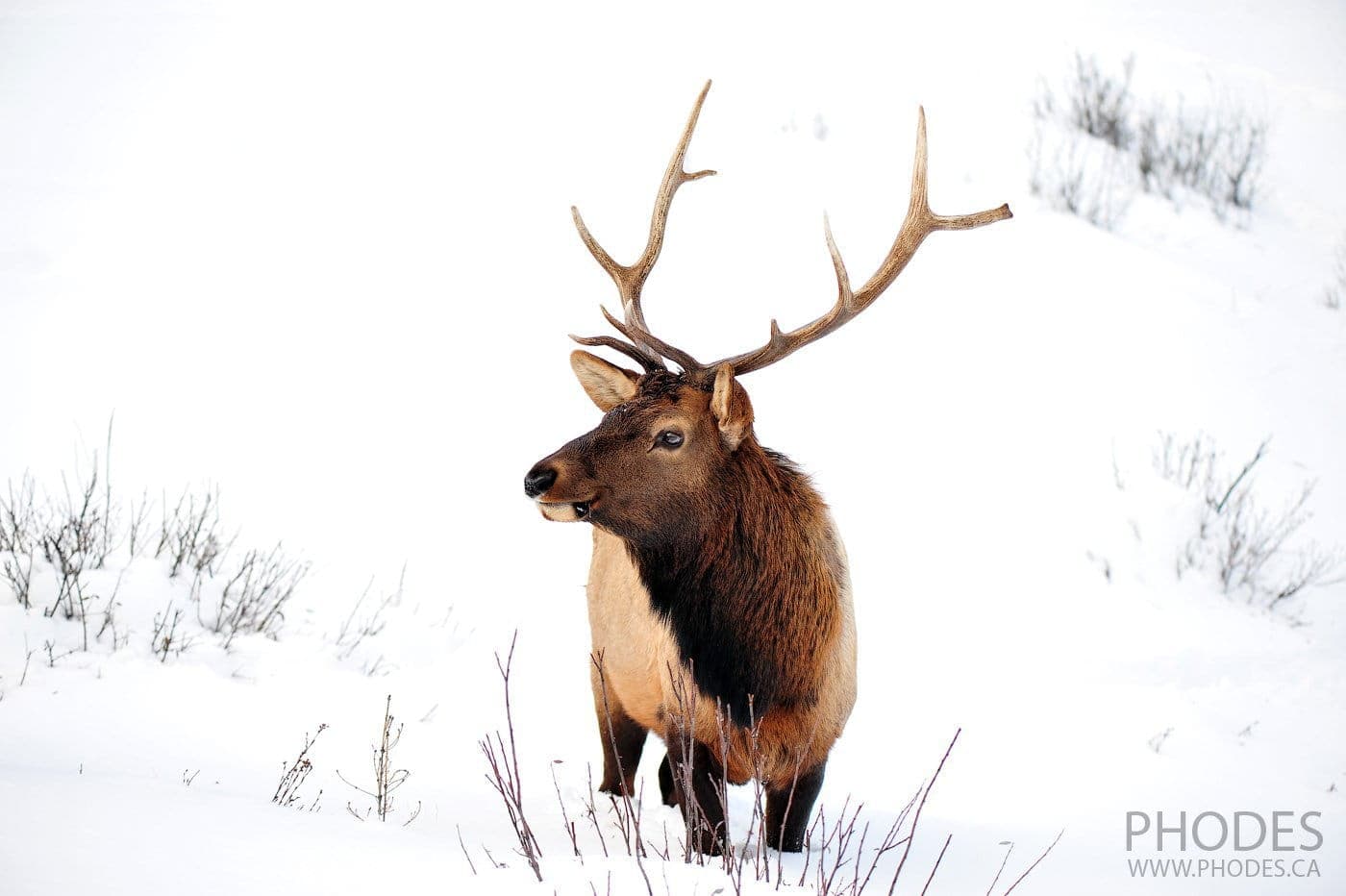 Skating on Lake Louise
As we mentioned above, we brought skates with us. Before our trip, we made up a list of places where we would like to skate. You will find it in the useful links at the end of this post. Unfortunately, due to extreme cold, we skated only on Lake Louise, number one on our list.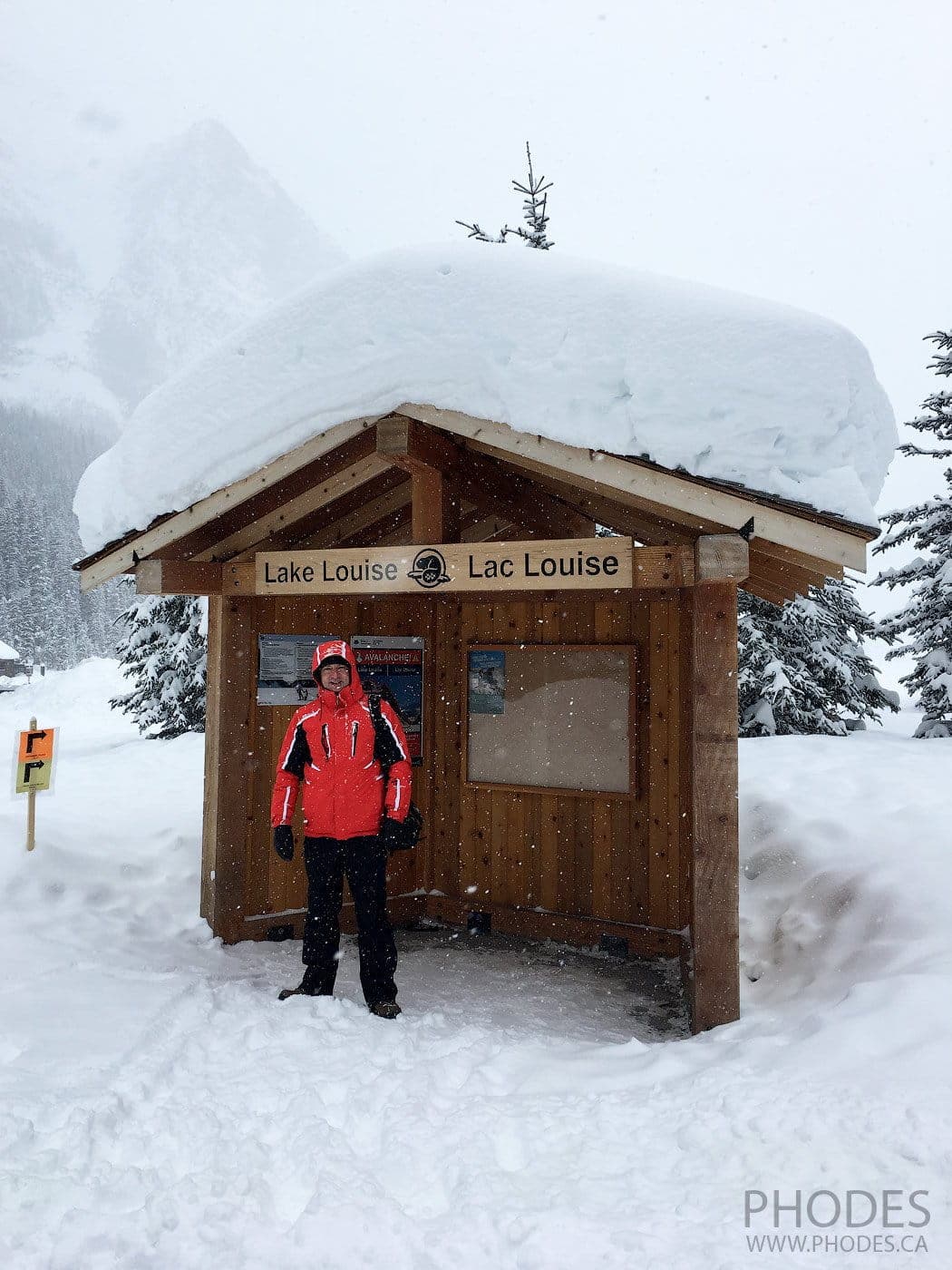 The famous Lake Louise, 60 km (37 mi) from the town of Banff, is the most visited and the most photographed place in the Rocky Mountains. Being in Banff and not going to Lake Louise is like to go to Paris and not see the Eiffel Tower!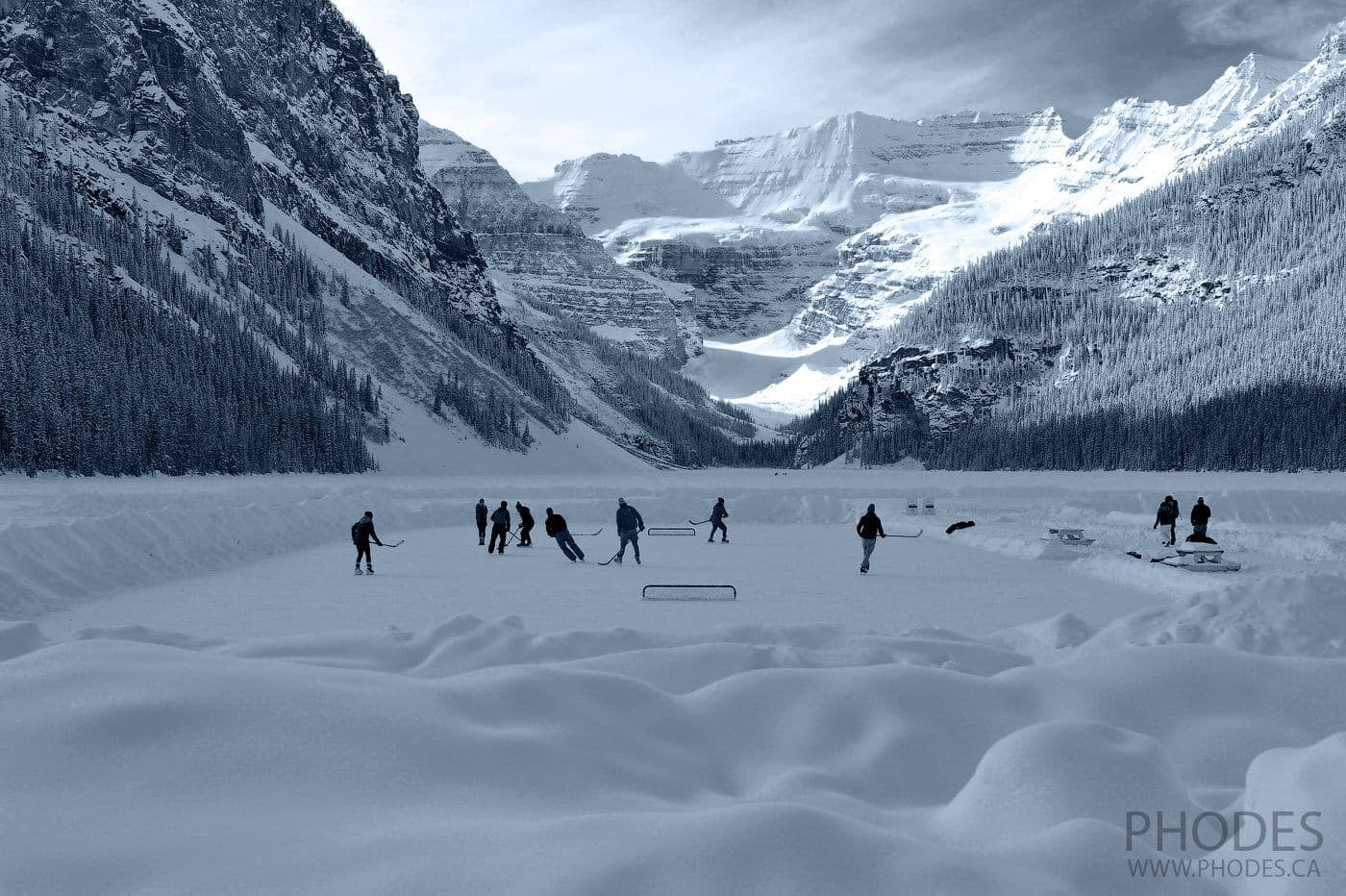 Travel tip
Do not forget to take sunglasses and sunscreen! They come in handy on sunny winter days.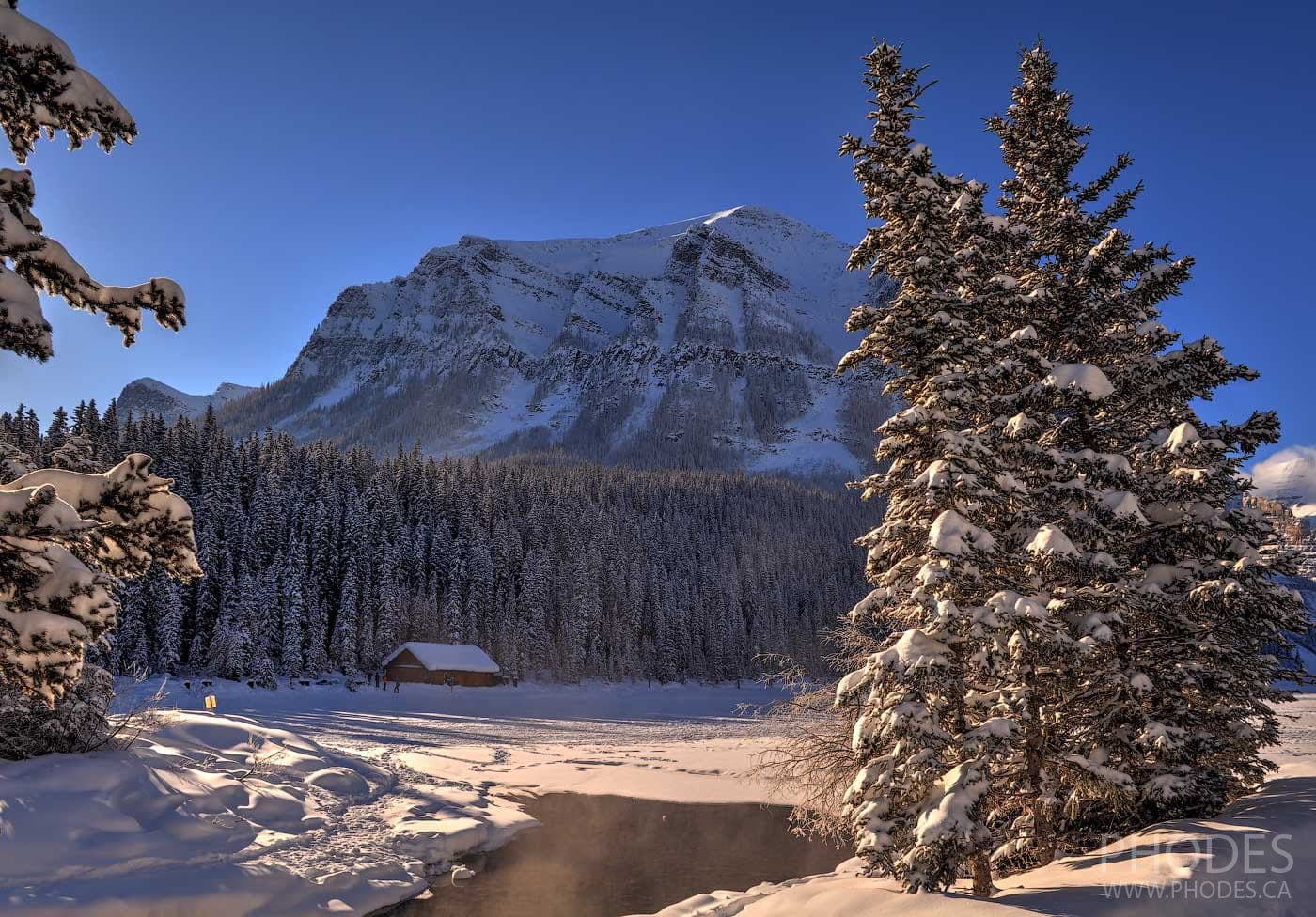 In the summer we went hiking on Lake Louise to the Victoria Glacier. In winter, you can just walk along the lake or to ski on the lake. We tested the ice on Lake Louise by skating. By the way, it is completely free to skate.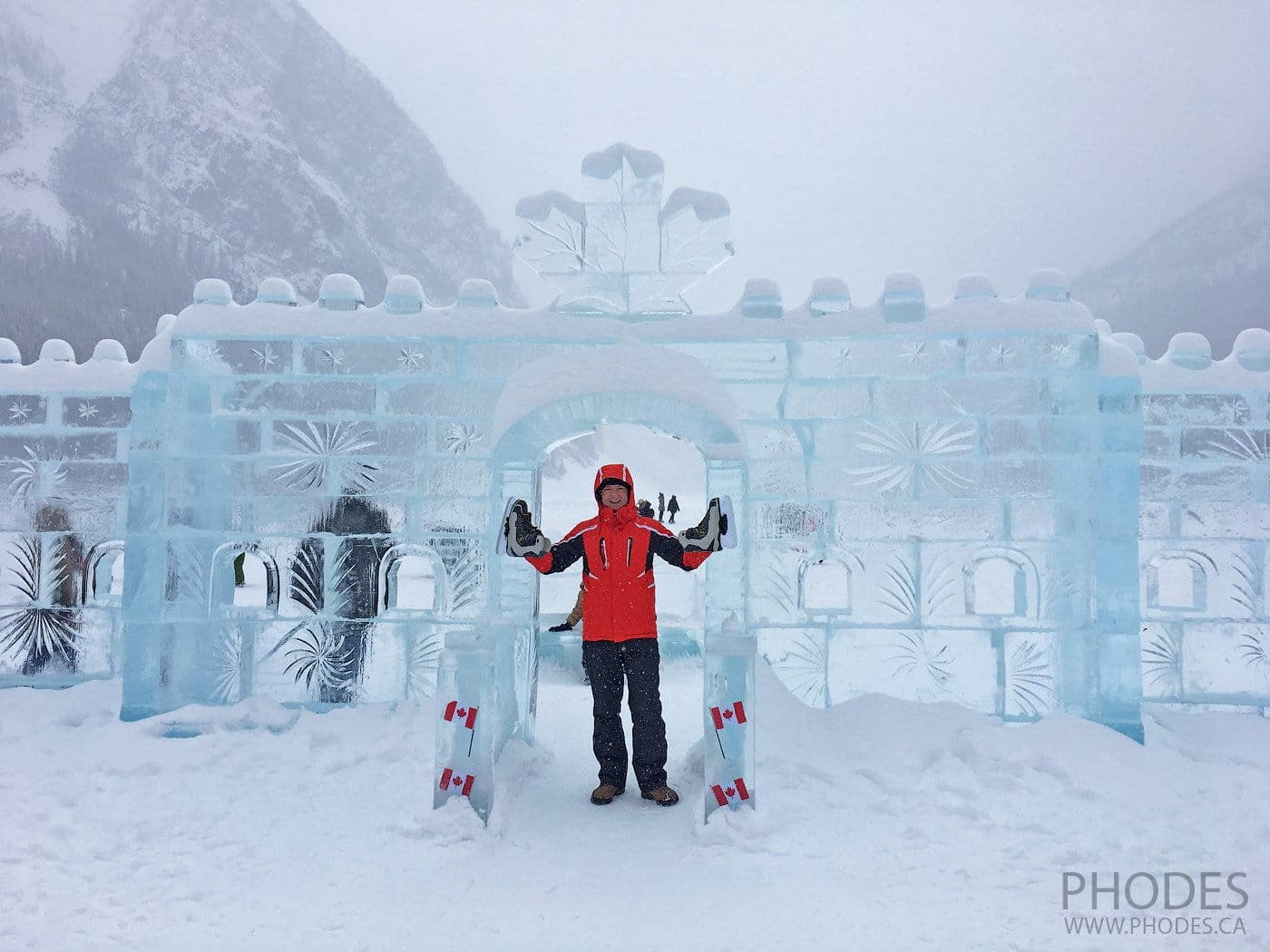 For those who love alpine ski, enjoy the winter in Lake Louise Ski Resort nearby, a well-known ski place in Banff where take place different international competitions on winter sports.
Driving to the Columbia Icefields
The Columbia Icefields is located in Jasper National Park. The Columbia Icefields include six glaciers. One of the amazing adventures in summer is the bus tour to Athabasca glacier.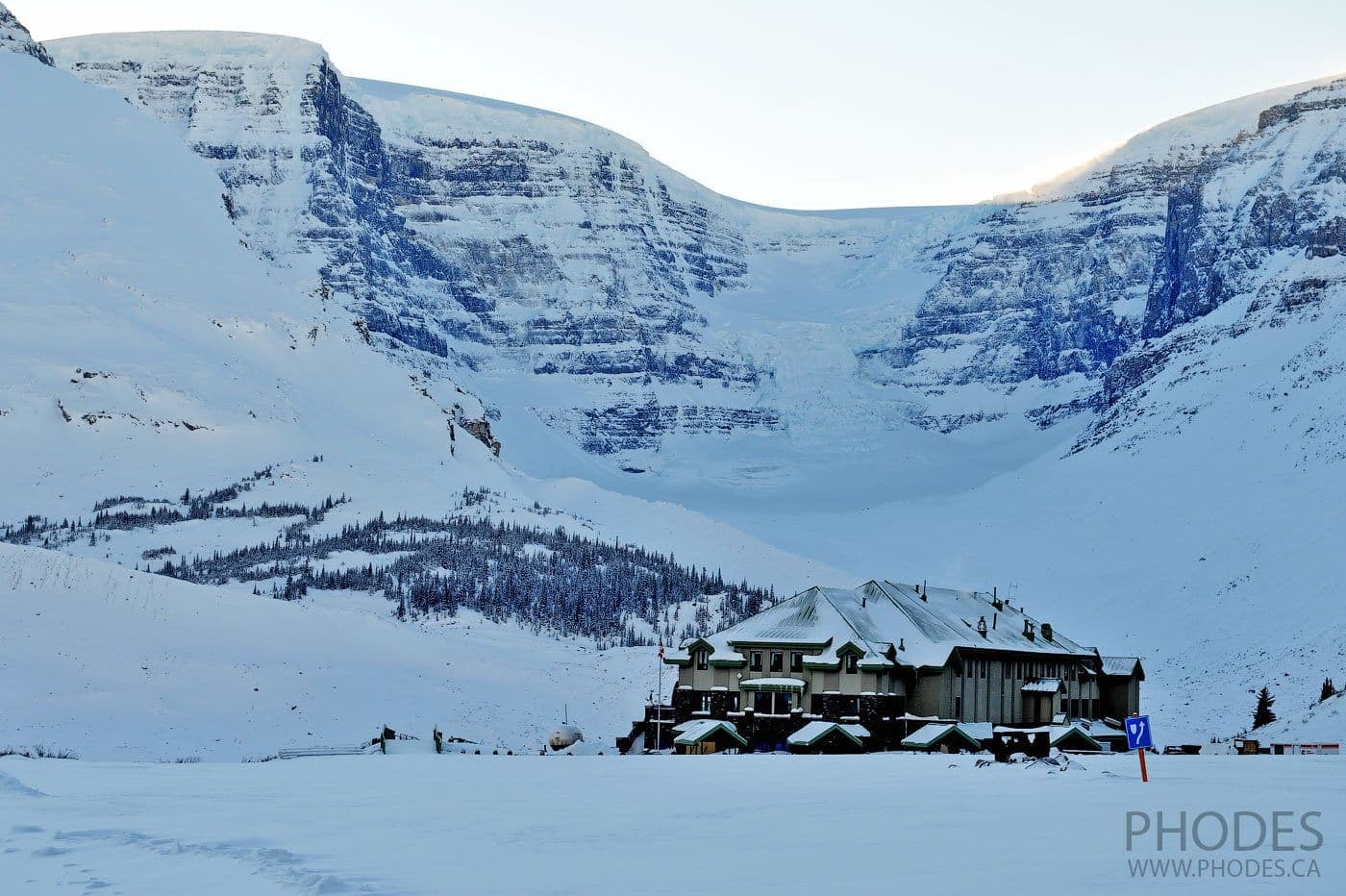 The Columbia Icefields Discovery Center is about 200 km (124 mi) from the town of Banff. The road Icefields Parkway is full of spectacular mountain scenery. You can not miss Athabasca glacier since it is visible from the Parkway.
Travel tip
For some reason, we thought winter tires were mandatory in the province of Alberta. We were partially right! In Alberta, all-season tires are allowed in winter. However, if you are planning to travel through National Parks Banff, Jasper, Kootenay in winter, you must have winter tires in the Rocky Mountains. Rules and regulations about winter tires in Alberta. So when you rent a car, double check if the car equipped with winter tires.
When we were approaching Athabasca glacier, the temperature outside was -35ºC (-31ºF). The Discovery Center was closed until April. We were alone in that snowy desert.
If you keep driving on Icefields Parkway, you will arrive at the town of Jasper. On your way, you will meet the mountains, glaciers, other mountains… If you happen to return on Icefields Parkway, you will notice how the tops of the mountains change their color from yellow to red. Do not forget to breathe!
Travel tip
During our trips, we always have our dashboard camera in a car. Recording with a dashboard camera in public is permitted in Canada. While traveling it allows us to fully enjoy the landscape beauty and do not get distracted by taking video with a phone. Later at the end of the day, we copy the best videos to the computer. So from Banff trip, we brought tons of videos!
So, our 7 days in Banff flew by! Is it a lot or a little? You know, even if you have only one day to spend in Banff, go for it! Any season! Once in a lifetime, you must visit Banff! And then… it does not let you go! 🙂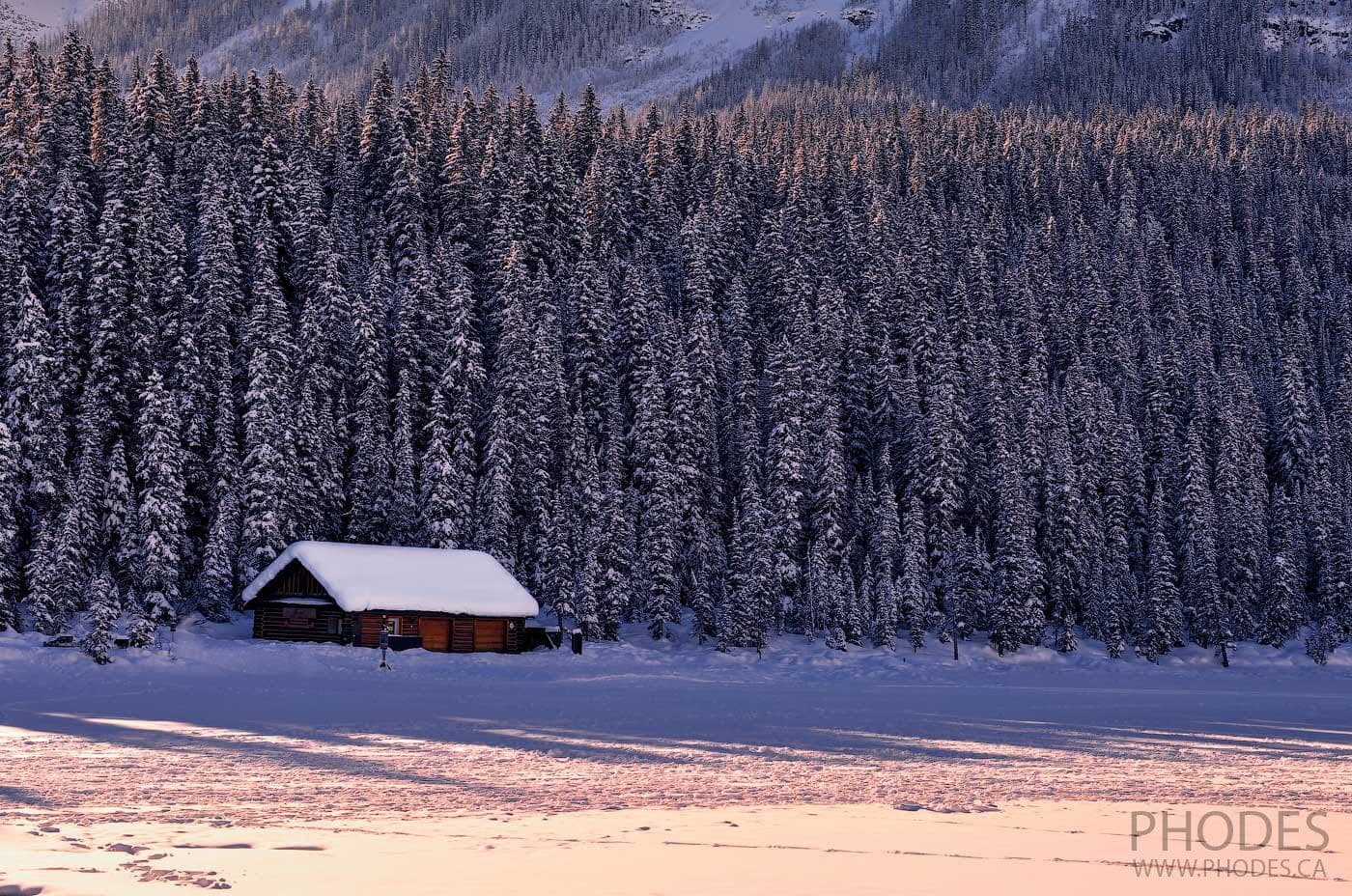 We hope the information about our winter trip to Banff will be useful to you. Please feel free to write your comments about the Rocky Mountains. And if you have questions, we will be happy to answer!
Useful links