Home
We planned to visit all Maritime provinces, i.e. New Brunswick, Nova Scotia, and Prince Edward Island. Unfortunately, the weather did not allow us to follow through with all our plans.
Let's tell our story in order...
How we planned our first trip to Canadian Atlantic provinces
Since this was our first long trip here in Canada, we ordered tourist guides for each of the provinces. You can get them absolutely free, and all materials will be delivered to you by mail.
You can find useful links about New Brunswick at the bottom of the post.
After reviewing all the materials and searching the Internet, the route was created: Montreal – New Brunswick – Prince Edward Island – Nova Scotia – back to Montreal. Here is the Maritimes trip route on Google Map.
We made the wise decision not to book hotels in advance.
We could not know what places we would like, and what places we wouldn't. Where would we want to stay longer? What places would we want to skip? We decided to determine on site. We weren't supposed to have troubles with accommodation in Canada. So, as the first astronaut Yury Gagarin said a long time ago:
Let's go discover Canada!
We left Montreal not very early at around 9 am. The first stop was the city of Drummondville, because of Costco. Since the city is pretty far (120 km/75 miles) from Montreal, the gas price is much cheaper. We dropped in there to feed the car and buy some non-perishable food items for ourselves.
Then we drove almost non-stop since our main goal for the first day was to come to New Brunswick. It is worth mentioning that passing by Quebec City, there was an amazing view of the luxury hotel Chateau Frontenac.
We had determined not to waste time by going to the capital of Quebec. It is a one-day trip (in 270 km/167 miles) from Montreal. You can always go there for a day or two on the weekend anyway.
Hello, New Brunswick!
What immediately struck us after crossing the border between the provinces was the difference in the quality of the road surface.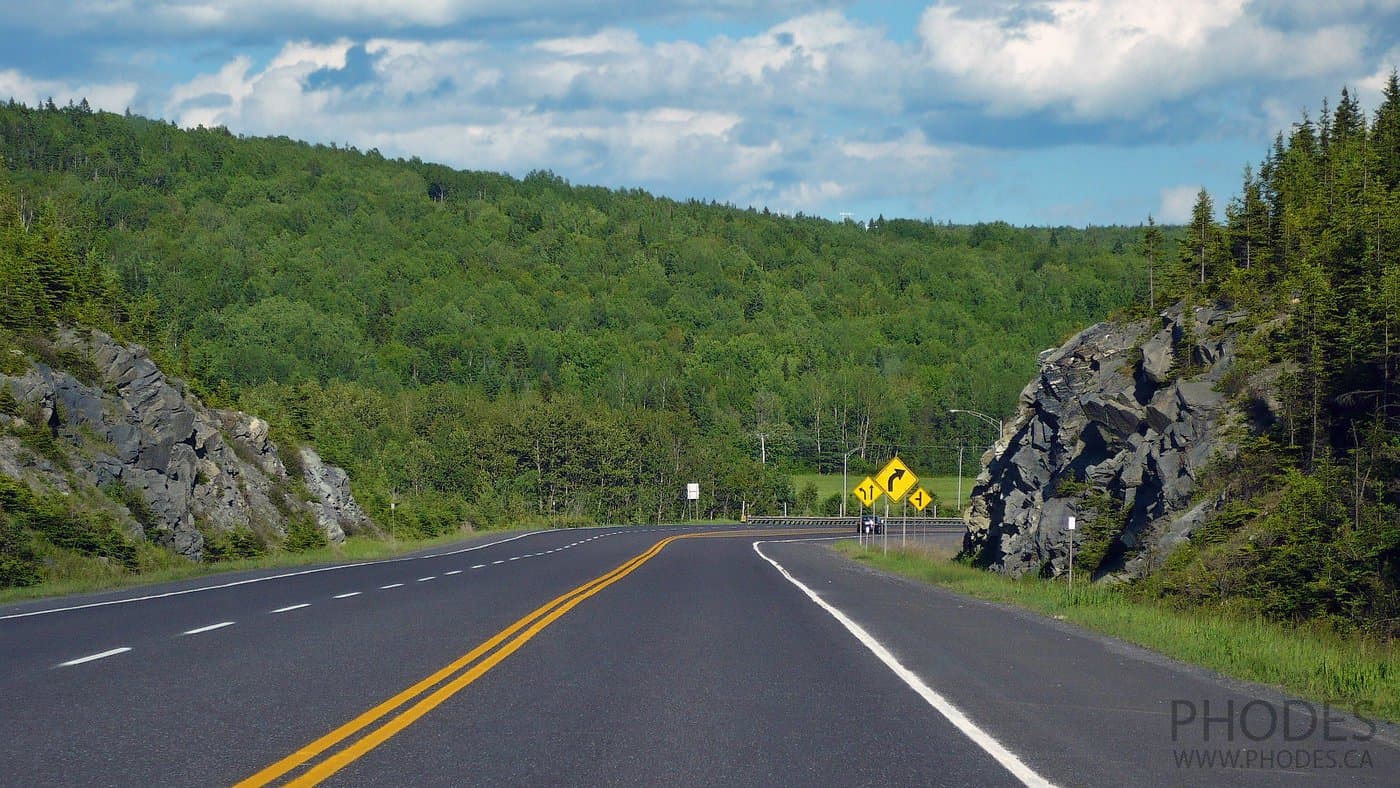 The speed limit increased from 100 km/h (60mph) to 110 km/h (70mph).
All of a sudden, the car stopped bouncing.
Thus, we achieved our goal for the day. We arrived in the province of New Brunswick.
After driving for about 20 km (12 miles), we saw the shapes of a city of Edmunston. Approaching it, we became familiarised with its smell. "Unpleasant" is the least we can say. The thing is, Edmunston is the center of the pulp industry of New Brunswick. You can't "miss" that city!
It was getting darker. New Brunswick is one hour ahead of Quebec. It was time to think about lodging. We decided to drive for another 200 km (125 miles) and stayed near the town of Woodstock.
For an overnight stay, we had decided to take into consideration three criteria: a decent rate, price around $100, and breakfast included.
After checking Google for hotels and reading customer reviews, we booked a room in Canada's Best Value Inn & Suites – Woodstock.
Address: 168 Route 555, E7M 6B5 Woodstock
At the breakfast greeting other guests, we noted an interesting detail, which later would repeatedly pop up in our journey. The vast majority of tourists are people over 60-70 years old.
It was a sunny morning. After breakfast, we went to explore the expanses of New Brunswick.
The capital of New Brunswick – Fredericton
Fredericton was the first stop. We arrived there around 11 am and found a parking lot in the center of the city without any problems.
The biggest surprise, for us, was the parking price. Compared to Montreal, it was actually free.
The surprises were not over! Our car was alone.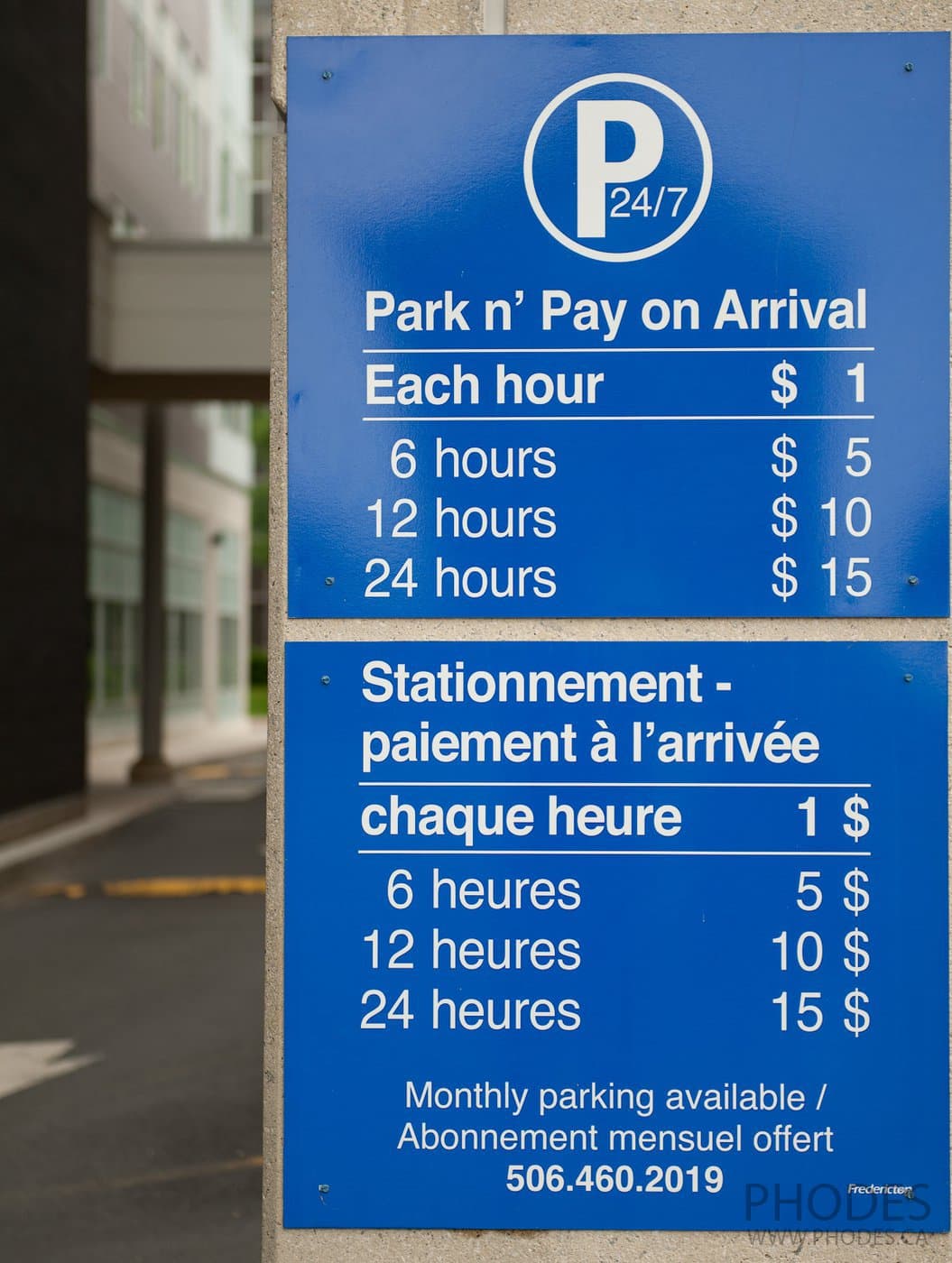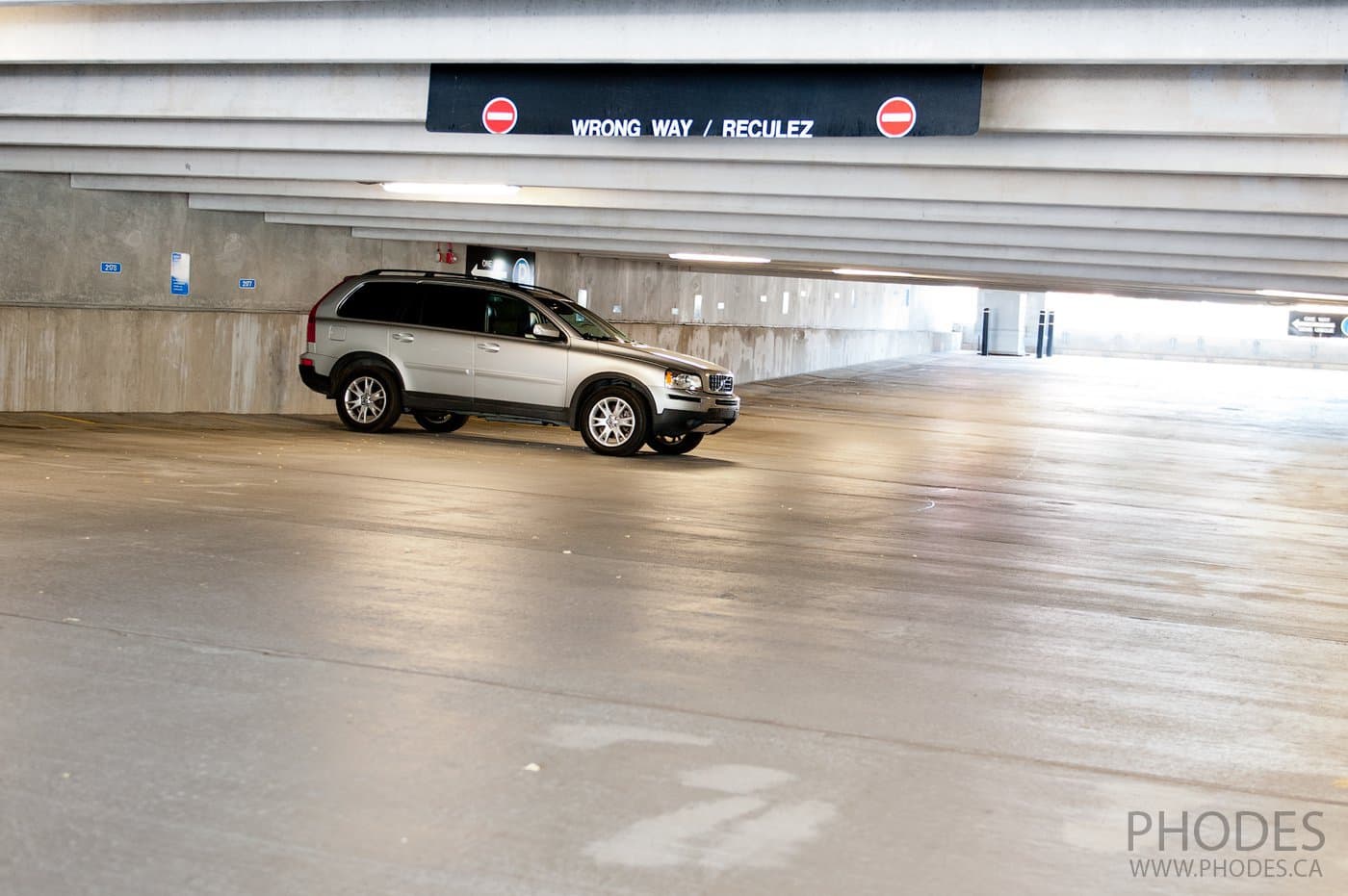 We should make a note here. In Canada, the federal and provincial capitals usually are not the largest cities. For example, Fredericton is a city with a population of 57,000. It is the third-largest city in the province, after Moncton and Saint John.
So we parked the car and went for a walk. It was quiet, calm, and clean. No skyscrapers.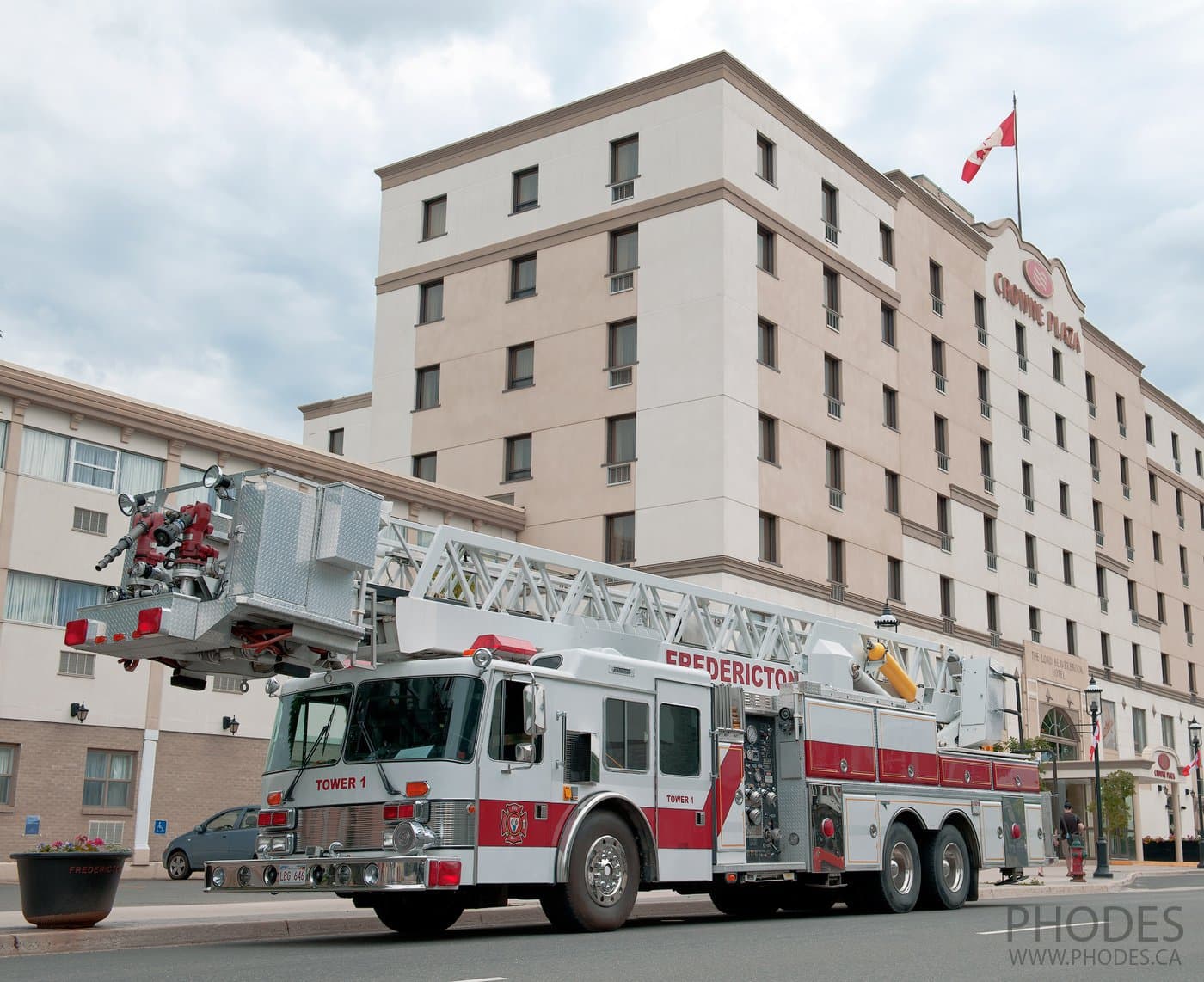 We continued our walk on the quay. The city situated on Saint John River, and like any other Canadian city, had a bike path along the coast.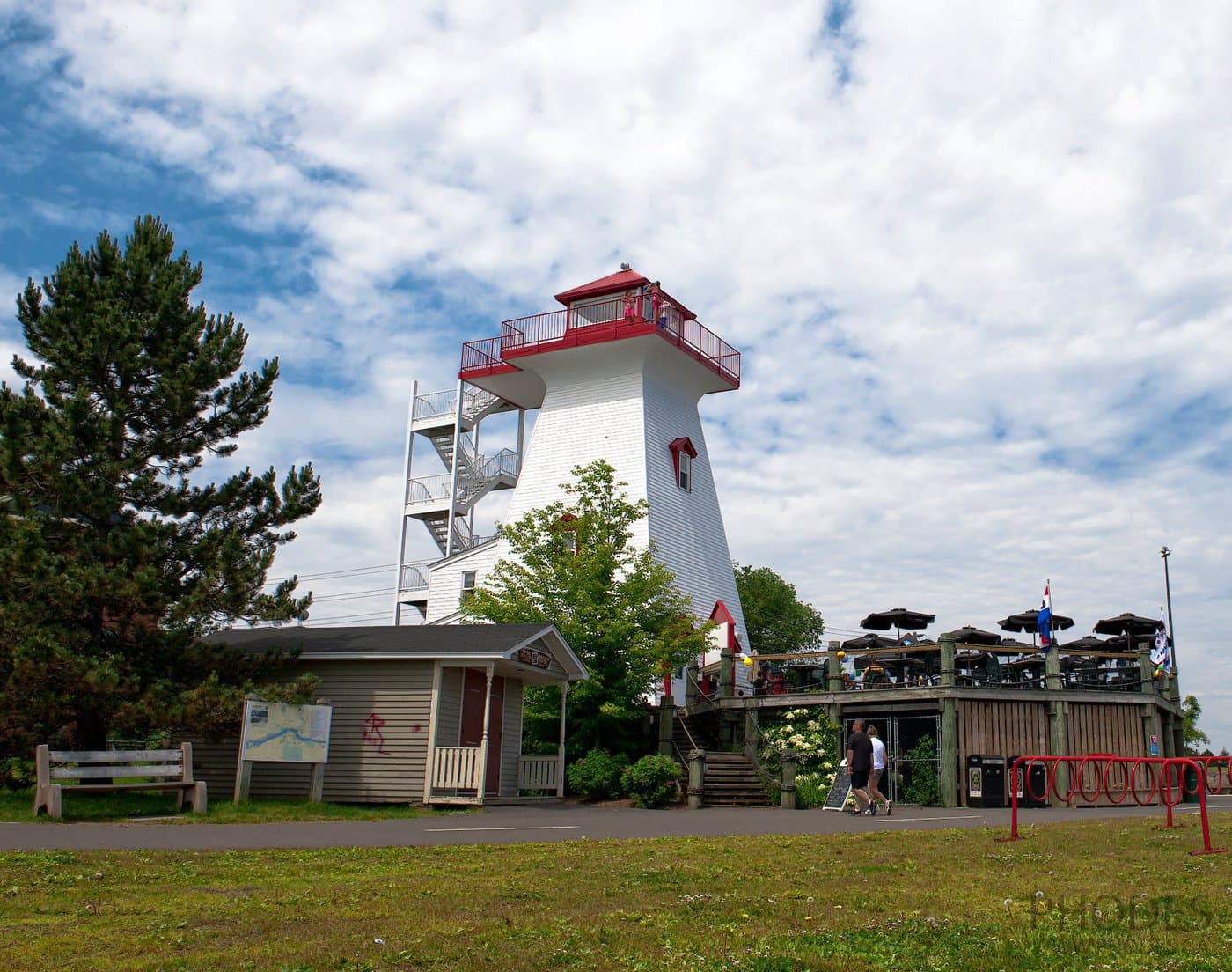 We came across these chess tables.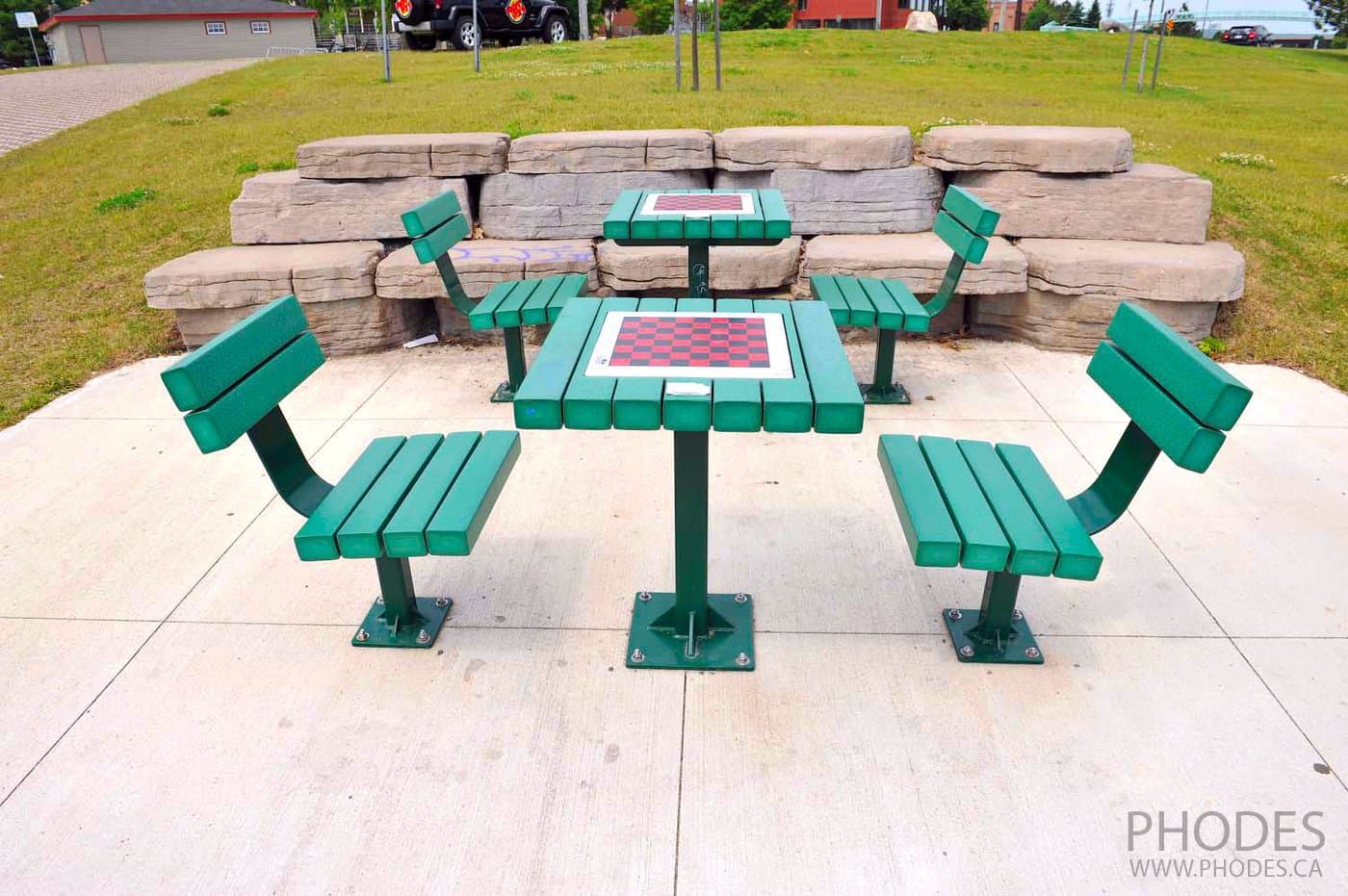 It recalled to us the city parks from our childhood in Belarus. On weekends, forty-year-old men (back then we considered them old people) got together to play chess.
But here in Fredericton, it looks like no one played at those tables for a long time, or they might be freshly painted.
Guided tour in the Parliament of New Brunswick
After a small walk, we went to the Parliament building. Surprisingly, despite the fact that there was Sunday, there were no tourists except us.
Website: https://www.gnb.ca/legis/index-e.asp
Address: 706 Queen Street Fredericton, N.B. E3B 1C5
A visit to the New Brunswick parliament is free, as in any other parliament in Canada.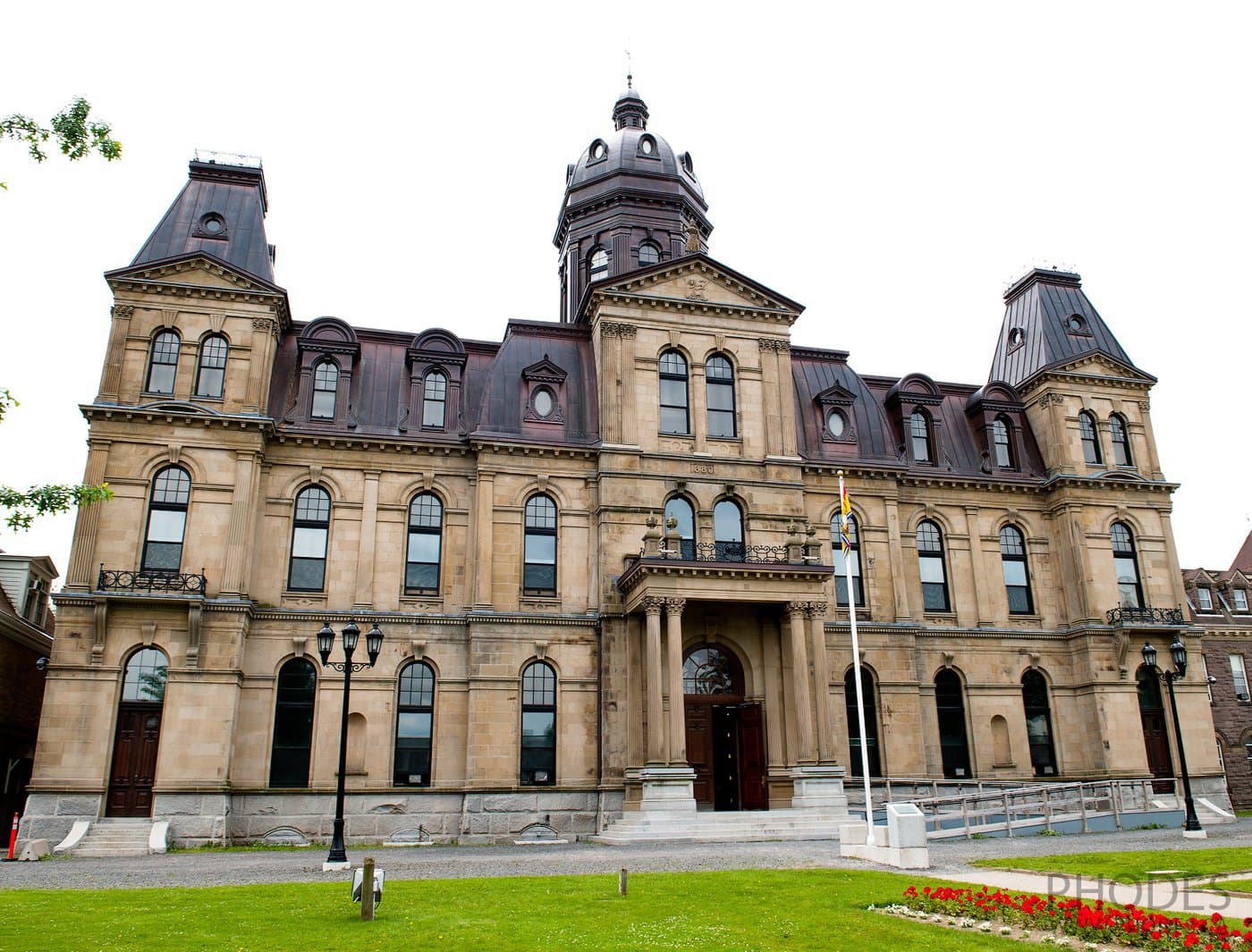 They checked our ID and registered us. We went through the security check. That was it! A personal guide was assigned to us. She gave us half an hour tour.
Earlier, while we were exploring the city, we saw a lot of names containing "Beaverbrook." Our guide told us it came from the name of Baron Beaverbrook. He was the first Canadian who served as a minister of aircraft production in Winston Churchill's government. He is known for having met with Stalin after the German invasion and insisted on the military aid for the Soviet Union.
From the tour, we also learned about George Stanley, historian, teacher, soldier and designer of the Canadian flag.
He was born in Calgary. He later was appointed as a professor of history in a university in New Brunswick. Our guide could not fail to mention it.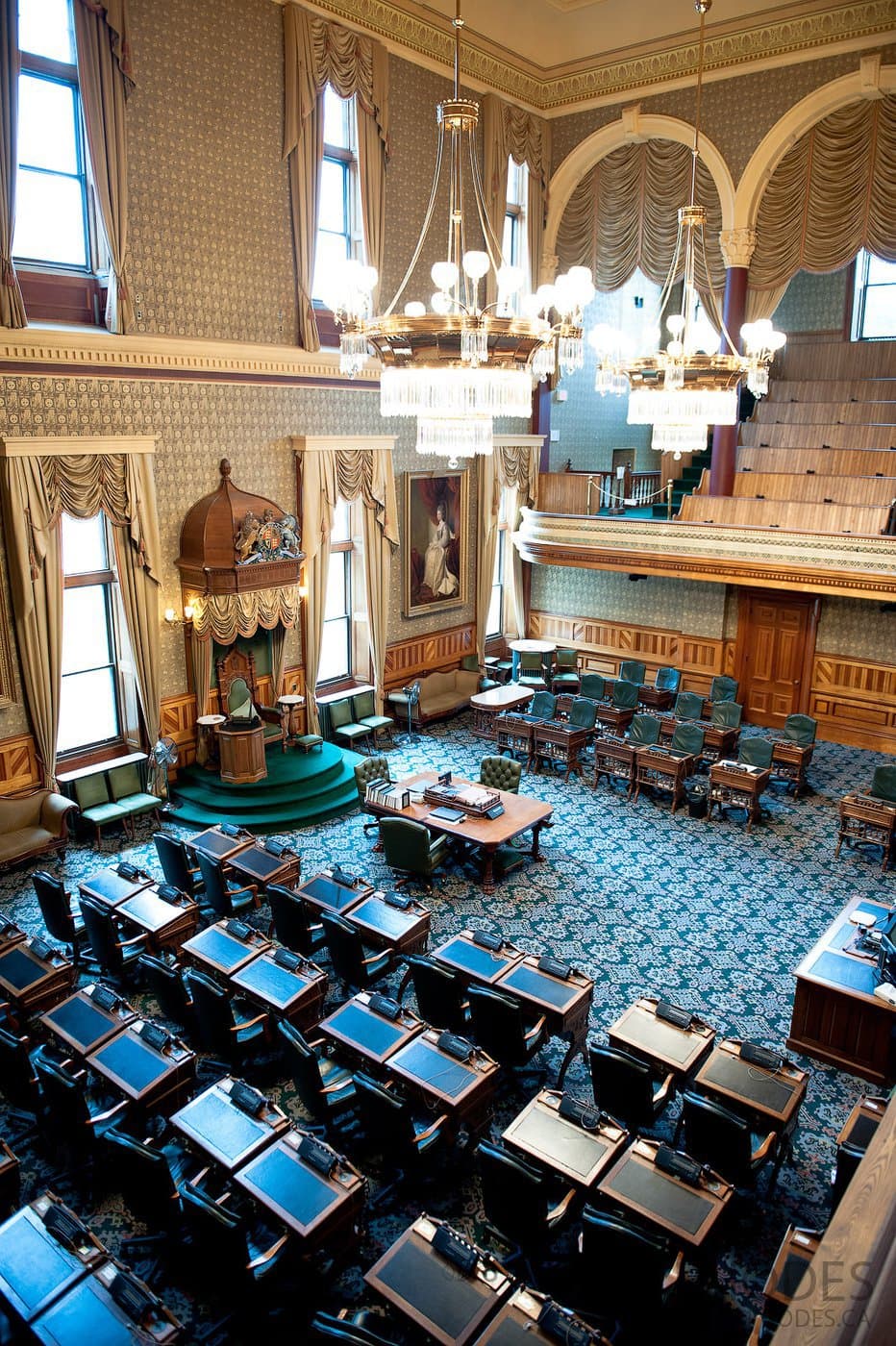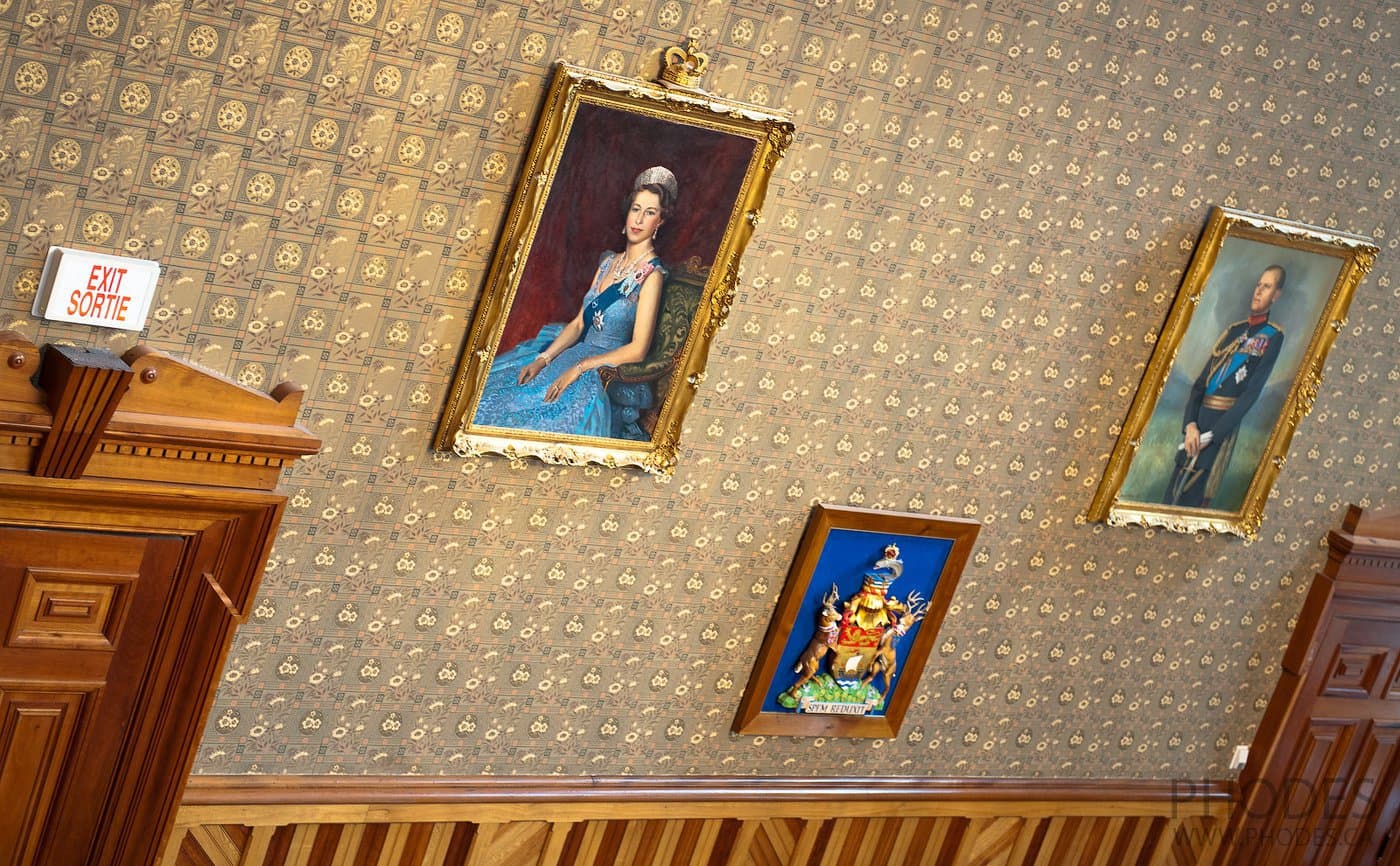 Any visitor is welcome to watch live debates in the House of Commons or the Senate whenever they are in session. There are special seats for the public.
Here, we would like to emphasize hospitality and openness of the officers in New Brunswick parliament.
They asked us where we were from originally. Considering that hockey is the second religion in Canada, they knew about Belarus. Thank you Sergey and Andrey Kostitsyn.
Lunch in Casino New Brunswick
Website: https://www.casinonb.ca/
Address: Casino New-Brunswick
The border with Prince Edward Island was 270 km (168 miles) away. Not far at all! Googling the closest places to eat, we discovered that there was a good buffet in Casino New Brunswick. We decided to kill two birds with one stone: to have lunch, and to visit the casino for the first time.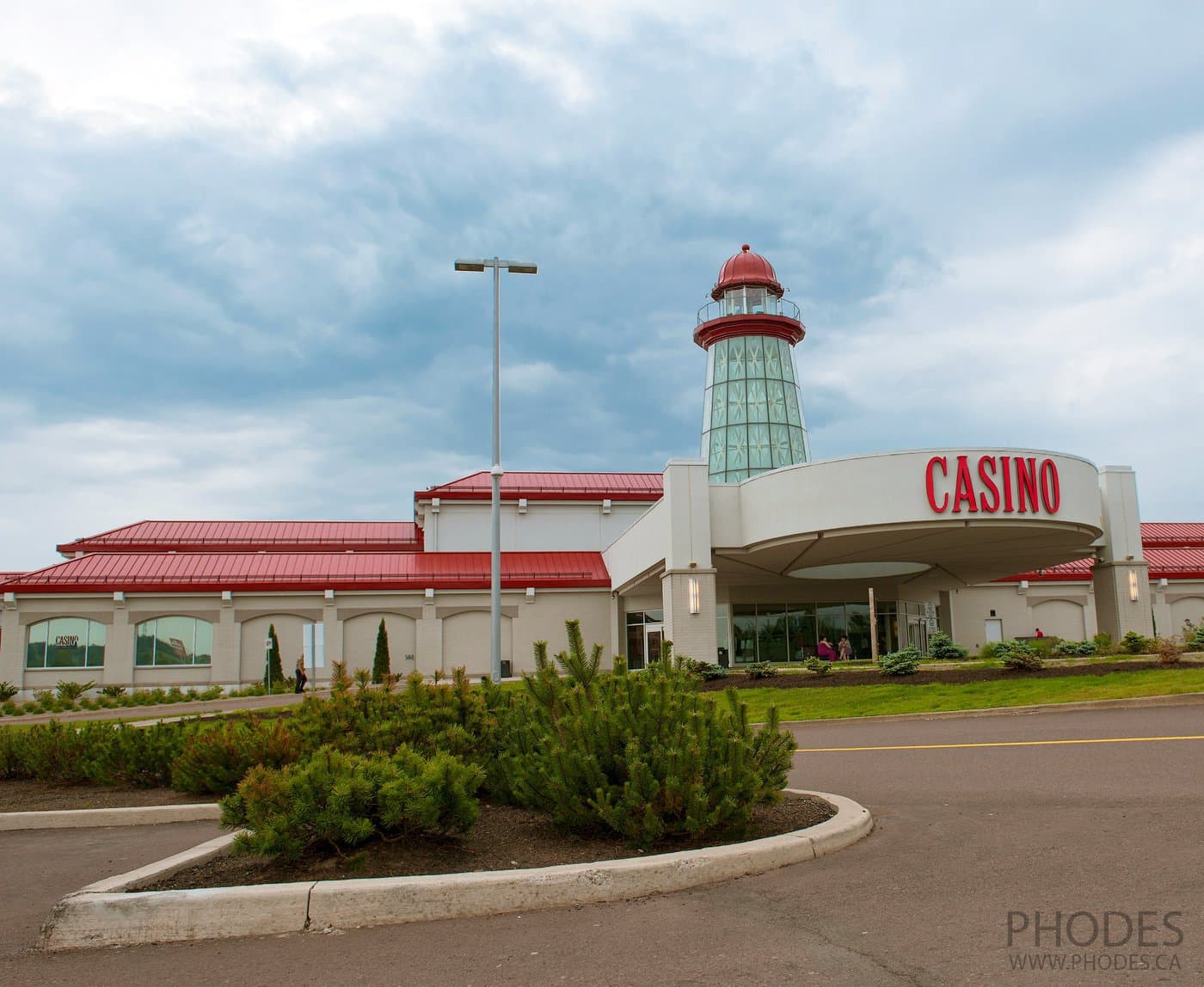 Once we came in, we were told at the reception the buffet in Casino New Brunswick cost $5 less per person for casino members.
Since becoming a member was free, we chose that option. The choice of the buffet was good. However, it was pretty chilly inside to stay longer. Thus, after having lunch and walking through old age visitors playing slot machines, we headed off in the direction of our next destination.
Where is the Confederation Bridge?
Website: https://www.confederationbridge.com/
Address: Confederation Bridge, Borden-Carleton, PE
The Confederation Bridge joins two Canadian provinces: New Brunswick and Prince Edward Island across the Northumberland Strait.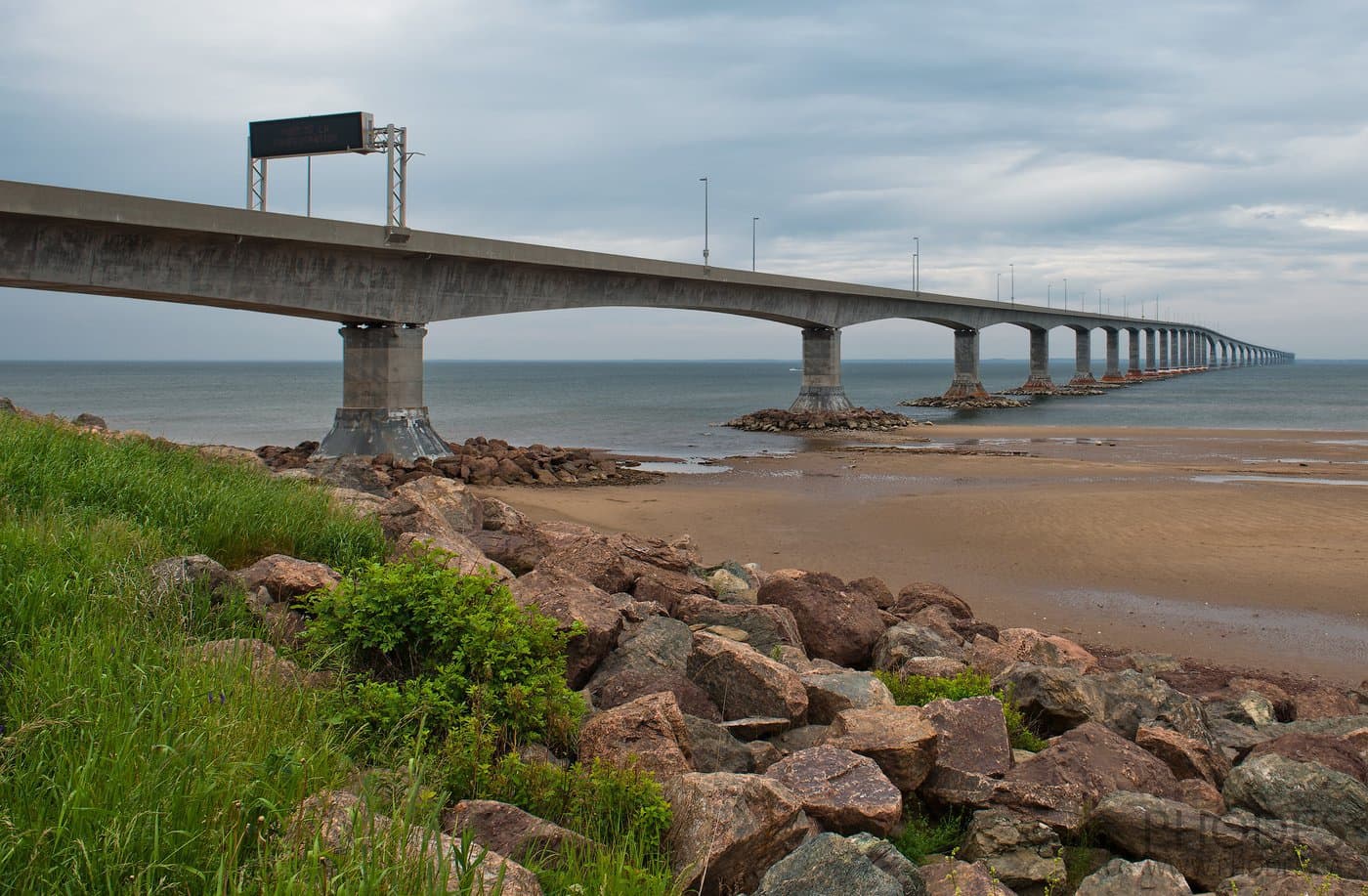 We dreamed of seeing the bridge. That is why we wanted to look at it as close as possible. We left our car on the parking of Cape Jourimain Nature Centre, and went for a walk to take some pictures of the bridge and the coast.
When we walked along the path to the shore, we realized that there was low tide, and it seemed that one could walk to the opposite shore. But it was a misleading impression. Confederation bridge is 12.9 km (8 miles) long. At the highest point, cruise ships can navigate under the bridge. A small historical note: the bridge was opened on May 31, 1997.
It is the longest bridge in the world crossing ice-covered water.
Wasting no more time, we went ahead to discover a new Canadian province: Prince Edward Island.
We had a weird feeling while crossing the bridge. It seemed like we were in an amusement park: a lot of water around, pretty narrow 2-line road leading to the water. It took around 10 minutes to cross the bridge.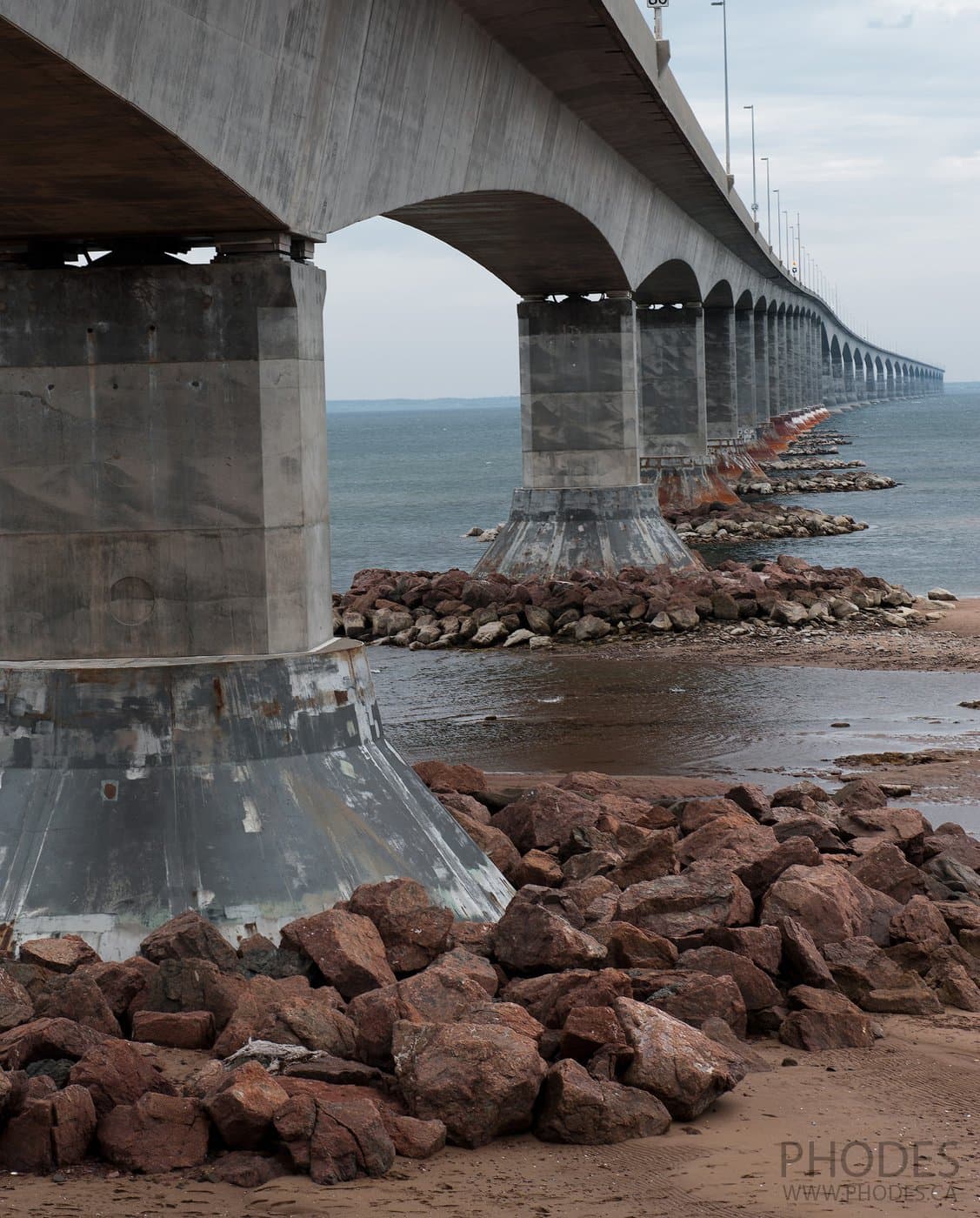 Here we are, in the kingdom of the red shores.
---
This post is part of our first long trip to the Canadian Maritimes. You can read other articles from that trip:
Prince Edward Island | Nova Scotia – Day 1 | Nova Scotia – Day 2 | Nova Scotia – Day 3
---
Useful links