If you're coming from Saint John, Canada, it's a 45-minute drive to Blacks Harbour, where the ferry leaves from. Since we had plenty of time, we turned off the highway onto Route 778 which went partially along the Bay of Fundy coastline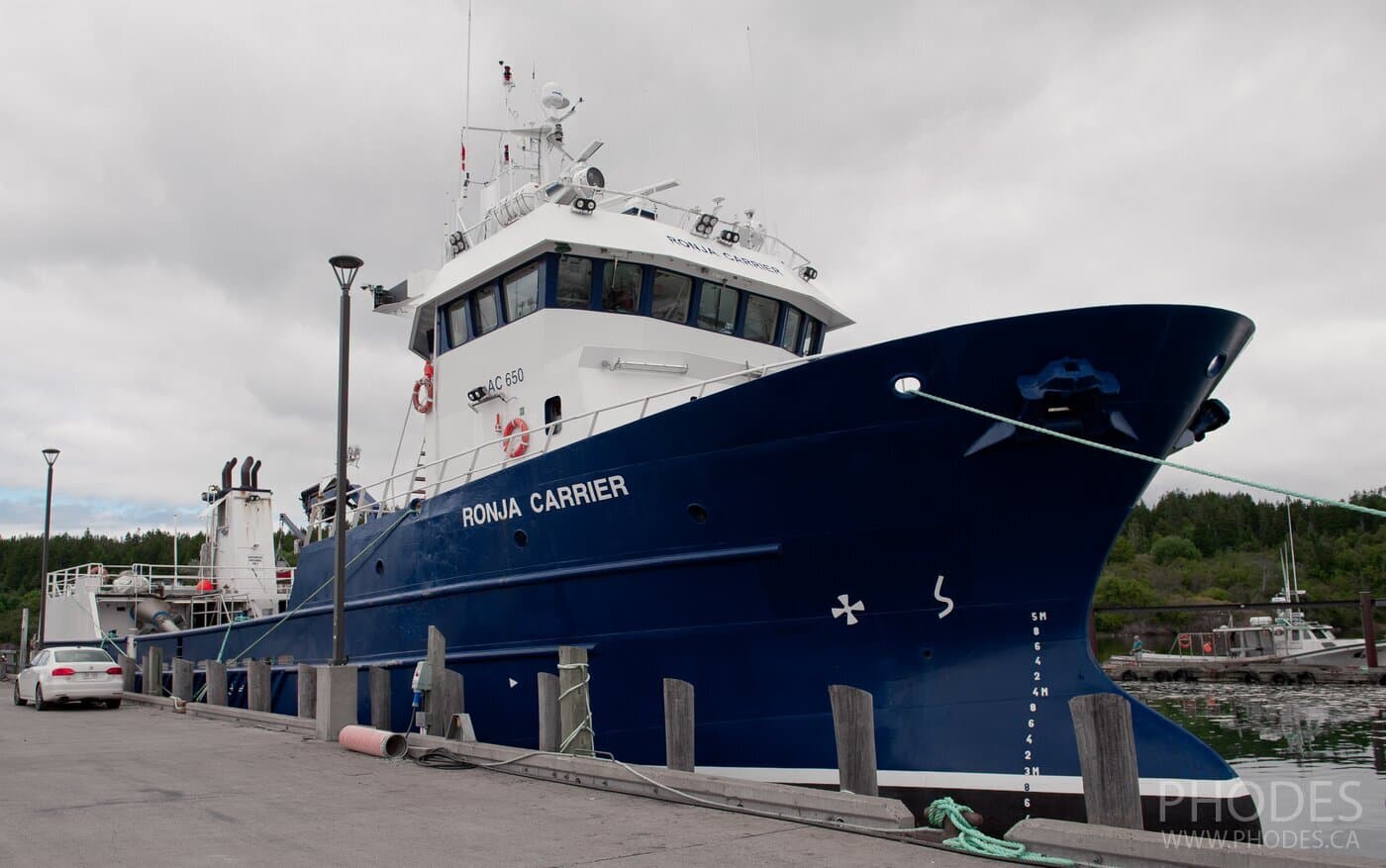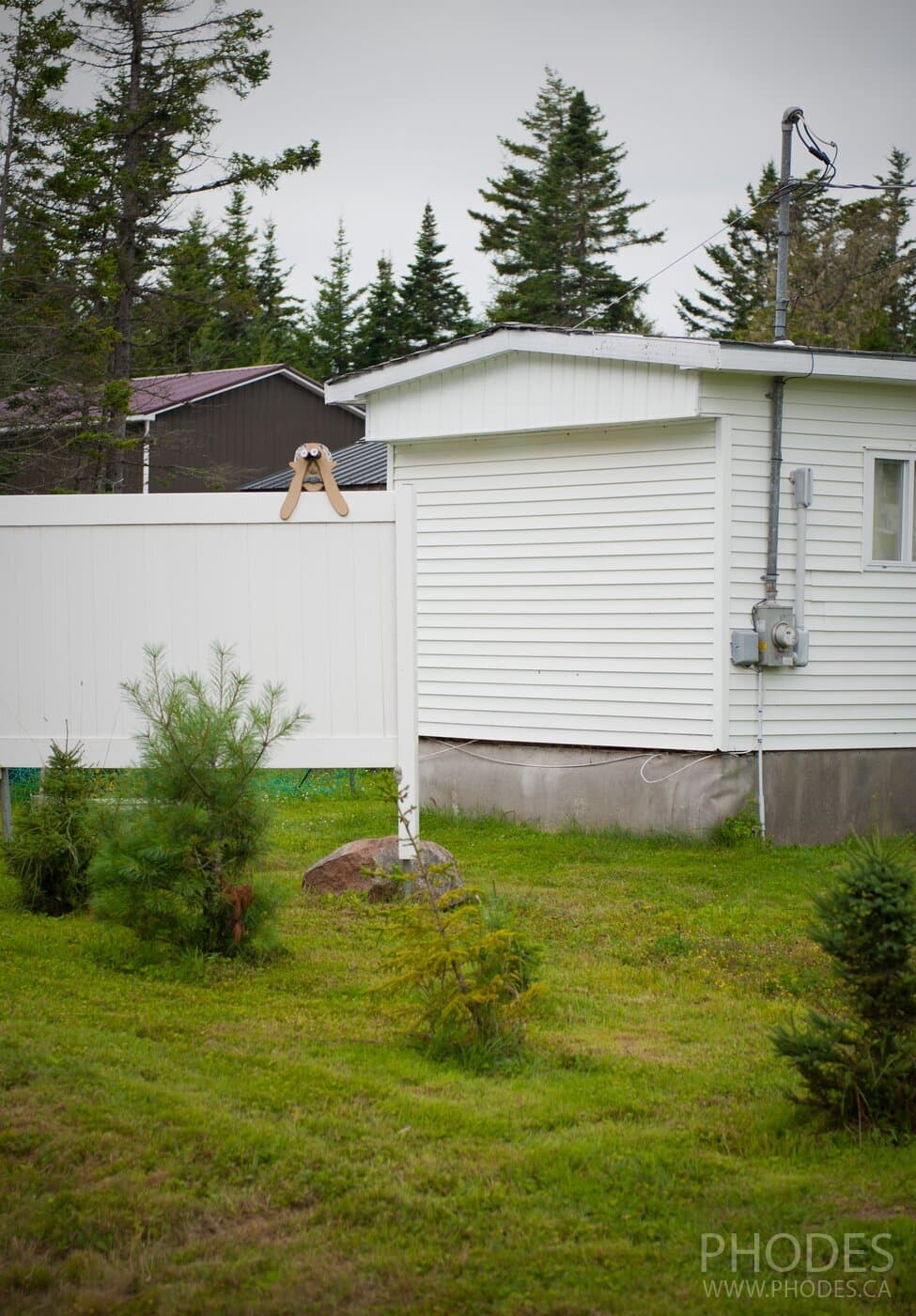 We stopped by Lighthouse Point Lighthouse.
Website: Lighthouse Point Lighthouse
Address: 35 Lighthouse Rd, Beaver Harbour, NB E5H 1P2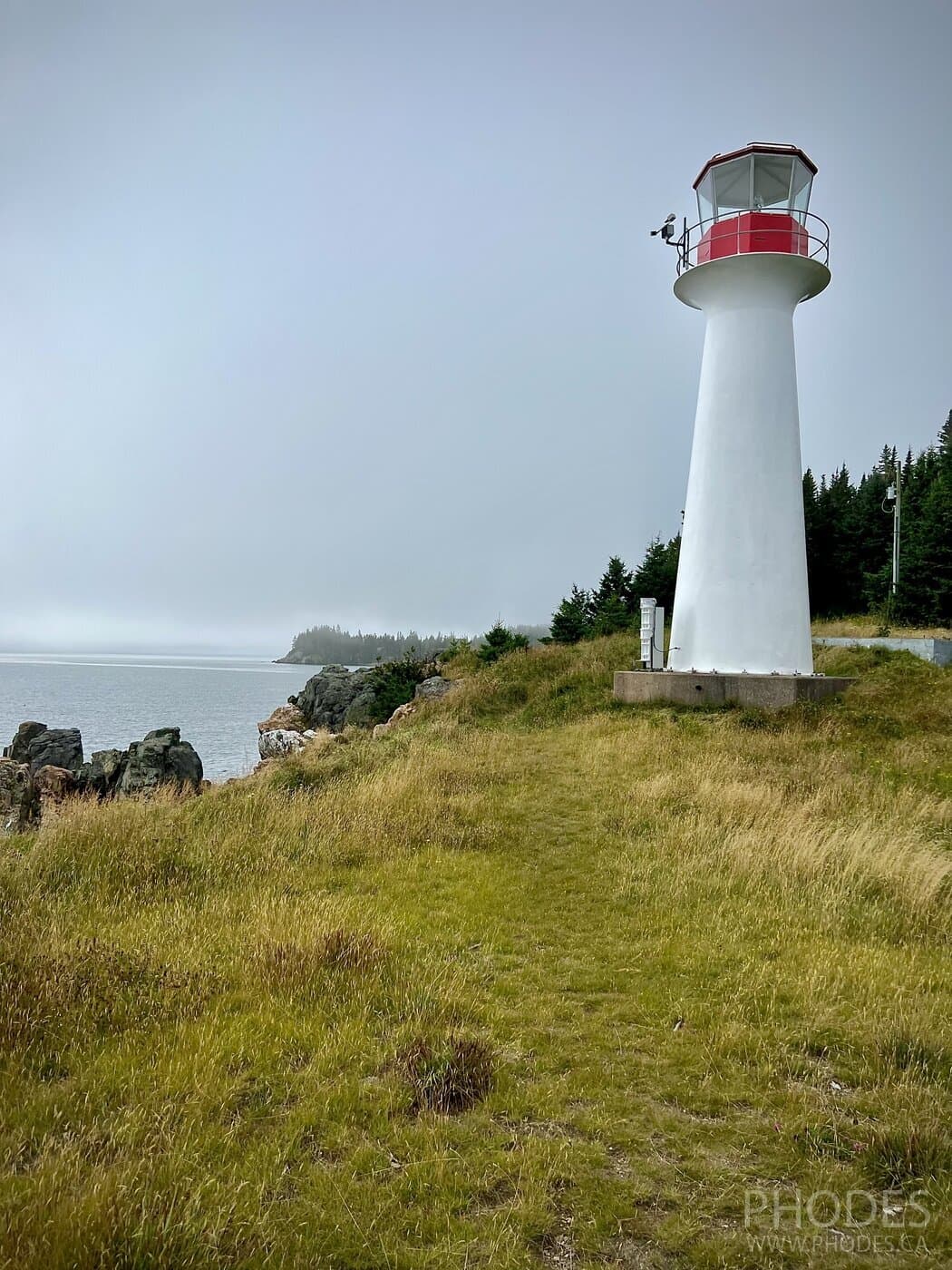 We have to admit, this time our entire trip through the provinces of New Brunswick and Nova Scotia was built mainly around the locations of lighthouses. You can see all the lighthouses we visited in this short video Lighthouses in New Brunswick and Nova Scotia.
When we arrived at Blacks Harbour, the ferry wasn't there yet. Since you have to register for the ferry 45 minutes in advance, we had time to walk around the pier and take pictures of the appearance of the ferry.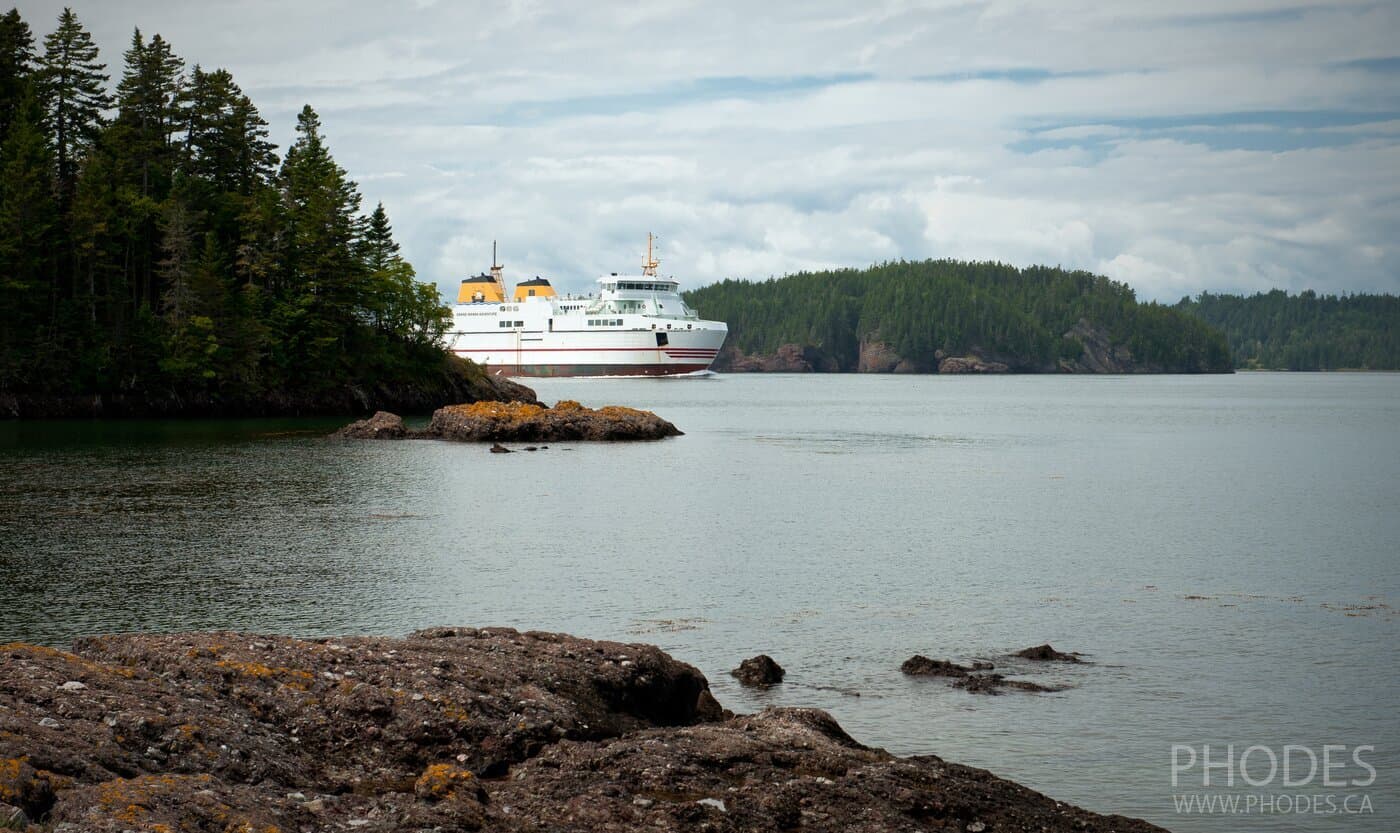 It is better to book tickets for the ferry in advance. You can do it on the website https://www.coastaltransport.ca//. You will also find other useful information on this site, including schedules and prices. For us in August 2022, two adults and an SUV cost $65.25. And that's the round trip price. You pay when you leave the island. We met this way of payment in the past while visiting the Canadian province of Prince Edward Island.
Travel tip
Pay special attention (check on the website) if you take the ferry early in the morning. It is possible that some departures may be cancelled due to thick fog. Our ferry was at 1:30 pm. We were lucky - the weather was good at that time.
The ferry ride takes 1.5 hours. The time flies away! First, the ferries are quite large and comfortable, i.e. there is a place to walk around and relax. You can settle down inside. If you get hungry, there is a buffet. It was a sunny day and spent our time on the upper deck, watching dolphins and whales, and having a leisurely conversation about life with the ferry nurse.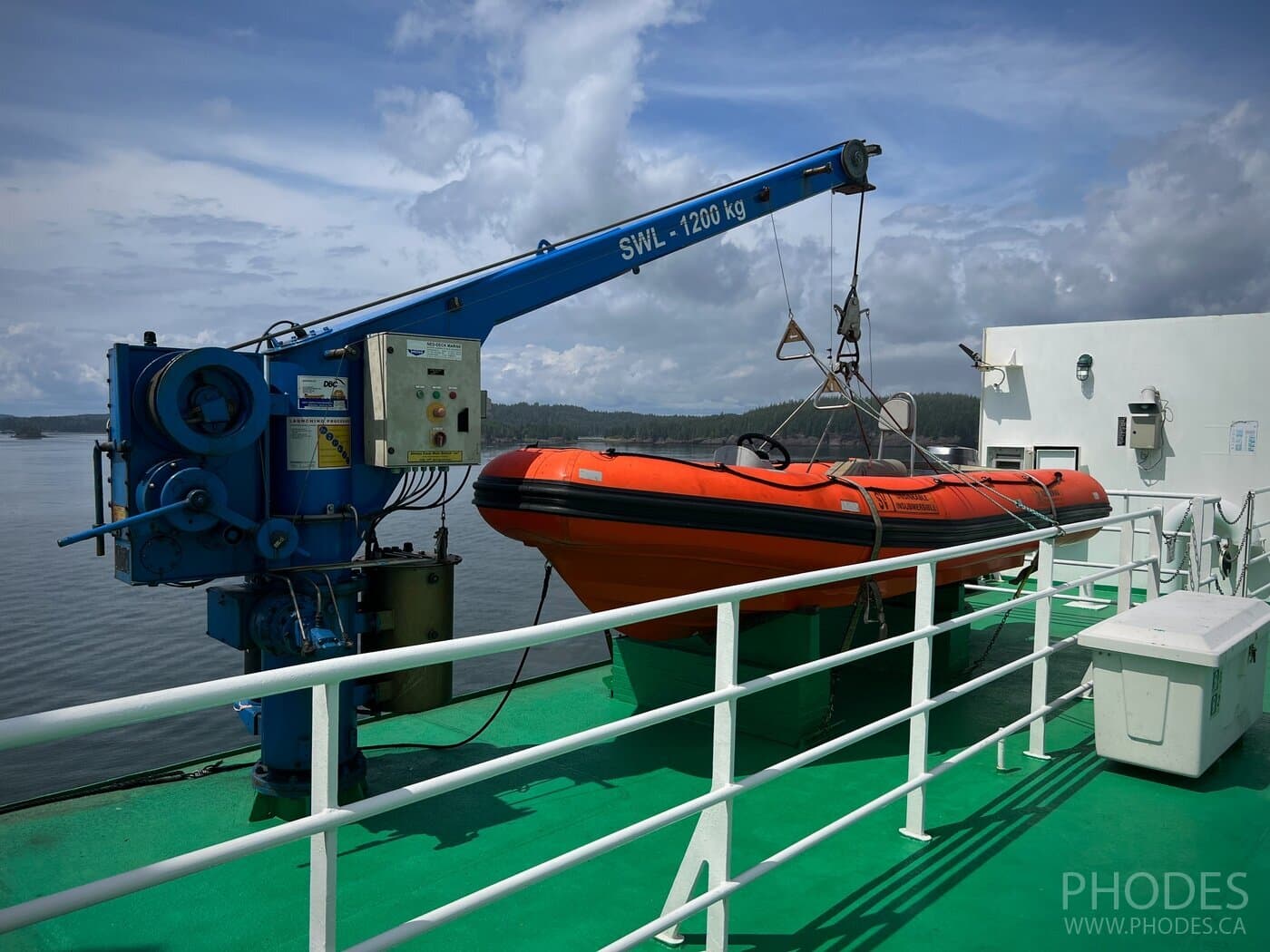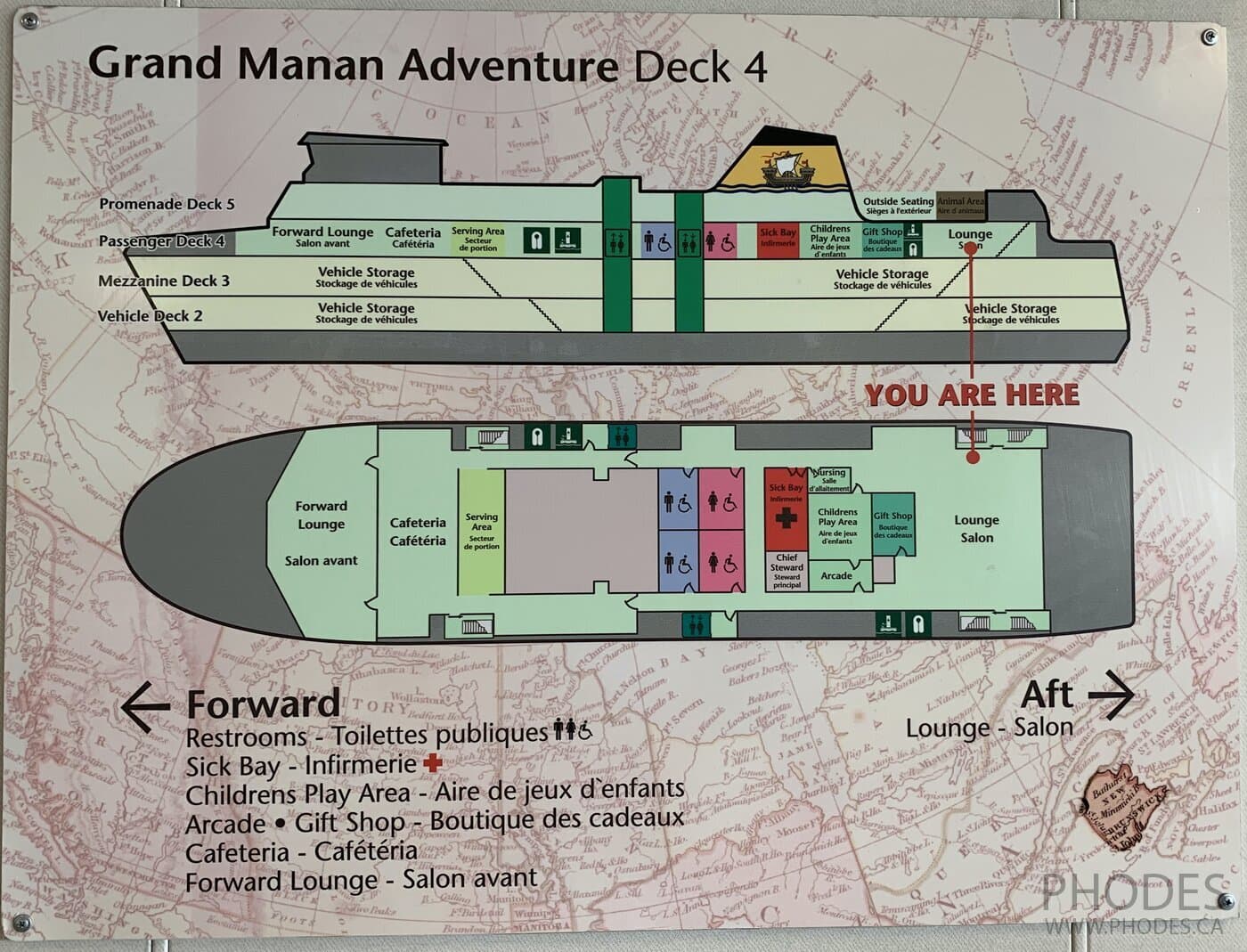 A funny story happened on the ferry. Vitali, as usual on trips, had his huge Nikon around his neck. One old lady noticed it while we were leaving Black Harbours, and started spoiling about the Island Grand Manan. Saying, your finger will be tired to take pictures - is so beautiful there! Later, just before arrival on the island, we were sitting in the cafeteria, taking coffee. All of a sudden, we noticed an "old friend of ours" (she found us 😲) rushing towards us, waving her hands and shouting: "Take your camera and come with me. There is no chance you can take the pictures like that from anywhere else!" She dragged Vitali somewhere. It turns out that at that moment we were passing by the Swallow Tail lighthouse, which is the hallmark of Grand Manan Island.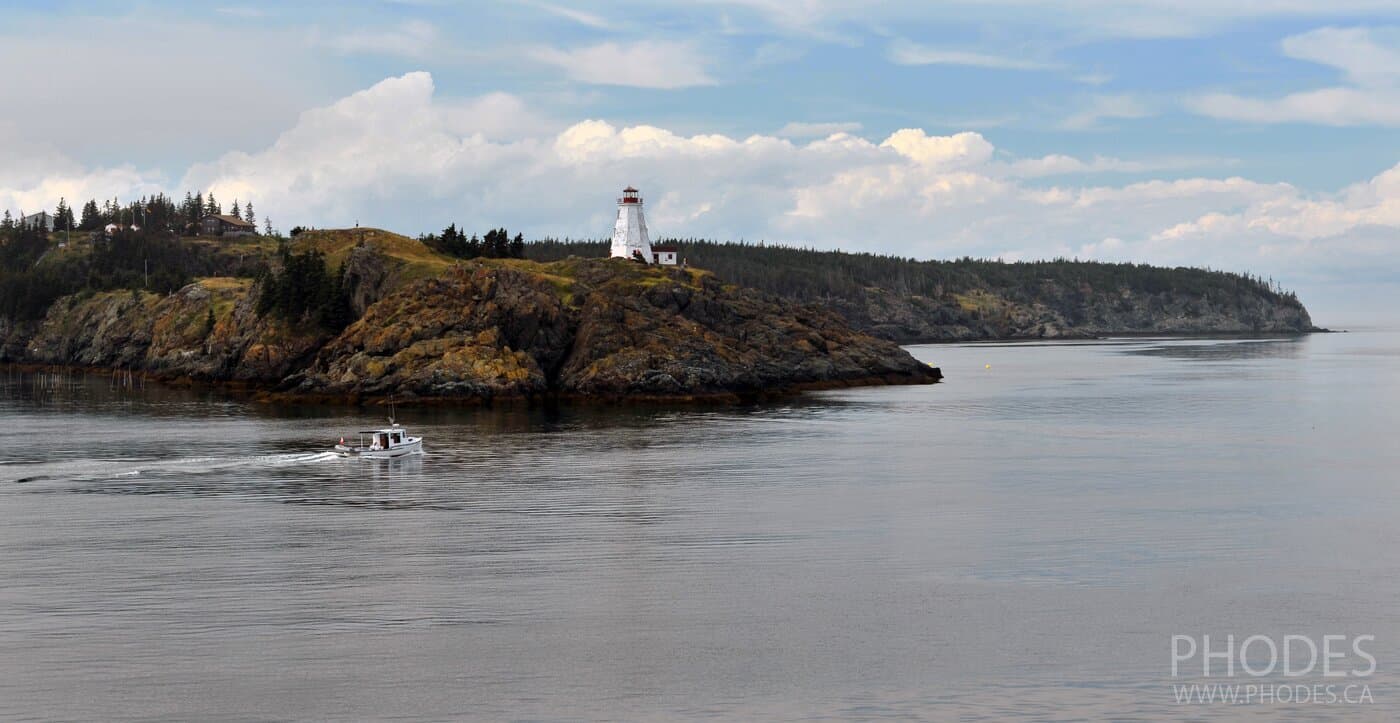 The next morning at 6:30am we went to observe the sunrise at this lighthouse.
For some reason, we thought that there might be problems to find accommodation on the island. Actually, there is a variety of motels, bed and breakfast, inns, and camping. We found our motel at the website http://www.grandmanannb.com/. On that website you can also find a lot of other useful information for visitors of Grand Manan. We usually do not book hotels far ahead of time, but in the case of Grand Manan Island we decided to take care of accommodation in advance. First of all, because we were traveling in August (high season), and secondly, our overnight stay on the island fell on a weekend from Saturday to Sunday. We booked a room in a small motel with a water view.
Website: Surfside Motel
Address: 123 Rte 776, Grand Manan, NB E5G 1A4
The room did have a real "ocean view". The only difference is that the role of the ocean in our case played Long Island Bay. The room is tiny, but we had everything we needed. One drawback is that the room had no air conditioning. But we did not spend time in the room during the day, and at night in August it was just fine to sleep without air conditioning.
One of the advantage of this motel is its proximity to the water, 20-30 meters walking distance. During the day you can swim; in the evening you can sit at the beach and relax watching the ferries arriving and departing.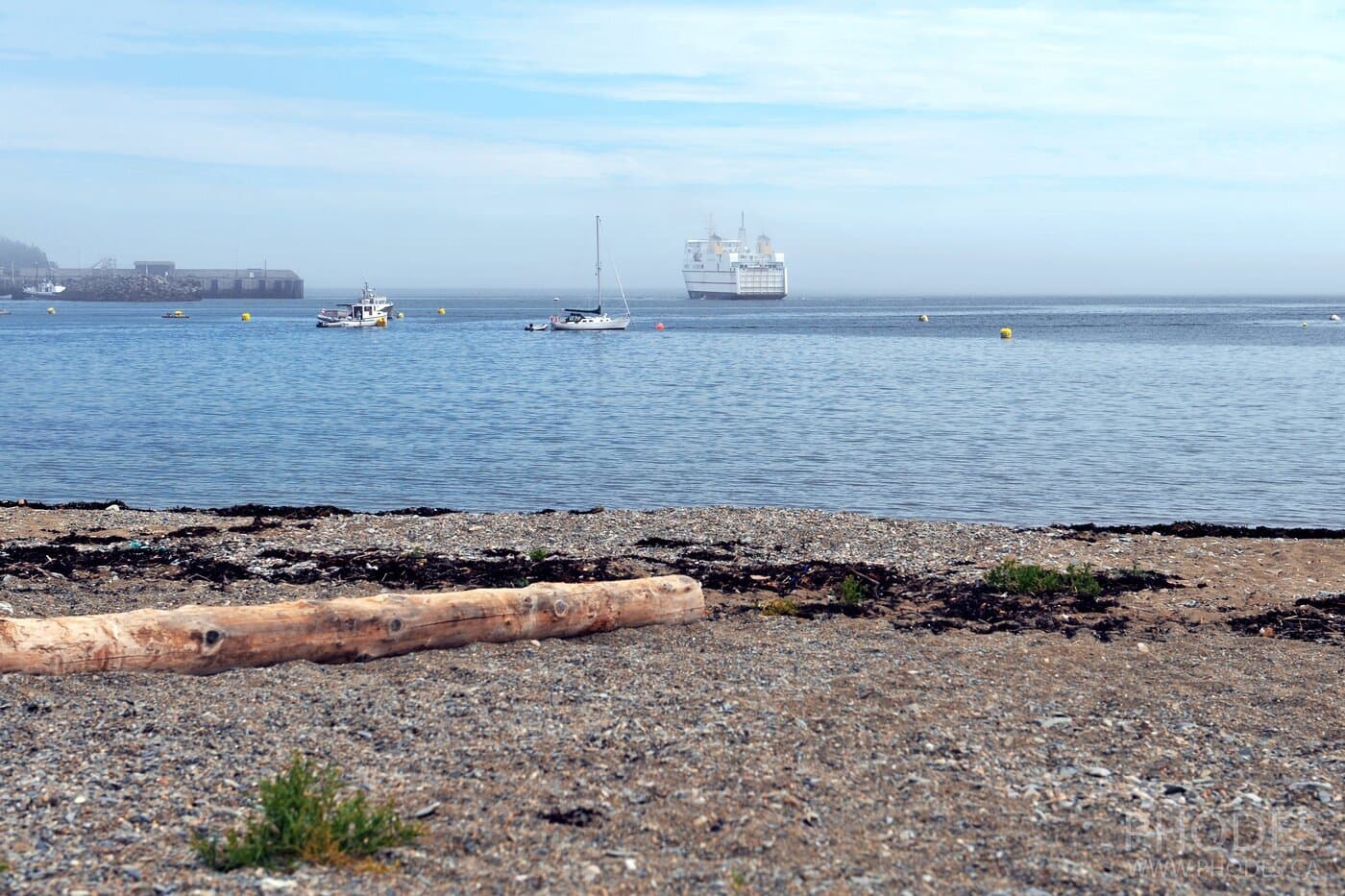 As we mentioned above, on this trip we decided to focus on visiting lighthouses. Grand Manan Island has three lighthouses.
Website: Southwest Head Lighthouse
Address: Grand Manan, NB E5G 4H4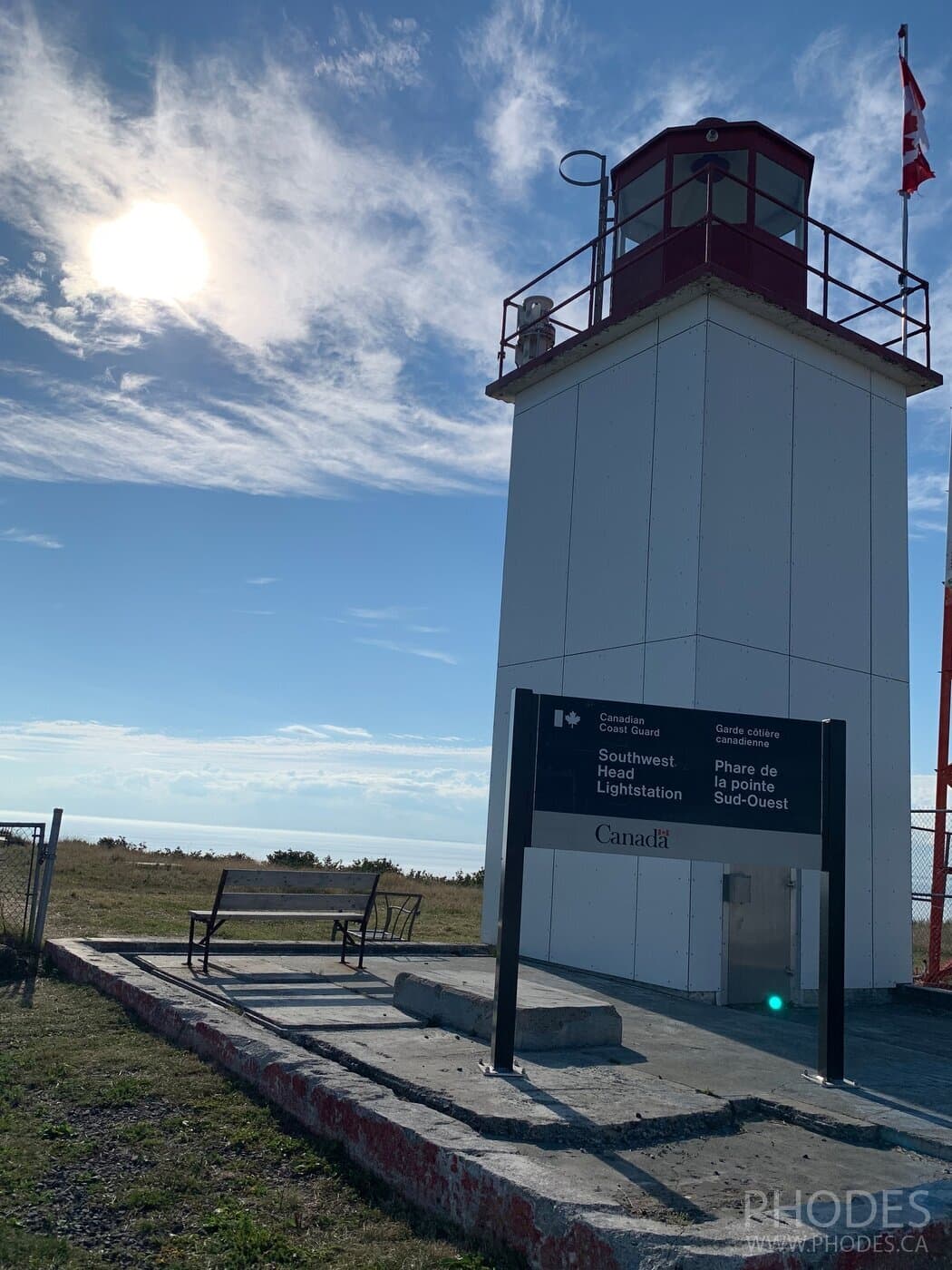 We arrived at Southwest Head Lighthouse at about 6 p.m. We were lucky enough to watch the most beautiful sunset of our lives! We spent at least three hours there. In the beginning we just took pictures of the scenery around the lighthouse. Then we flew the drone over the gulf, taking pictures of the rocky cliffs. You can watch our video Lighthouses in New Brunswick and Nova Scotia. The first 33 seconds are from the Southwest Head Light House.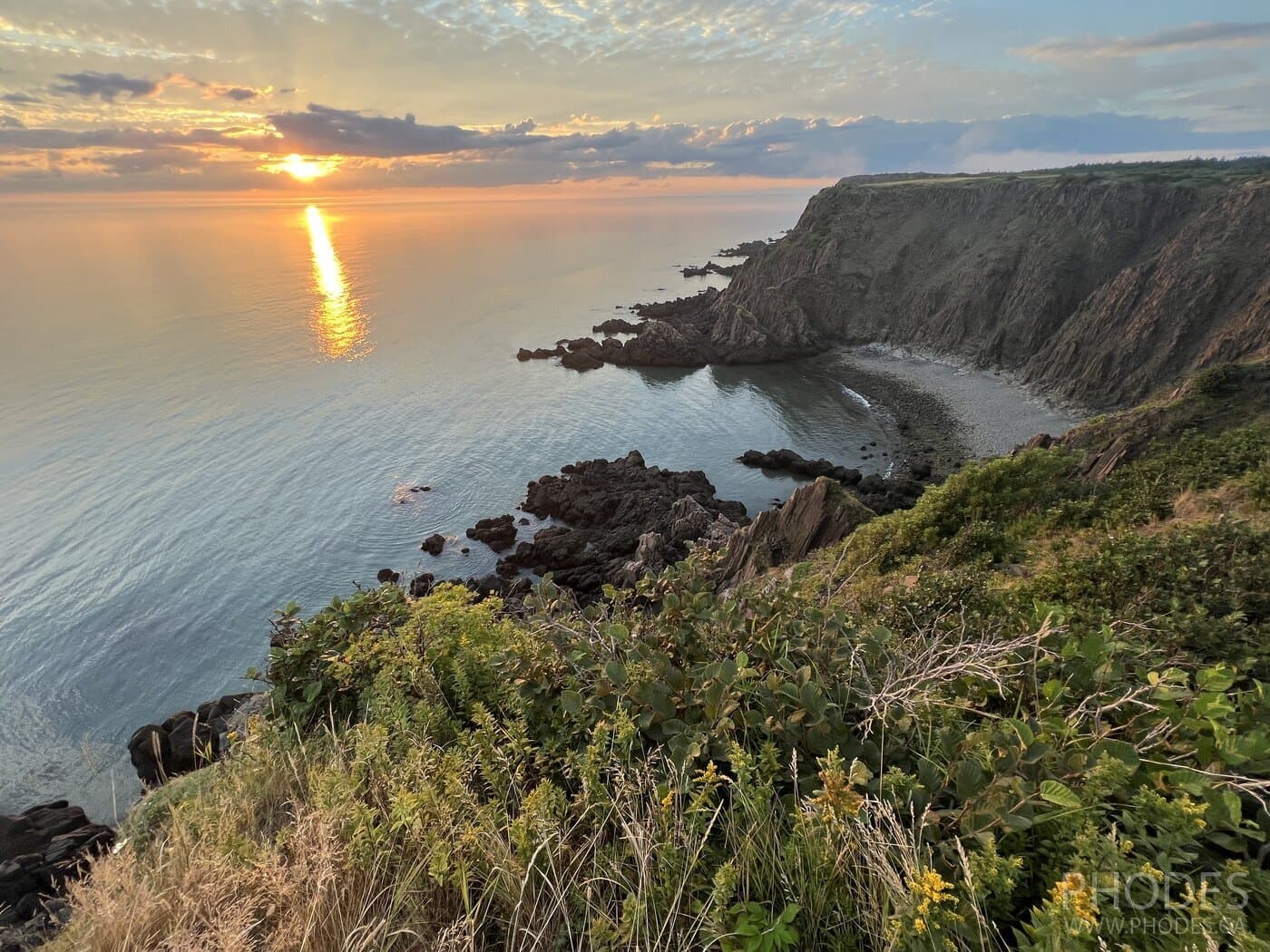 Travel tip
It would be a good idea to bring your own folding chairs. Maybe you'll also have a chance to watch a stunning sunset during your stay on Grand Manan Island. In this case you would rather do it comfortably. We didn't have our own chairs, but we were lucky: we were the first, and we took the only two chairs available.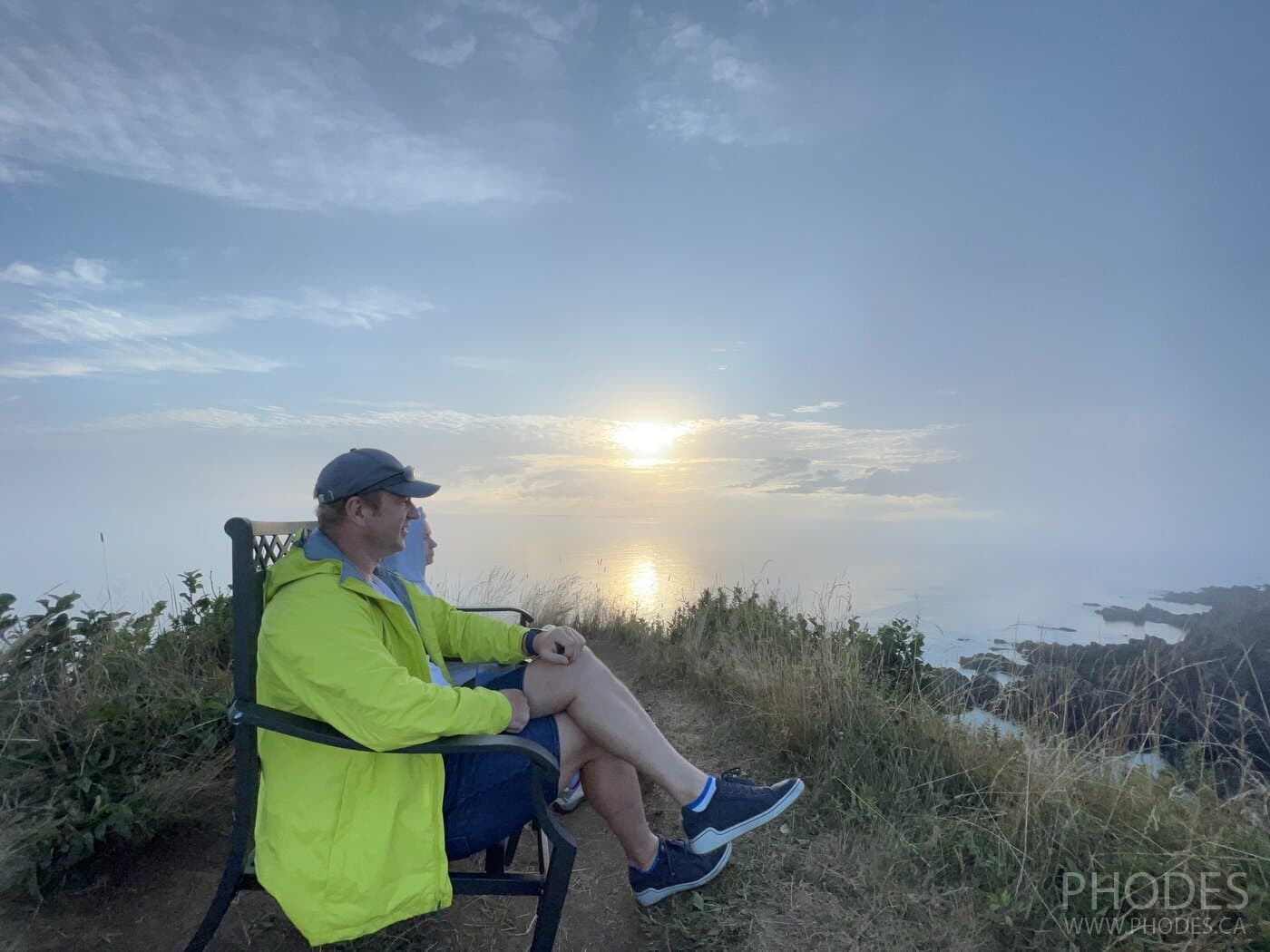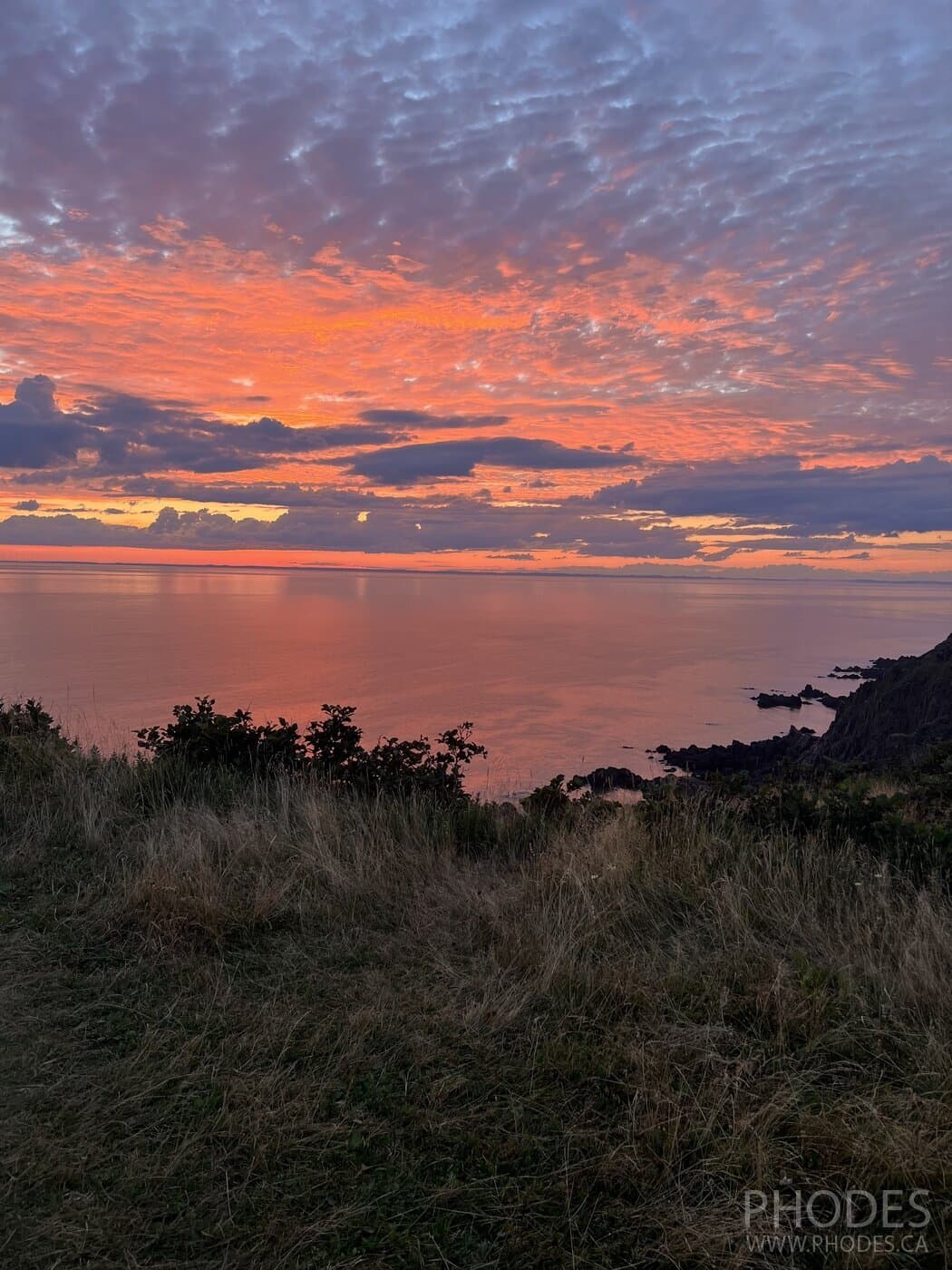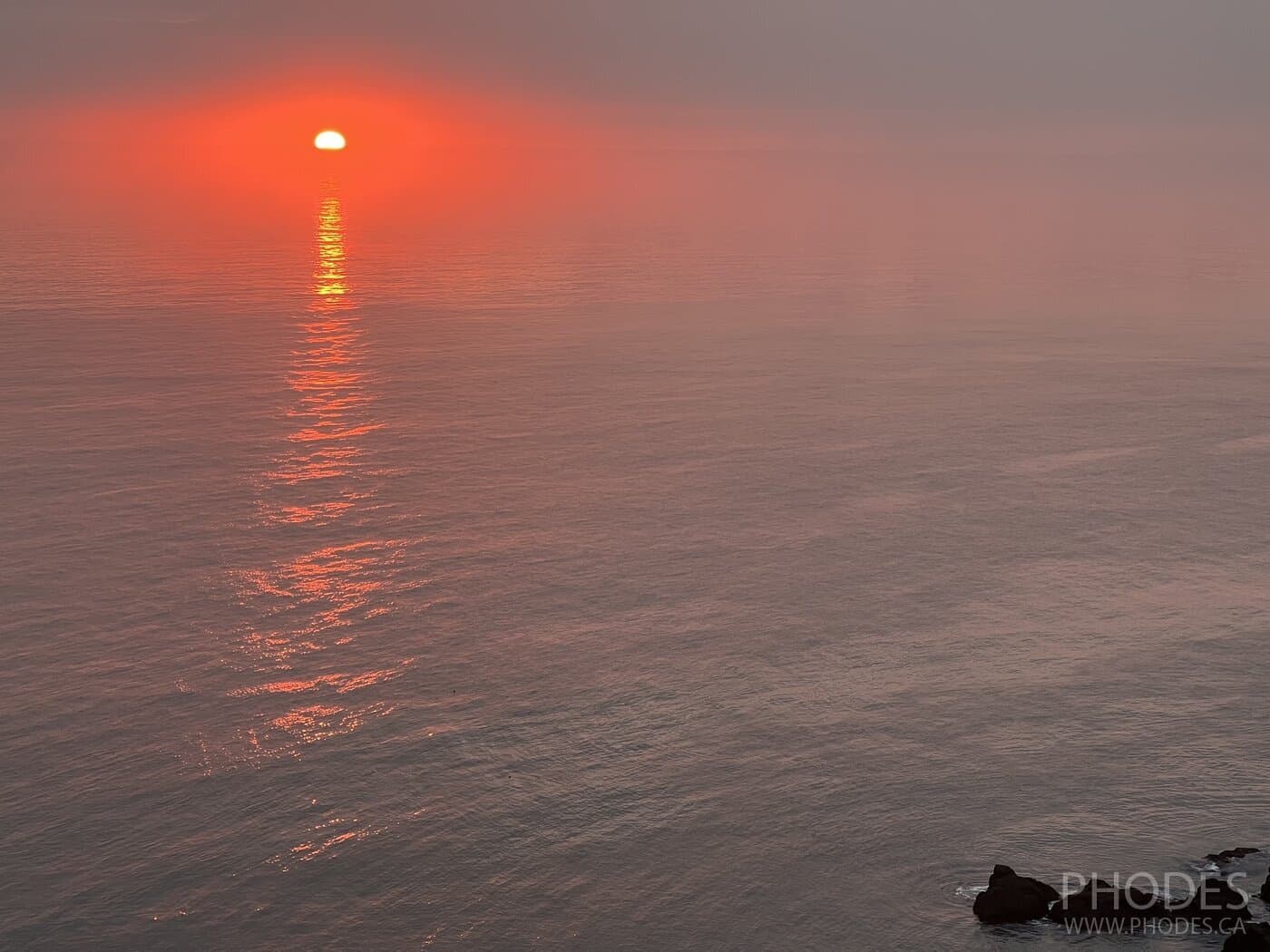 Website: Long Eddy Point Lighthouse
Address: 438 Whistle Rd, Grand Manan, NB E5G 1B9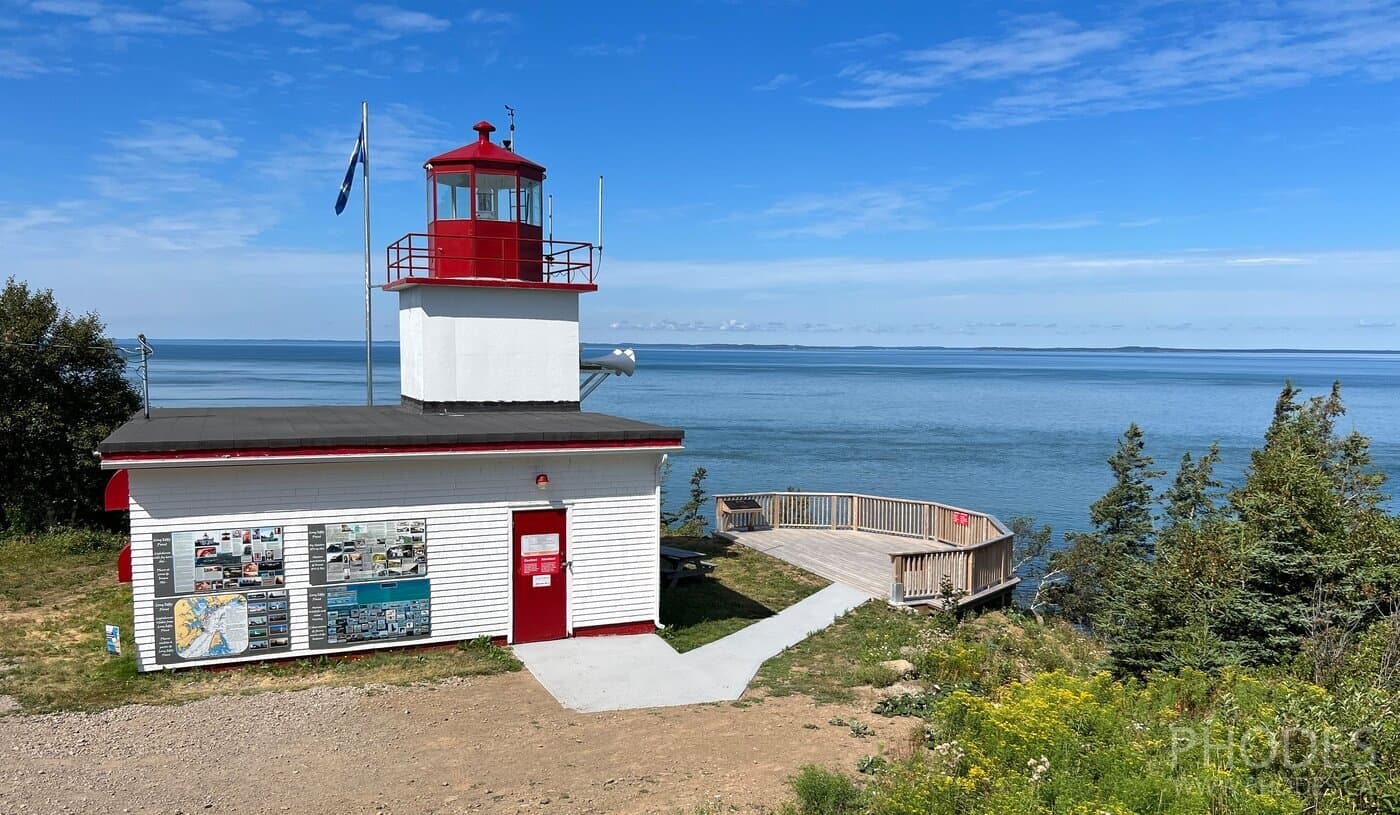 We went to Long Eddy Point Lighthouse for breakfast the following morning after buying coffee and croissants at the Old Wellhouse Café.
Website: Old Wellhouse Café
Address: 56 Route 776 Grand Manan, NB, Canada E5G1A1
In our video Lighthouses in New Brunswick and Nova Scotia you can see the Long Eddy Point Lighthouse from 44th to 1.06th second.
By the way, we met Old Wellhouse Café the night before after "watching" the sunset. The cafe was about to close. But the girl sold us drinks and kindly offered to sit at the table on the terrace. She also advised us to visit the local museum. She described it so fascinating that we promised ourselves that we would definitely find time to go to the museum.
…Сoffee, fresh backed croissants, sea! This time there were no chairs. We had breakfast standing on the wooden terrace. But we enjoyed the sunny August morning and watched whales and dolphins in the sea. We were alone.
Website: Swallowtail Lighthouse
Address: 50 Lighthouse Rd, Grand Manan, NB E5G 2A3
The Swallowtail Lighthouse is the lighthouse that you can see from the ferry when you come to Grand Manan Island and while leaving.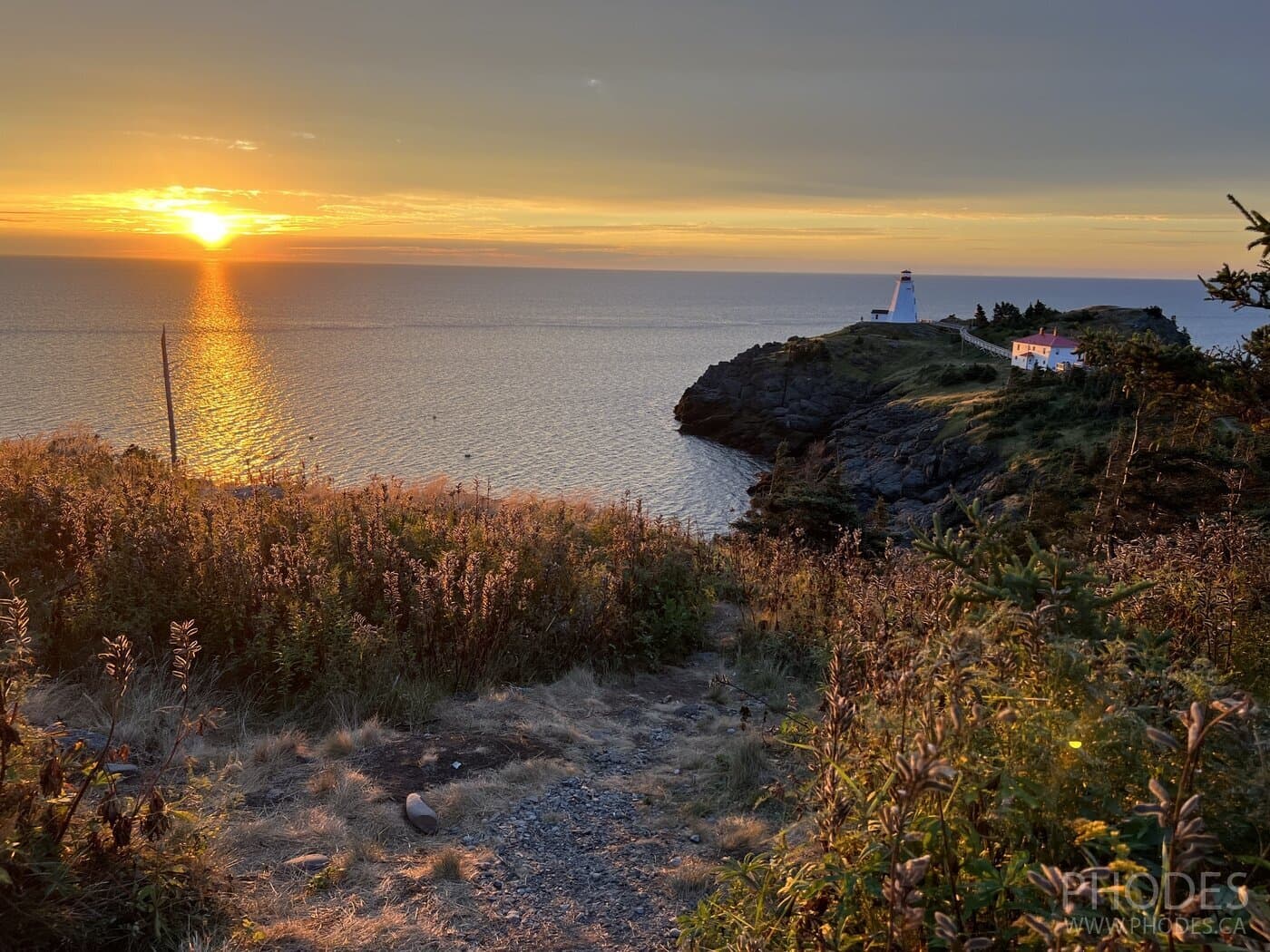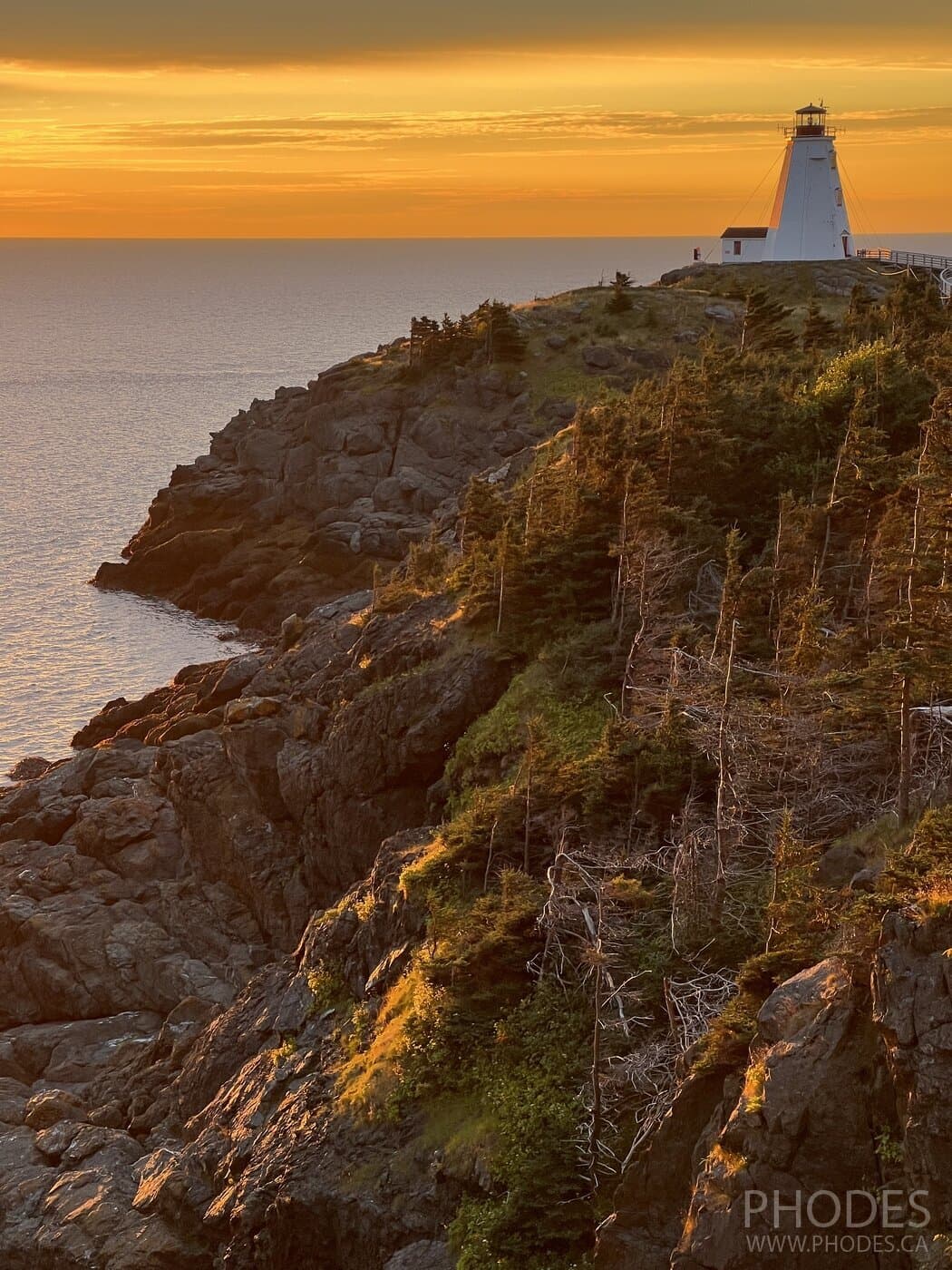 In our video Lighthouses in New Brunswick and Nova Scotia you can see Swallowtail Lighthouse from 34th to 43rd seconds.
Since we didn't have a lot of time before the ferry departure, we decided to go to this lighthouse as early as possible, at 6:30 in the morning, to watch the sunrise. It was magical! "It's so cool when you're lucky to have good wether!" - we exclaimed. Yesterday it was a terrific sunset, today the beatiful sunrise! So many unexpected discoveries and positive emotions in less than 24 hours!
Swallowtail Lighthouse is located on a peninsula. The surrounding area is set up like a park, with historical references and signs, there are gazebos and benches. You can easily spend a couple of hours there.
We thought we'd be the only crazy people who came to see the sunrise. But actually we were not alone. We met a couple of other people.
You know, if you want to escape from the hustle and bustle, the island of Grand Manan is one of the best places. After spending 24 hours on it, we really relaxed. We even felt a rush of energy and it seemed like we could drive back home.
In addition to the lighthouses, we visited the island's only park, Anchorage Provincial Park.
Website: The Anchorage Provincial Park
Address: 136 Anchorage Rd, Grand Manan, NB E5G 2H4
If you are a fan of camping, you can stay overnight in this park.
We were surprised that they didn't charge us: maybe we got there a little late at 4 p.m., or maybe it's always free 😊.
We remembered Anchorage Provincial Park by a small hiking through the woods along the shoreline, and the funny multi-colored rabbits walking around the parking lot.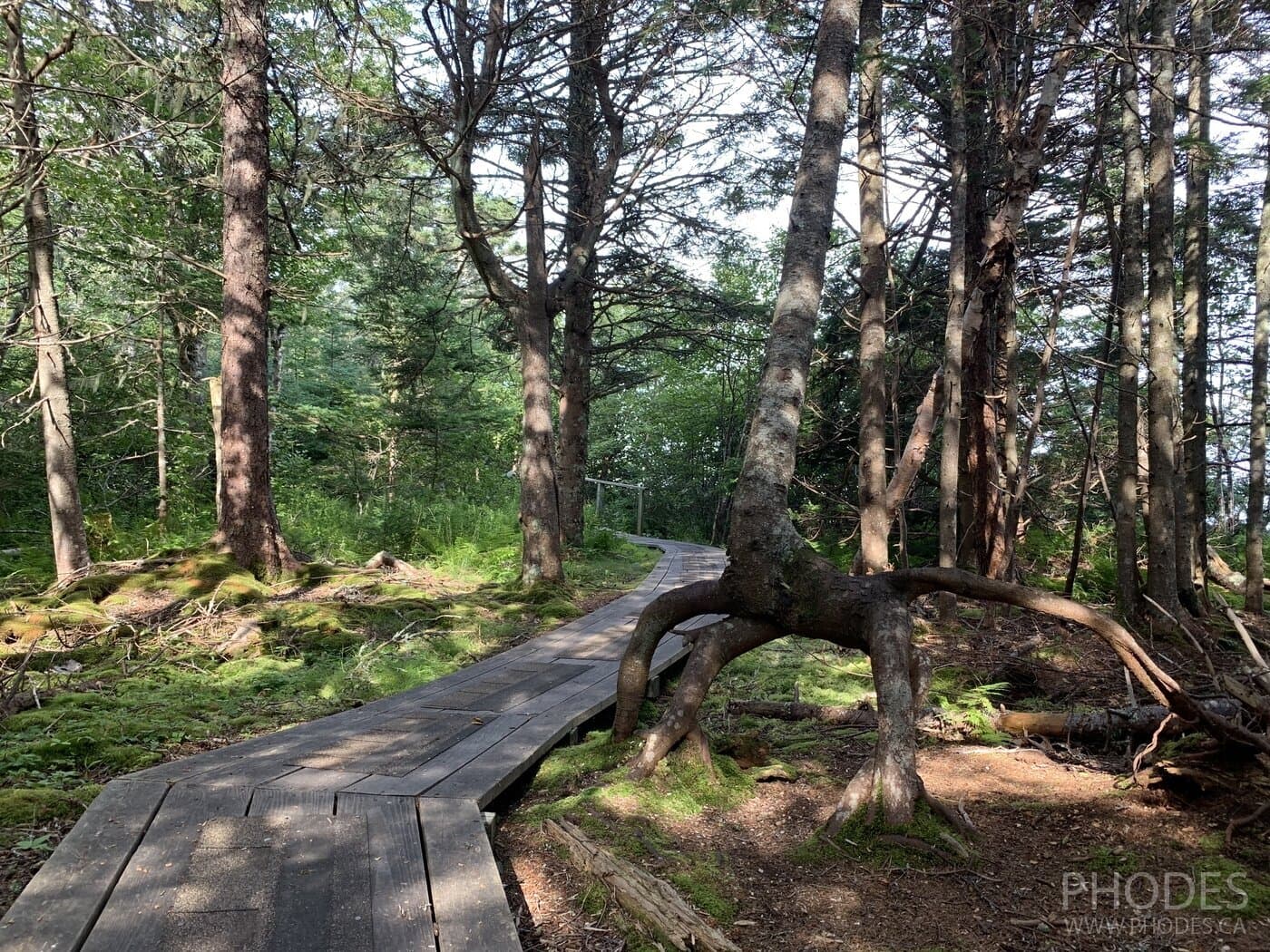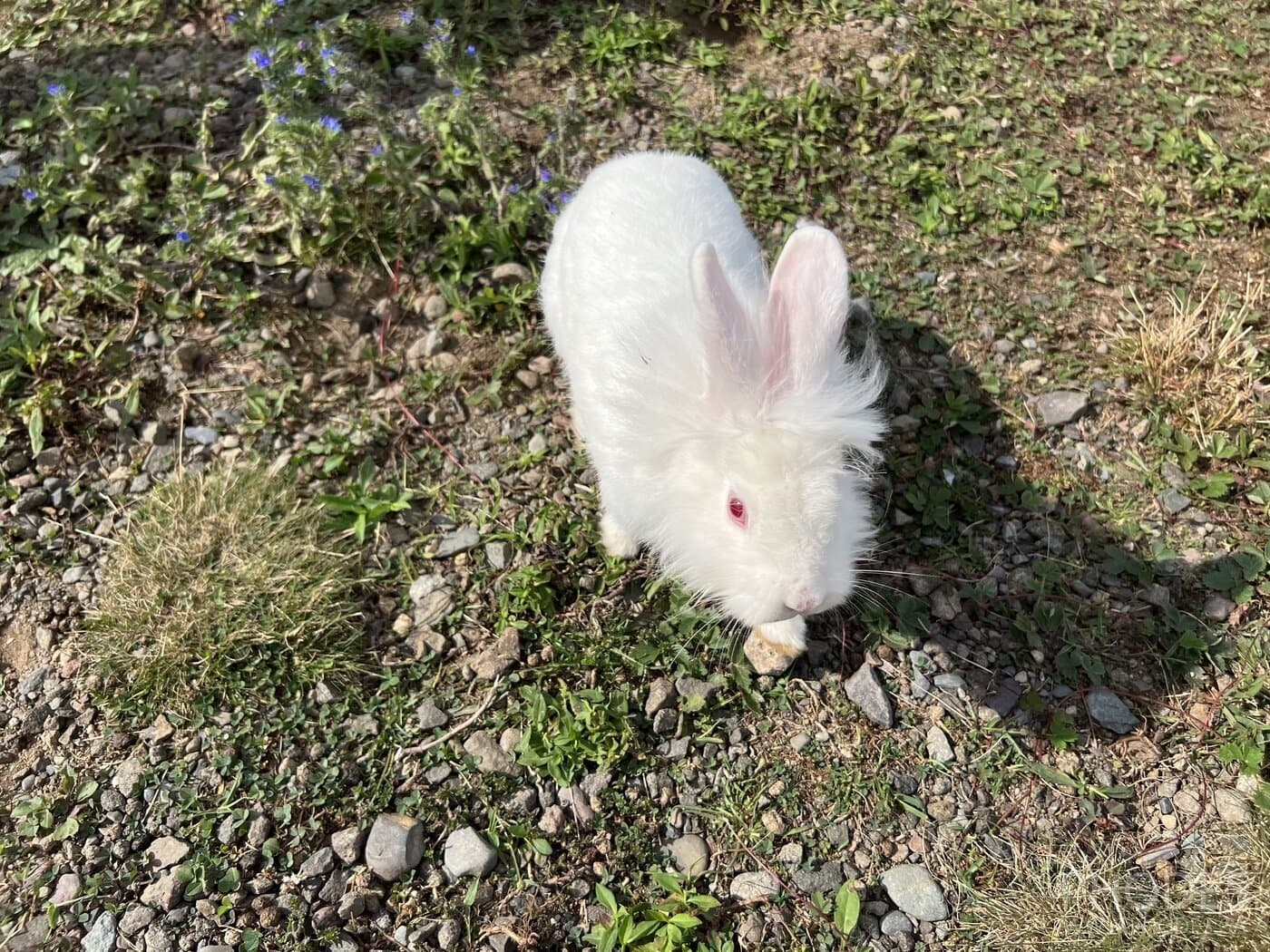 We could not leave Grand Manan Island without souvenirs. Meanwhile the departure time of the ferry was approaching. We decided to stop by the Grand Manan Museum because the girl at Old Wellhouse Café the day before told us that the museum has a gift shop. Once inside the museum, we regretted that we had no time to visit it. But we could still see that the exposition is made with love and attention to detail.
Website: Grand Manan Museum
Address: 1141, Route 776, Grand Manan, NB E5G 4E9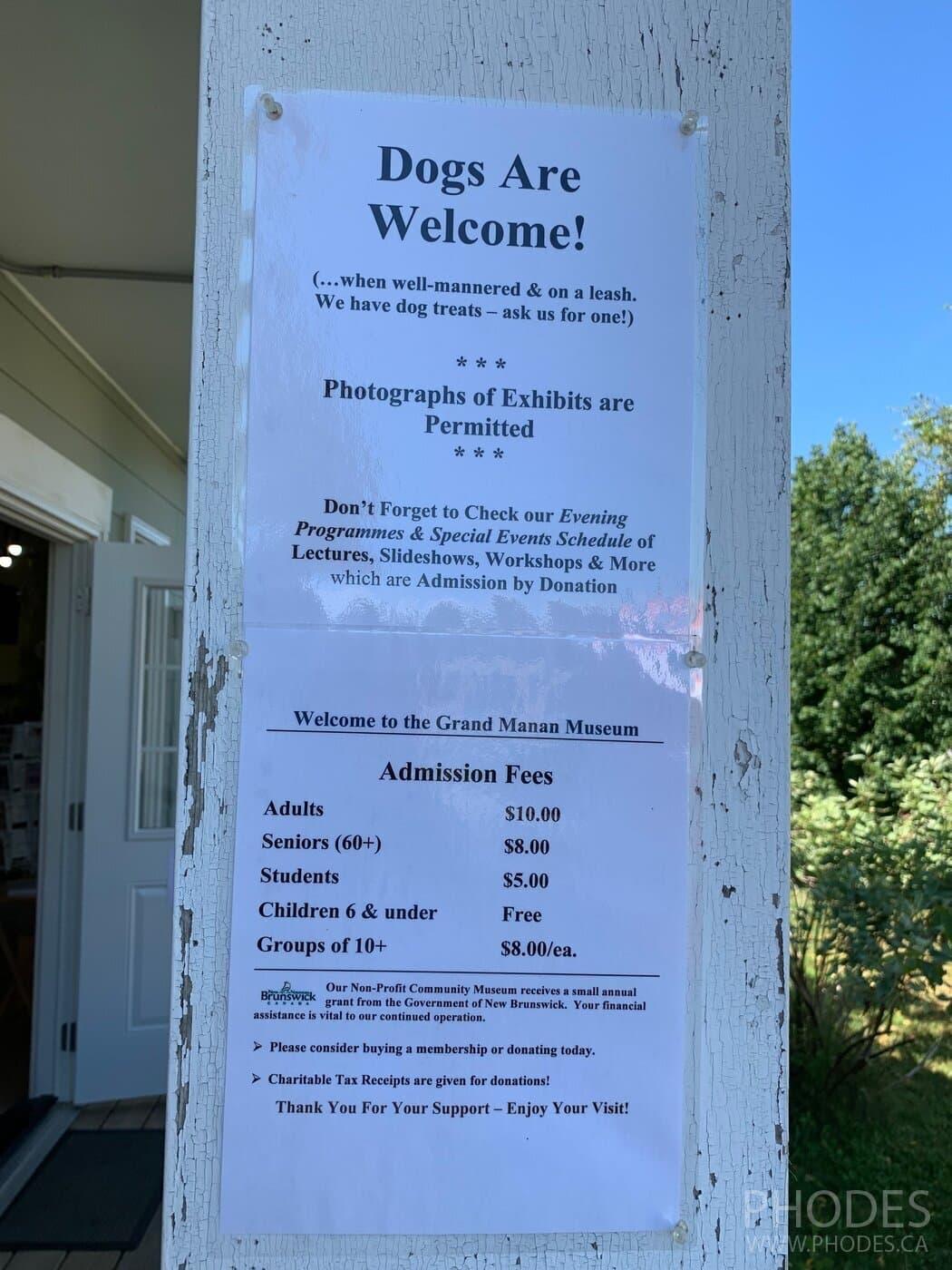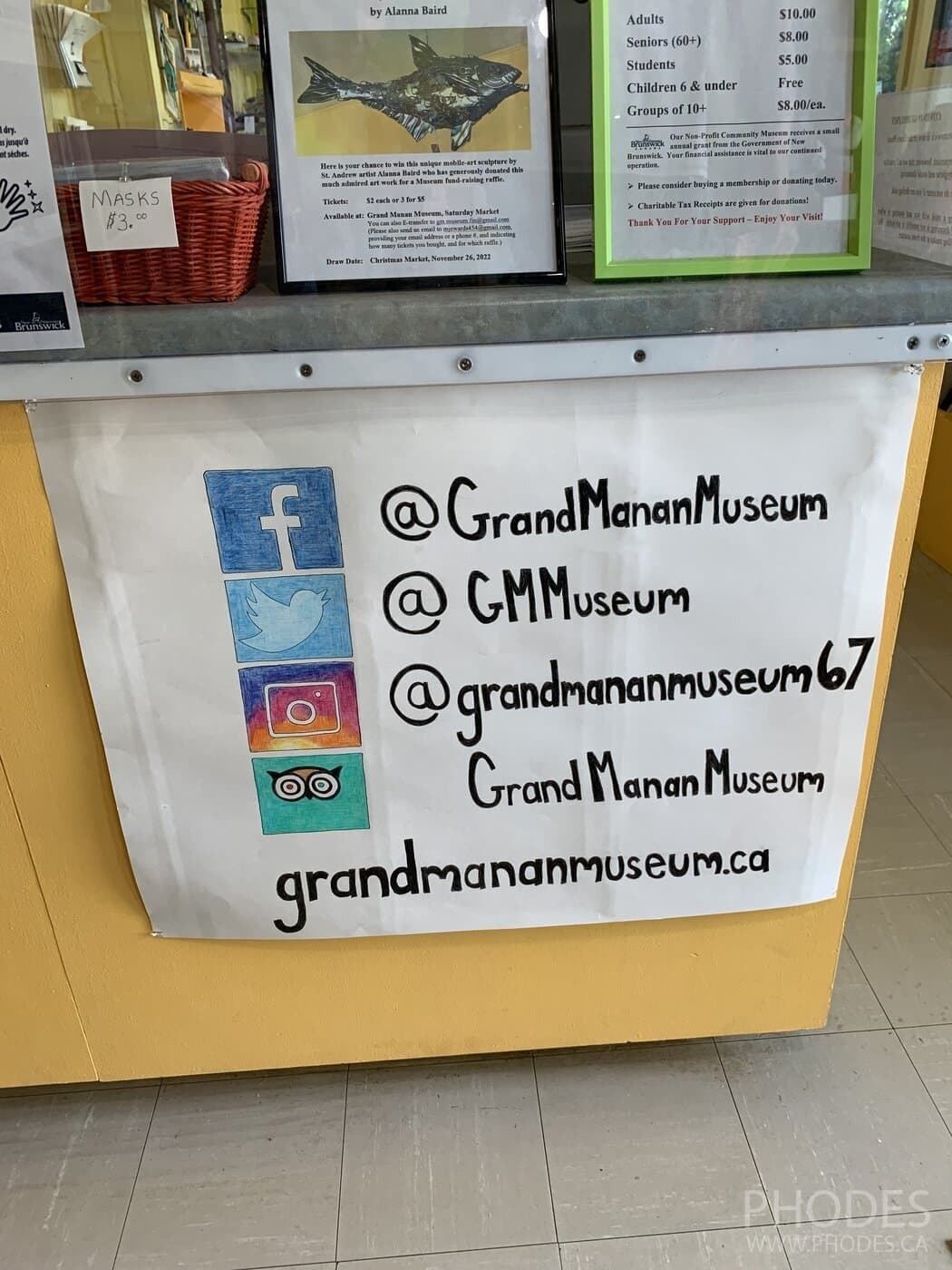 We chatted for a while with a nice and kind old man at the cash register. Everywhere we went, no matter whom we met, the inhabitants of Grand Manan Island were always open for chit-chatting about this and that, always welcoming and with a smile… It seems they have a very different flow of life!
We almost forgot to mention: there are several beaches on Grand Manan Island. They are shallow, i.e. in hot weather the water should be warm.
We really didn't want to leave Grand Manan Island. We decided that we would come back here again. First of all, the museum remained unvisited 😊 Secondly, there are a lot of trails for hiking on the island. It takes time to do that. Also, it would be great to take a free ride on the ferry to White Head Island.
We wish you a pleasant discovery of Grand Manan Island! Just remember to check the weather!