Home
Many of you may remember geographic classes about the Arctic, icebergs, polar bears, etc. Back then all that seemed very very far and unreachable. Since then the time passed, we grew up and many unreal things became real and achievable.
It was time to make come true our childhood dream: to see icebergs! After searching the Internet for a while we realized that we could do it – to discover the Canadian province of Newfoundland and Labrador and its ice mountains.
The alley of icebergs in Newfoundland
Every year, from the coast of the Canadian province of Newfoundland and Labrador, you can observe an incredibly beautiful phenomenon – the drift of icebergs from the Arctic to the Atlantic Ocean.
The icebergs break off glaciers on the west coast of Greenland forming the alley of icebergs.
The famous alley of icebergs stretches from Labrador to the southern coast of the island of Newfoundland. The alley of icebergs is notorious for Titanic sinking on April 15, 1912. It happened 645 km (400 miles) away from Newfoundland coast.
We had the idea of traveling to Newfoundland and watching icebergs long before our trip. We picked the dates for the end of June and the beginning of July. Usually, we take a short vacation between the Quebec holiday of Jean Baptist (June 24) and Canada Day (July 1).
We worried that the summertime was not the best time to see icebergs in Newfoundland. Fortunately, the iceberg finder map made our concerns disappear. By the way, it is a very useful resource, which helped us a lot to decide where exactly to go to see the icebergs. Also, you can find other helpful information, for example, what their size is, when they were seen, and how well they are visible from the shore.
How to get to Newfoundland to see icebergs?
Newfoundland from Montreal is pretty far away – more than 2,000 km (1,243 miles). There are two ways to get to Newfoundland. You can either fly in or go by car. By plane you fly to the capital of Newfoundland and Labrador St. John's. The flight duration from Montreal to St. John's is about 2 hours.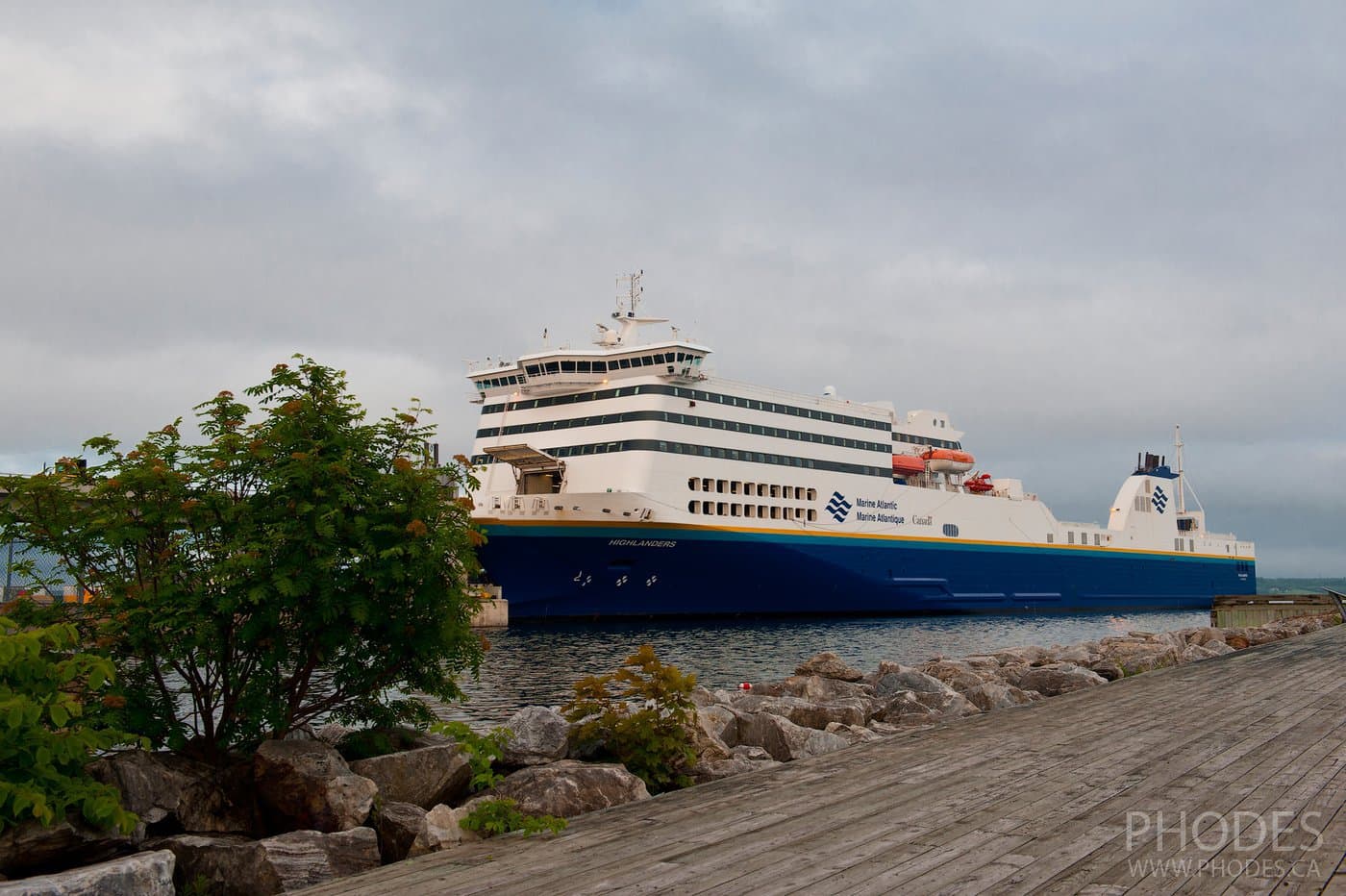 We picked the second way and divided our trip into three stages: New Brunswick – Nova Scotia – Newfoundland.
During our first Maritimes trip to New Brunswick in 2013 and the first visit to Nova Scotia, we could not see much due to the bad weather. This time we decided to visit those two, Maritimes provinces again. Anyway, they were on our way to Newfoundland. During this trip, the weather was much better.
About our trip to New Brunswick and Nova Scotia, we will write later. Here just want to name a few places we visited. A couple of days we spent in New Brunswick watching the highest tides in the world in Hopewell Rocks. We went hiking through a fairytale forest in Fundy National Park. Yet another couple of days we enjoyed the amazing beauty of our beloved Cape Breton in Nova Scotia.
In this post, we will mostly describe our stay on the island of Newfoundland and iceberg watching.
So, to get to Newfoundland, we took a ferry that departs from North Sydney in Nova Scotia and arrives in Port aux Basques in Newfoundland.
The travel time is about 7 hours to cover a distance of 178 km (110 miles). There are two ferries per day: in the morning and in the night. During the high season in summer, an additional ferry operates in the morning.
You can find all the details about rates and schedule for all ferries from Nova Scotia to Newfoundland on the Marine Atlantic website.
There are four categories of rates:
General
Reserved seating
2 berth and 4 berth cabins
Deluxe cabin (with a king-size bed)
In order not to waste our precious time, we decided to buy tickets for a night ferry. It goes without saying it would be much better to sleep in a comfortable cabin. But it turned out, a lot of other tourists including regular passengers like truckers had the same idea. So two days before ferry departure all the cabins had been already sold. Therefore, we bought two "Reserved seating" tickets.
On Marine Atlantic ferry there is a very spacious room dedicated for "Reserved seating" passengers. Along with the tickets we were given electronic cards to have access to the room. The "Reserved seating" room is located at the bow of the ferry on the upper deck. The large and comfortable seats are arranged in rows. Those seats are two times bigger than the standard seats on a plane. If you recline the seat, you can sleep practically in a horizontal position. A small footrest is also provided. It comes in handy if your height is above average 🙂
Tip #1 to travel on ferry
Blankets and pillows are not provided on the ferry, so you would better take them with you if you plan to travel overnight.
There are several restaurants and bars on the ferry. As we sailed at night, all restaurants were closed, but one bar was still open. We were sitting at a table near the window sipping wine and watching as the loading ended and the ferry slowly left North Sydney harbor. After we went to sleep in "our" room, where a big surprise was waiting for us. In the room, we heard a heavy snoring sound! From time to time other "roommates" went to the seat of the snorer and shake him until they realized how useless it was. The snoring session resumed even before they got to their seats. That night everybody in the room was struggling to fall asleep.
Tip #2 to travel on ferry
Do not forget earplugs! 🙂
Iceberg photo shooting, welcoming Newfoundland and a "piece of Belarus" in Canada
In Newfoundland, namely the terminal Port aux Basques, we got safely early in the following morning. We had breakfast in a cafe, checked the map of icebergs once again and headed to a small Canadian town with the royal name King's Point. We hoped to see our first iceberg there!
Website: http://www.townofkingspoint.com/
Address: Town of King's Point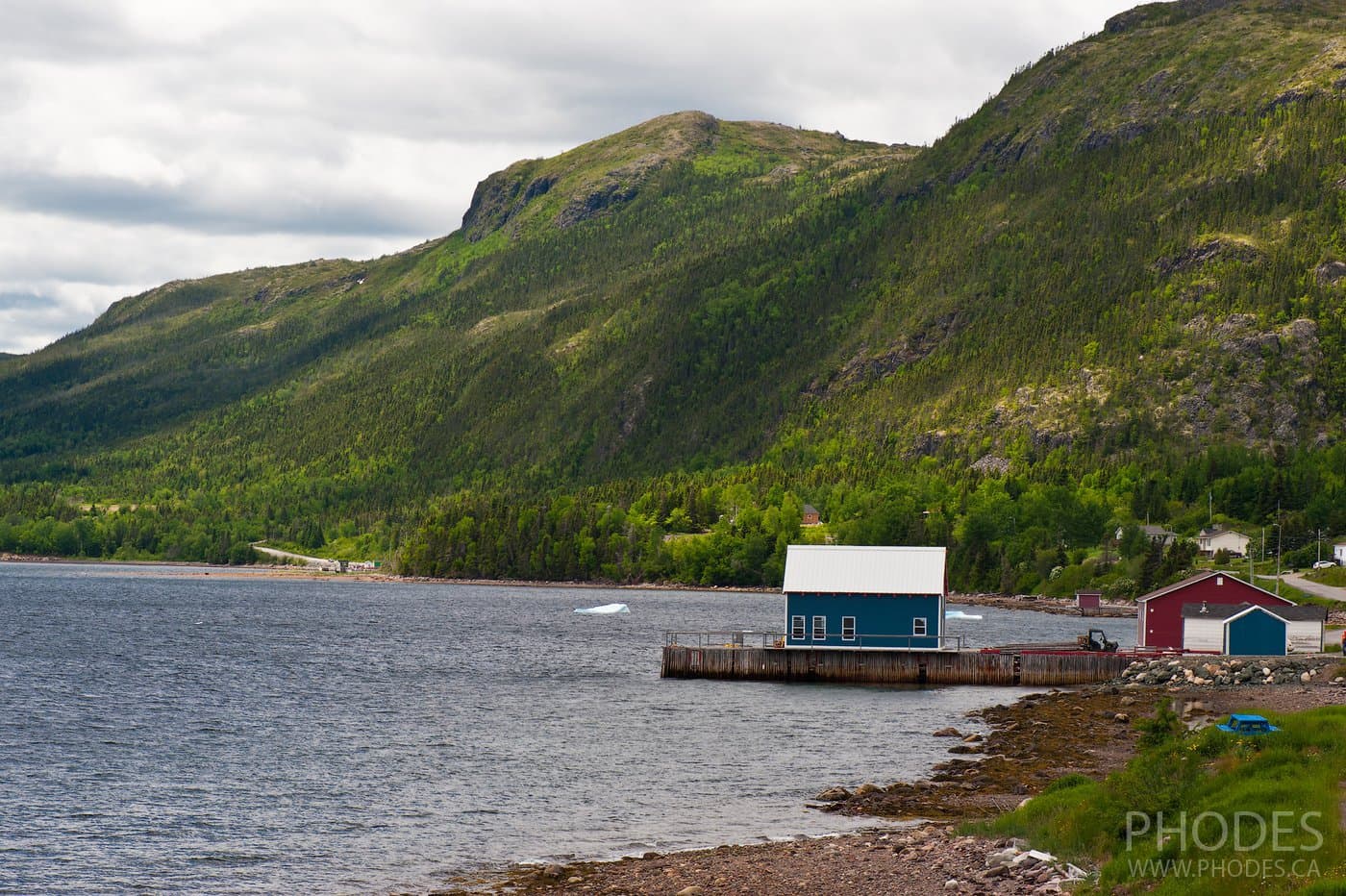 A couple of words about the town of King's Point. It is located about 400 km (250 miles) from the terminal Port aux Basques. The population is only about 900 people. At the same time, there is a small motel with a restaurant and a bar. We booked a room in that motel.
Address: Motel in King's Point
It took us about 4 hours to get to King's Point. The weather was cloudy, but it was not raining. Thanks to the GPS navigator we successfully arrived in the town, not to the iceberg, though. From there we had to find a way to icebergs without any gadgets. We noticed a road going to one of the King's Point bays and we followed it.
Although we were looking forward to seeing the icebergs, our first ice mountain appeared out of nowhere!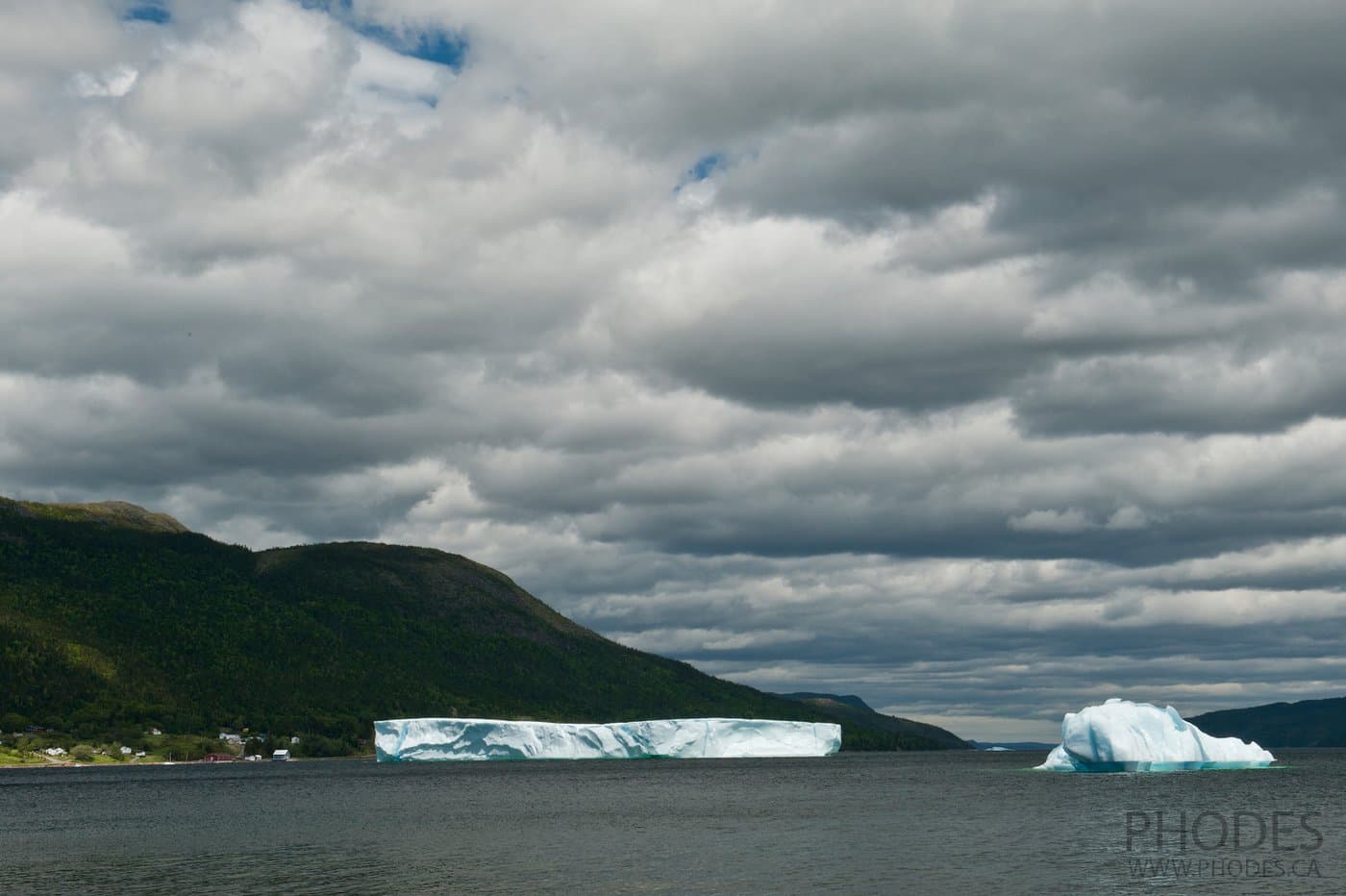 It's hard to describe how impressed and excited we got! It would be an understatement to say we did not believe our eyes. We were screaming with delight all the way to the iceberg. When we got out of the car, we noticed another small iceberg. One day it might have been a piece of the large one. The following two hours we spent walking back and forth along the coast watching icebergs and taking pictures of them from different angles.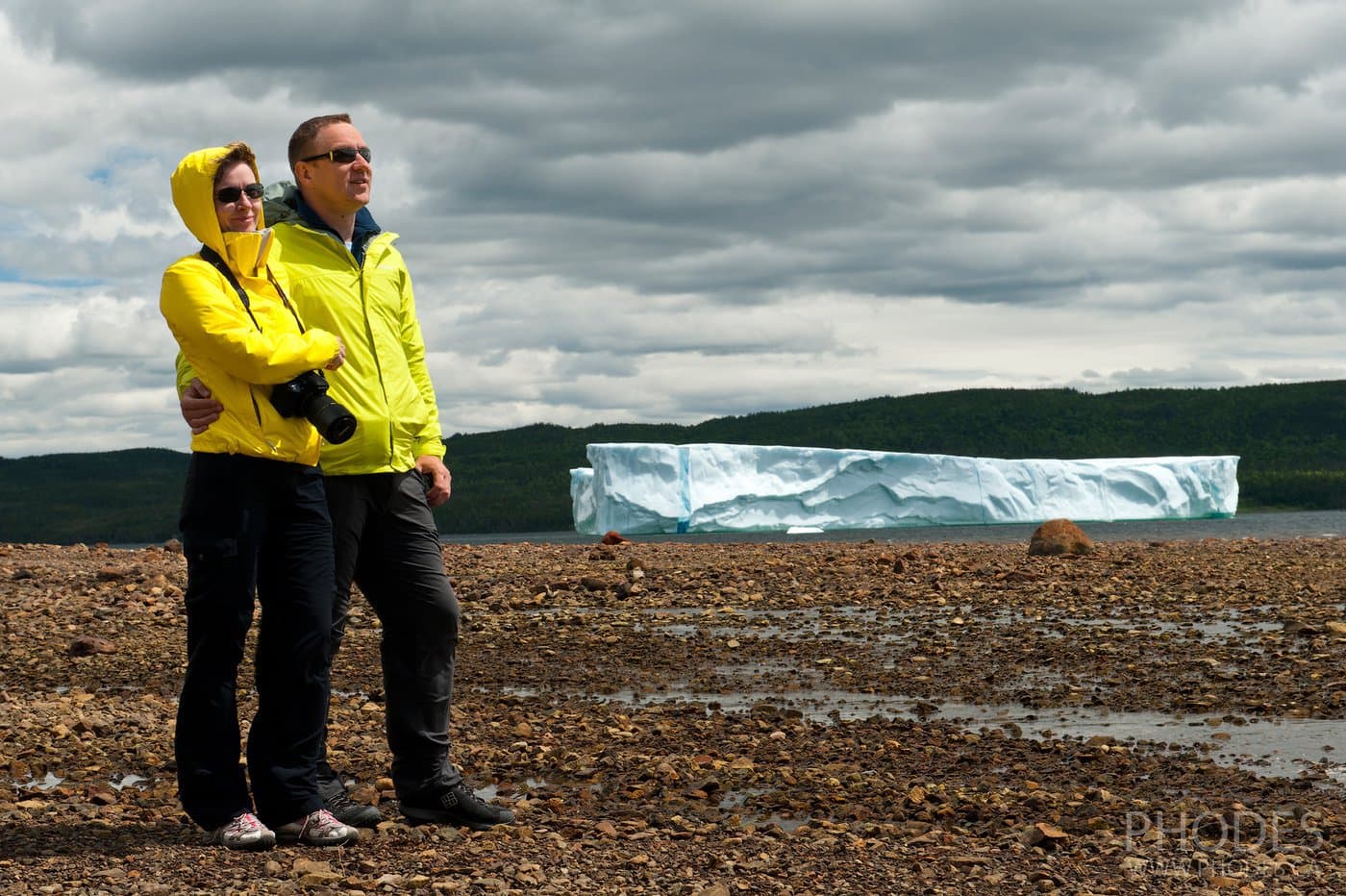 At some point, an old funny man from local people spotted us, two strangers with photo cameras. He came to us and immediately started jabbing non-stop. From his long monologue, we understood no more than 10 percent. With difficulty, we guessed that nearby there were other big icebergs to see.
After driving around the neighborhood we could not find them. So we decided to go to the motel to have lunch and continue our search later.
In the motel, we faced again an "incomprehensible" Newfoundland English. The local people speak very fast, and often they swallowed the words. Fortunately, there were always people around who assisted us with "translation". In the motel, our "translator" was the hostess, a very nice lady. She explained in detail how to drive to another bay to see more icebergs. We decided to take away our lunch and went to meet new icebergs.
The road did not go down to the coast of the bay. Once we parked the car, we had to walk a bit. Behind a small hill, we saw another stunning huge "chunk of ice" sitting in the middle of the bay. We called it "Komarovka". This is a nickname of a famous Komarovsky market in the capital of Belarus, Minsk. That new iceberg reminded us of its building.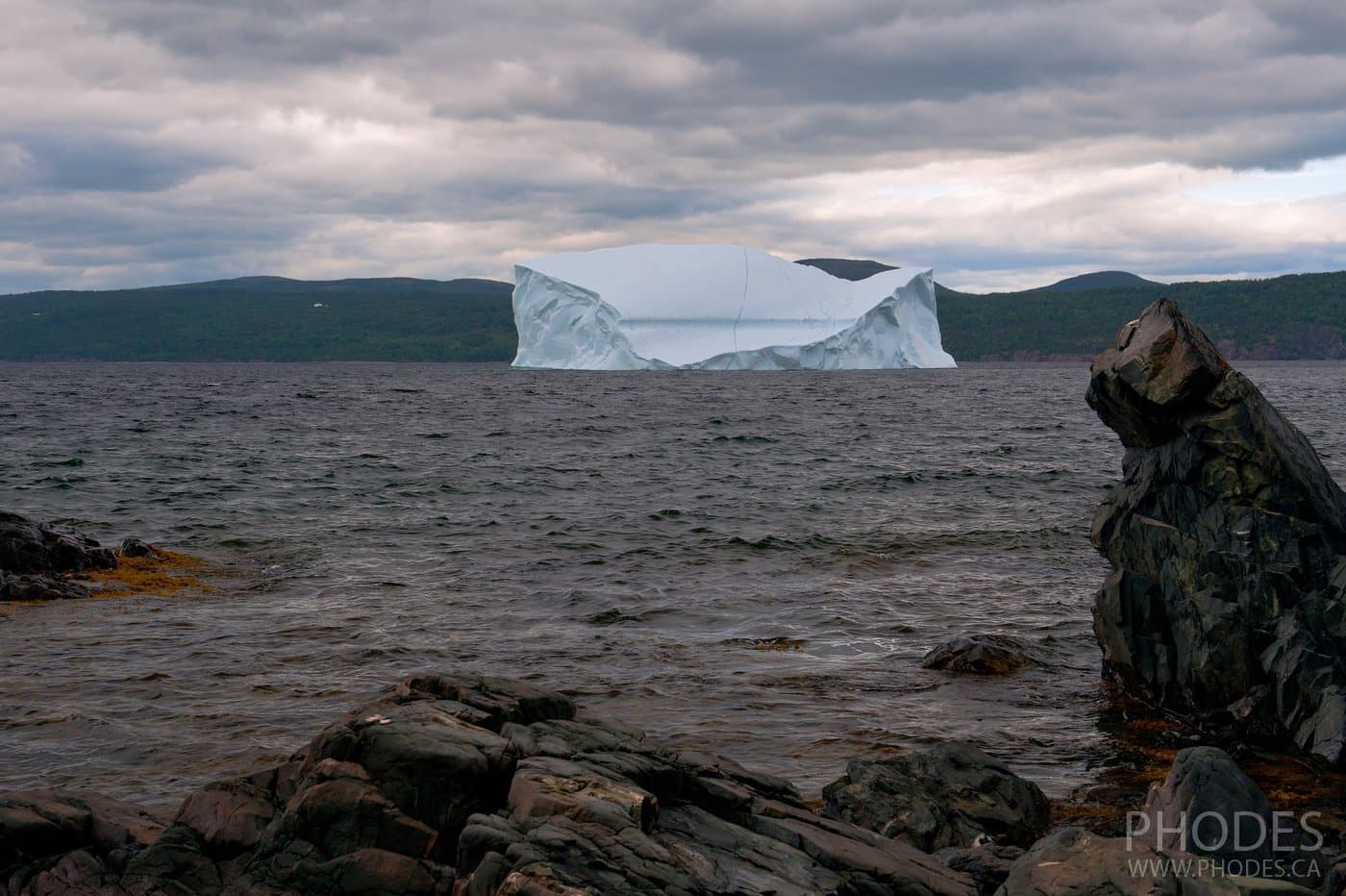 Driving further, we got to the beach, where the local kids were fishing with a net. In this area, we saw another couple of icebergs. Looking at the children, you might think that the water was warm. But it was not, it was far from it.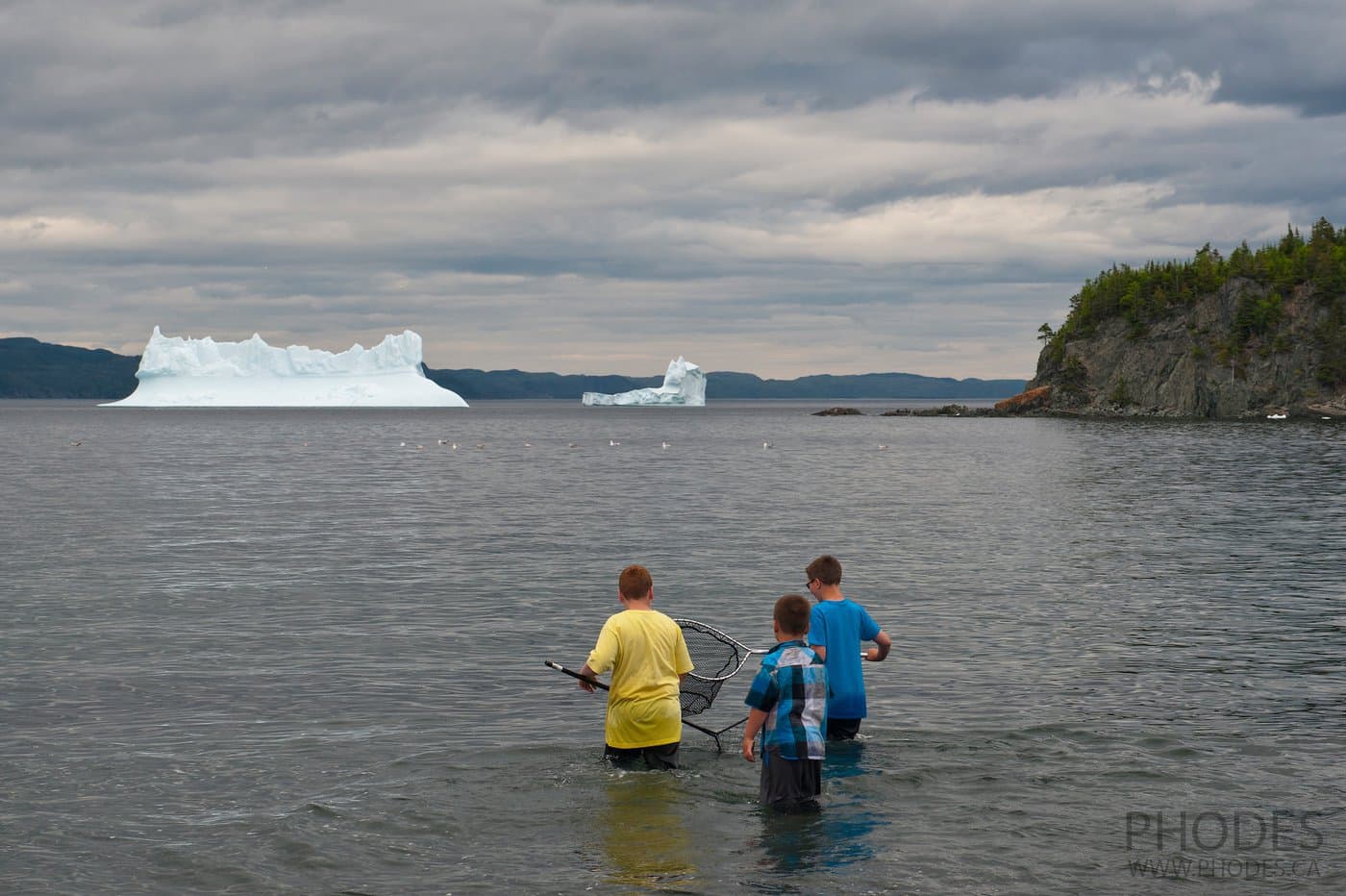 Walking around we heard shouting behind from the other end of the beach. We looked back and saw a man rushing towards us.
We could not even think that he was calling us. It turned out it was the "old funny man" we met earlier that day. He ran from the other end of the beach to show us a crab!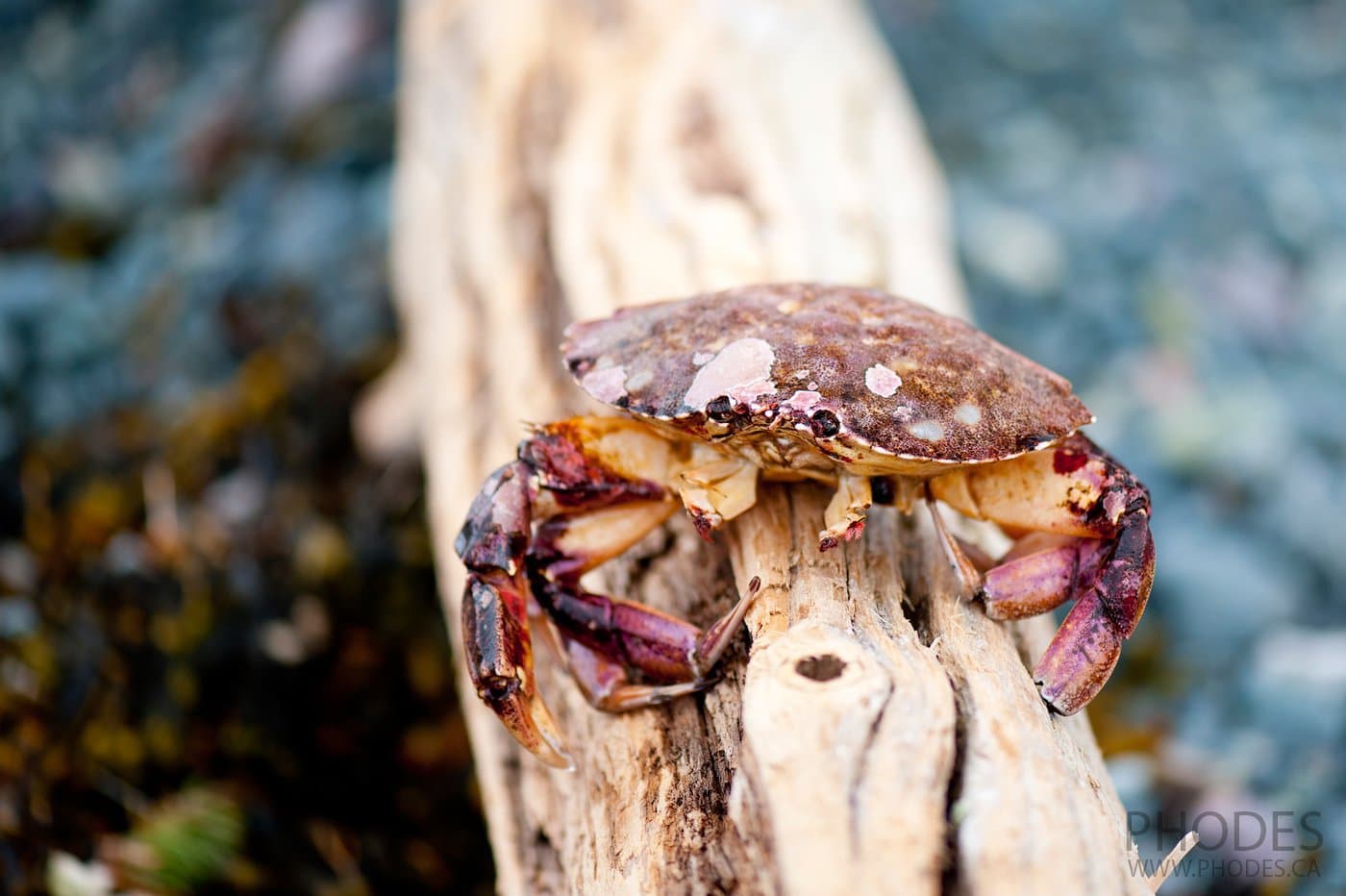 After he boasted about his big catch!
The longer we were in Newfoundland, the more we remembered our first trip to Prince Edward Island. People living on the islands are so sincere and welcoming, friendly and caring. Every time it touches us to the bottom of the heart!
In the meantime, it started to rain. It was time to finish our "sightseeing" and return to the motel. Surprisingly, the rain stopped in half an hour, and the sun came out. As a result, a beautiful rainbow appeared in the sky!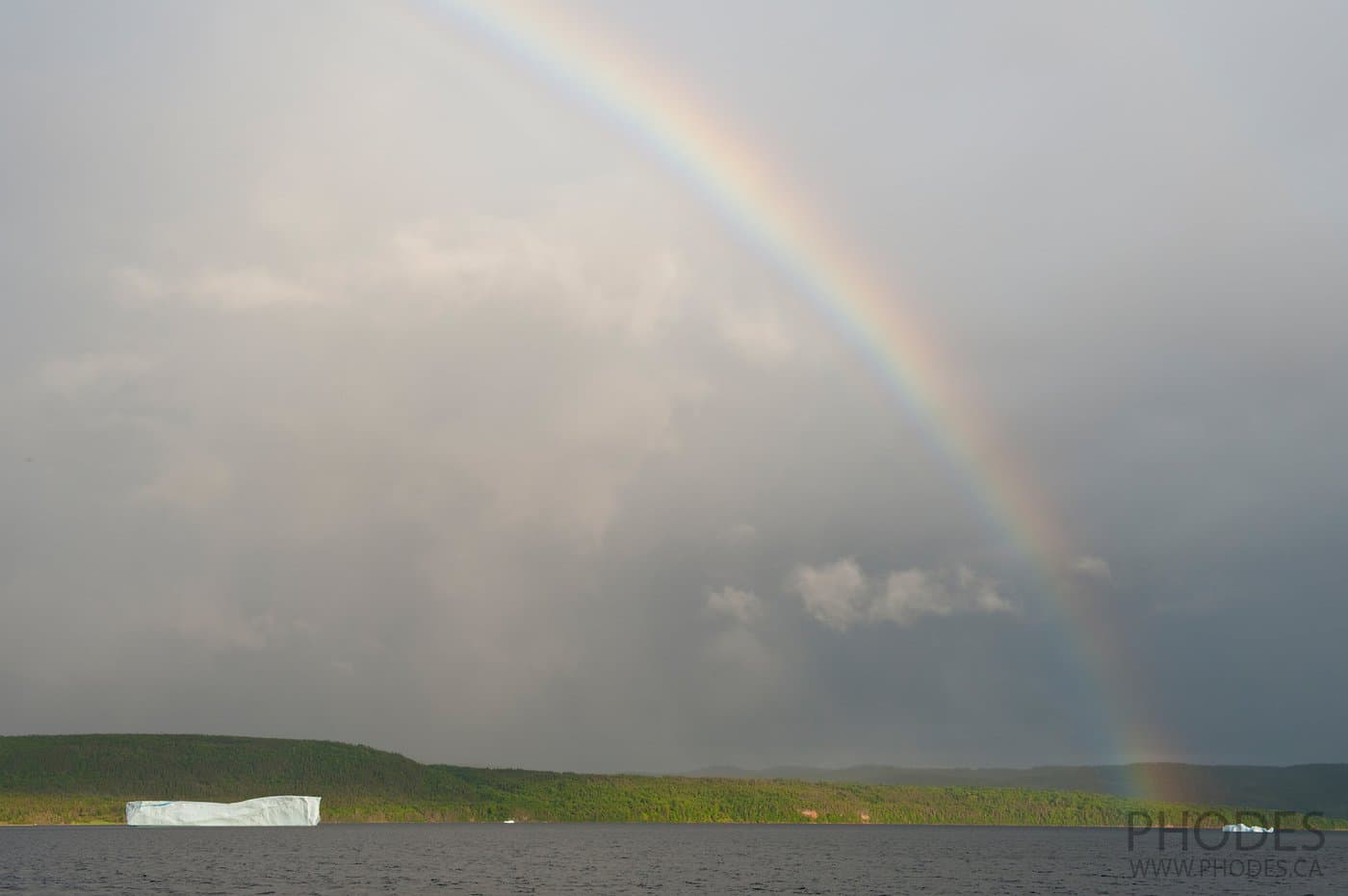 Watching icebergs in Twillingate, Iceberg Man Tours, and Transformer
Website: https://townoftwillingate.ca/
Address: Town of Twillingate
The following day we visited "the capital of the icebergs" in Newfoundland, the town of Twillingate. We had read a lot of good reviews about the Iceberg Man Tours so we decided to give it a try.
Unfortunately, our expectations from the Iceberg Man Tour did not come true.
There was a strong wind, the sea was stormy. So the captain had to control the boat all the time by himself, not trusting his young assistant. At the end of the tour, the captain apologized to our group that he could not spend a lot of time with the tourists. At the same time, we would like to thank the captain for taking care of us!
During the tour, we saw a couple of small icebergs. We gave a name to one of them. It looked like one of the characters from "Transformers" movie. We called it the Transformer.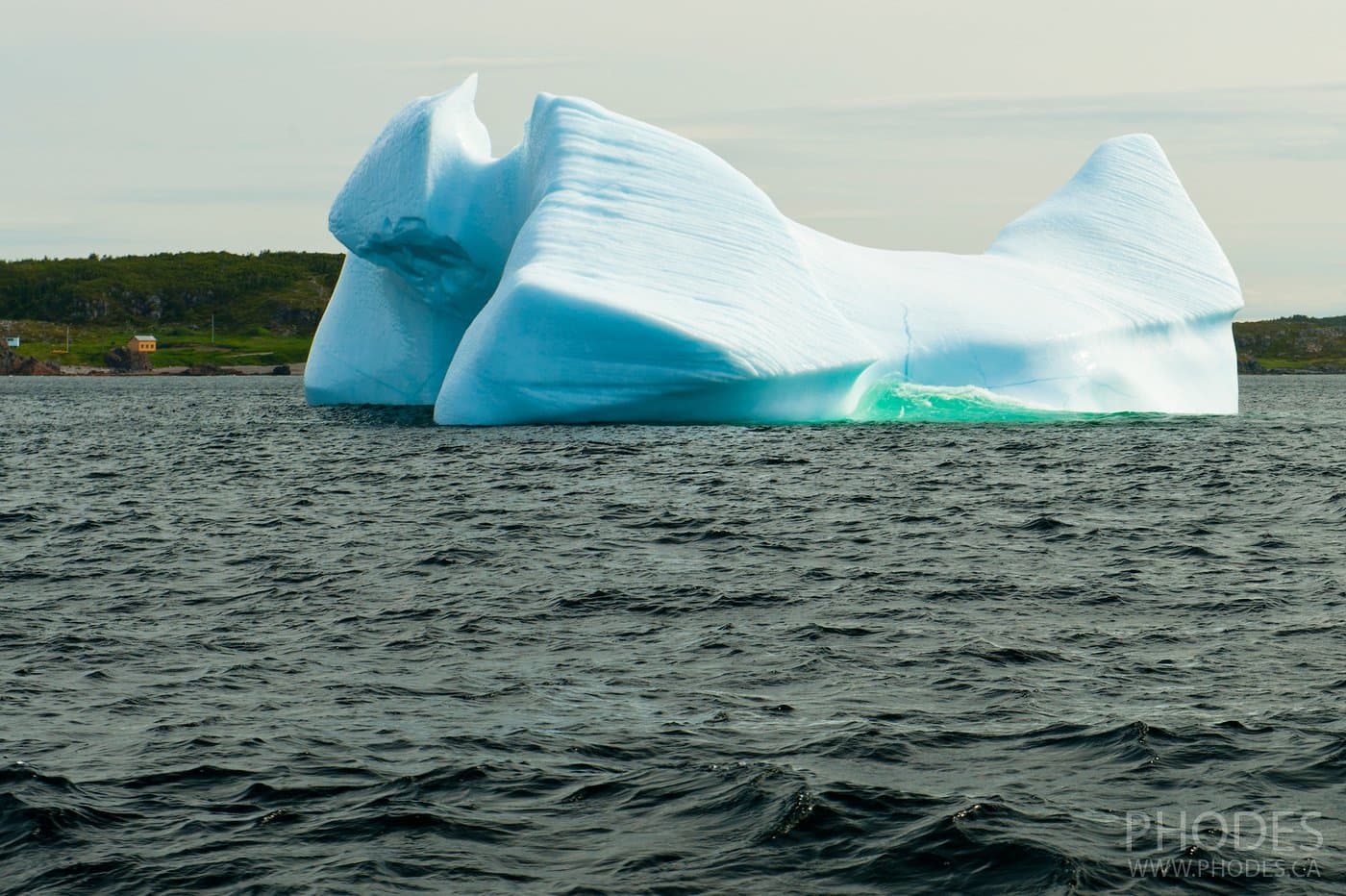 The second iceberg did not trig any associations, and remained nameless 🙂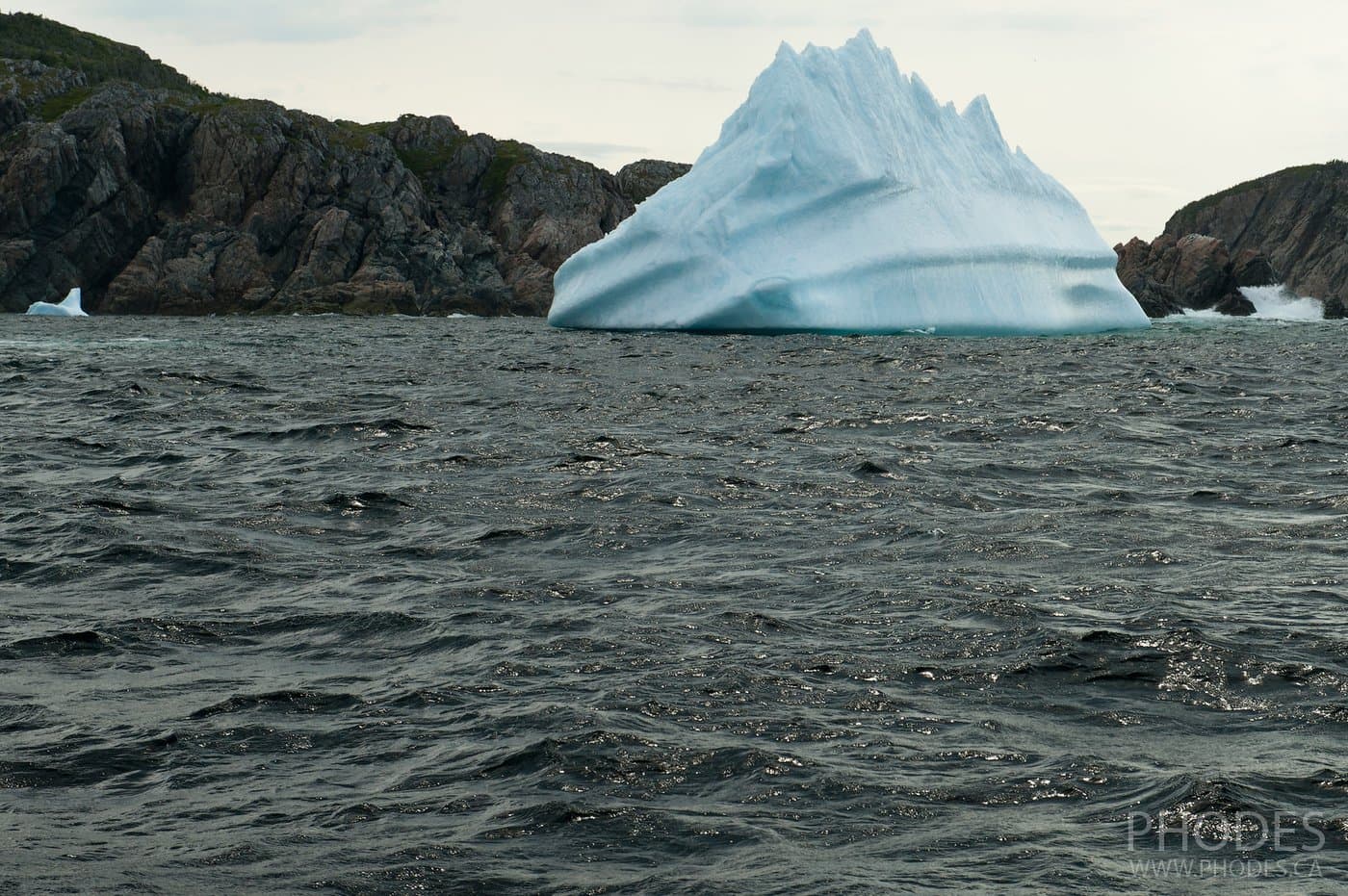 On the way back we were disappointed – our transformer was decapitated: (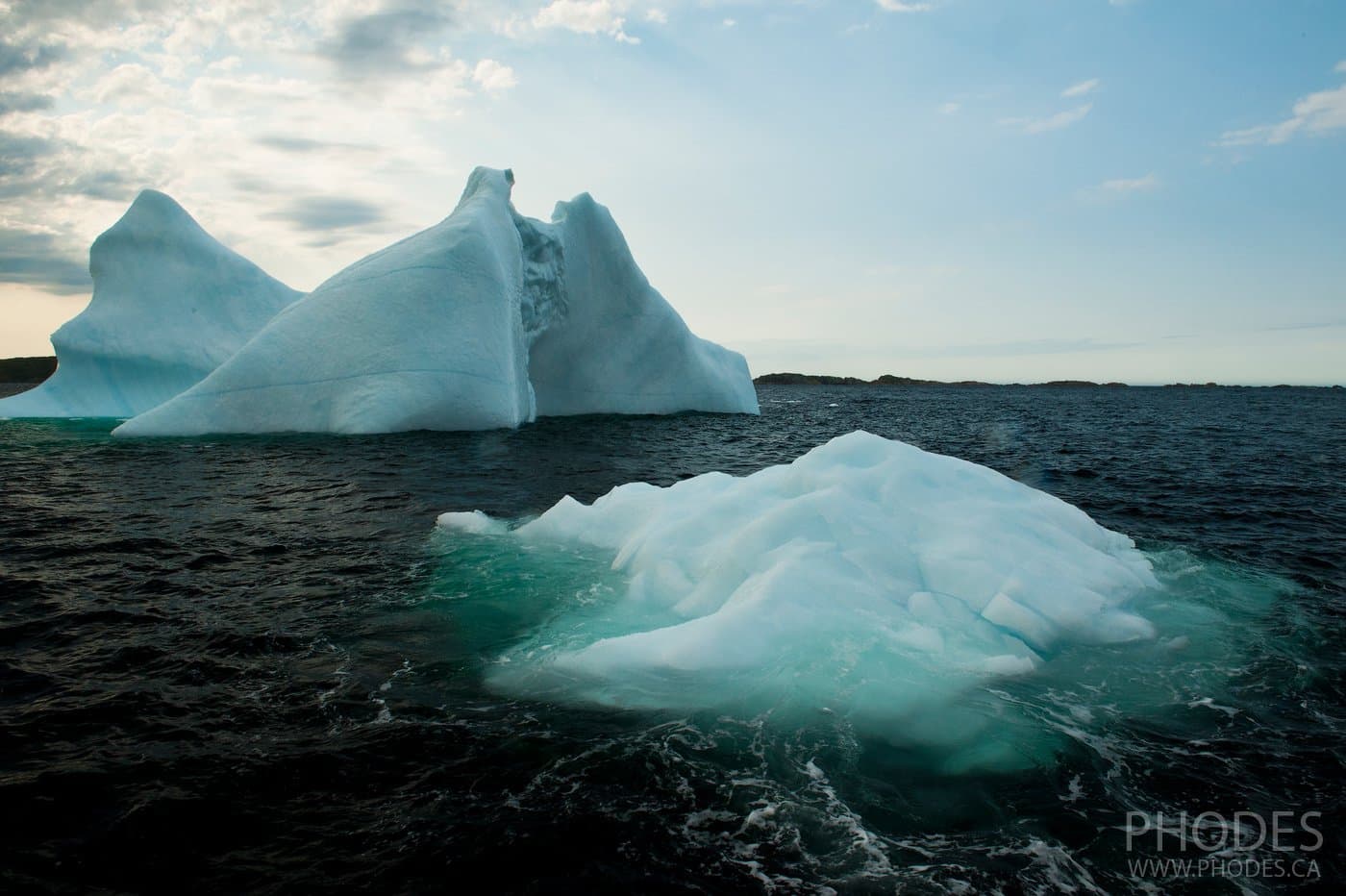 Thank you, Iceberg Man! We will come back to Newfoundland to take your tour again and hope, the weather will not let us down!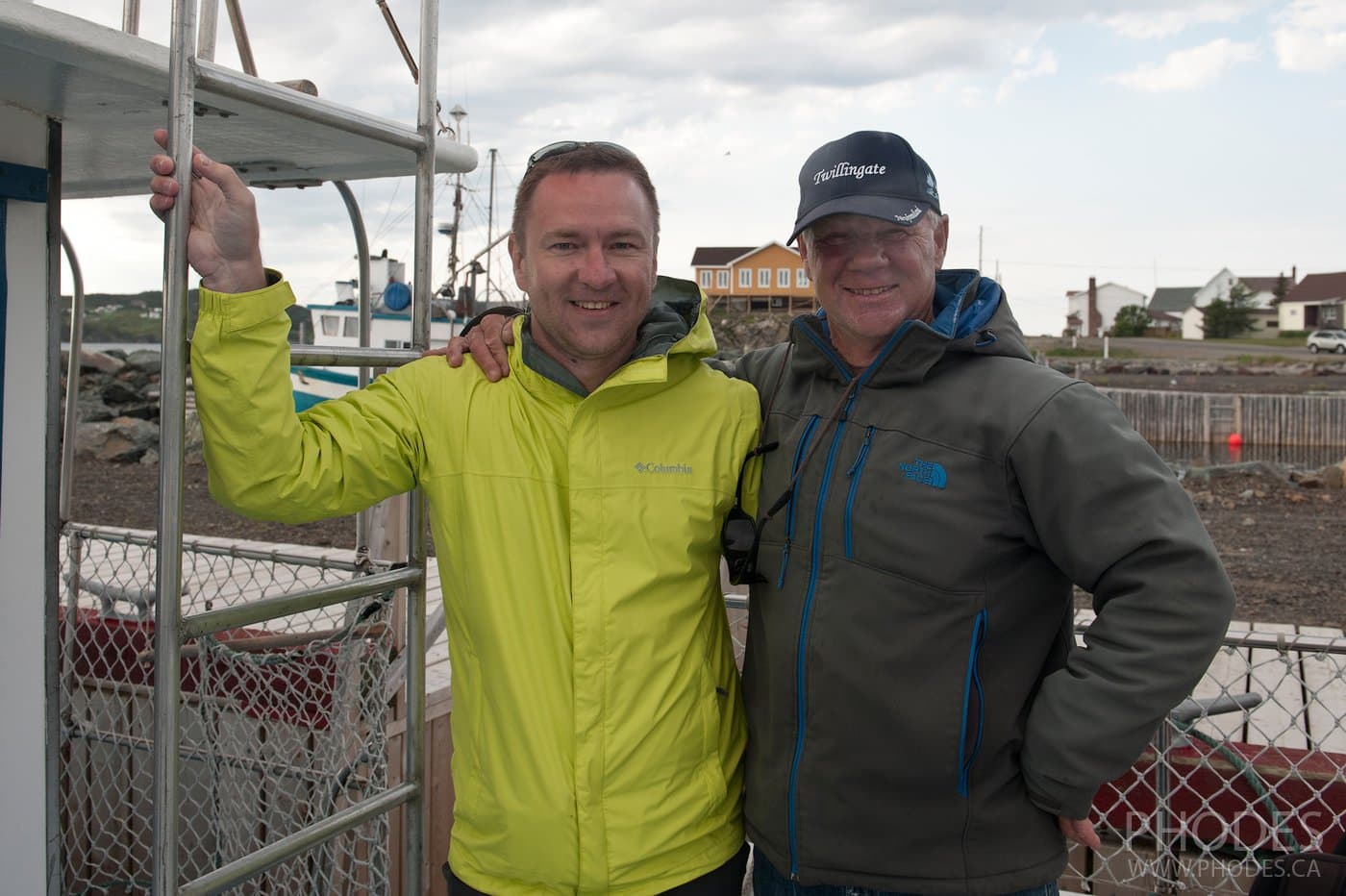 Well, that's the end of our trip to Newfoundland icebergs!
Canada Day in Gros Morne National Park, Newfoundland
In addition to icebergs, we also visited the very beautiful Gros Morne National Park.
Website: https://parks.canada.ca/pn-np/nl/grosmorne
Address: Gros Morne National Park
The Park, where we should definitely return! Again, because of the weather, we spent only one day in the Gros Morne Park. We just had time to take a boat tour.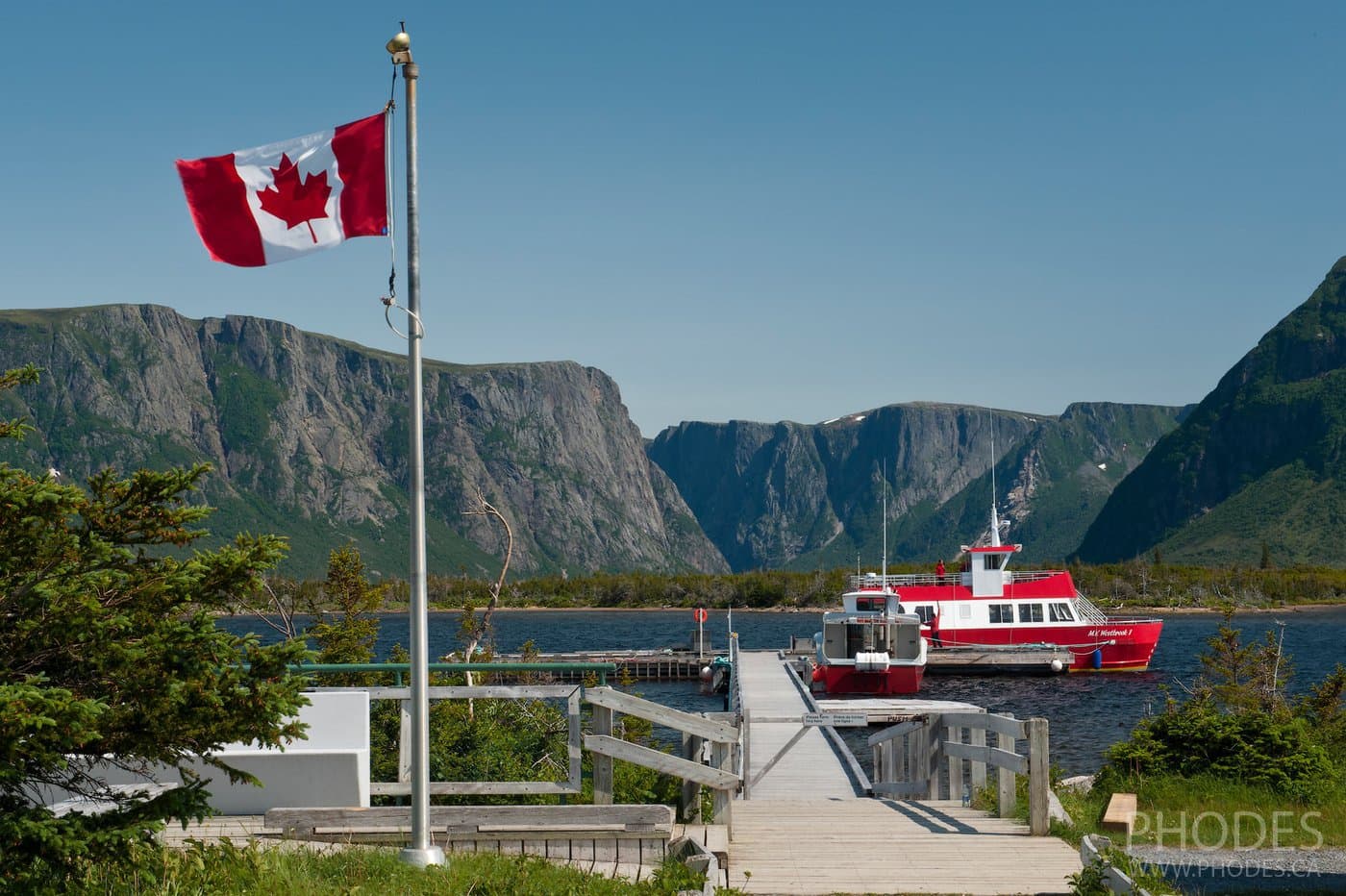 Very often we travel around Canada in the summertime.
If our trip falls on Canada Day, we always take a Canadian flag with us and take pictures! That was one of those trips.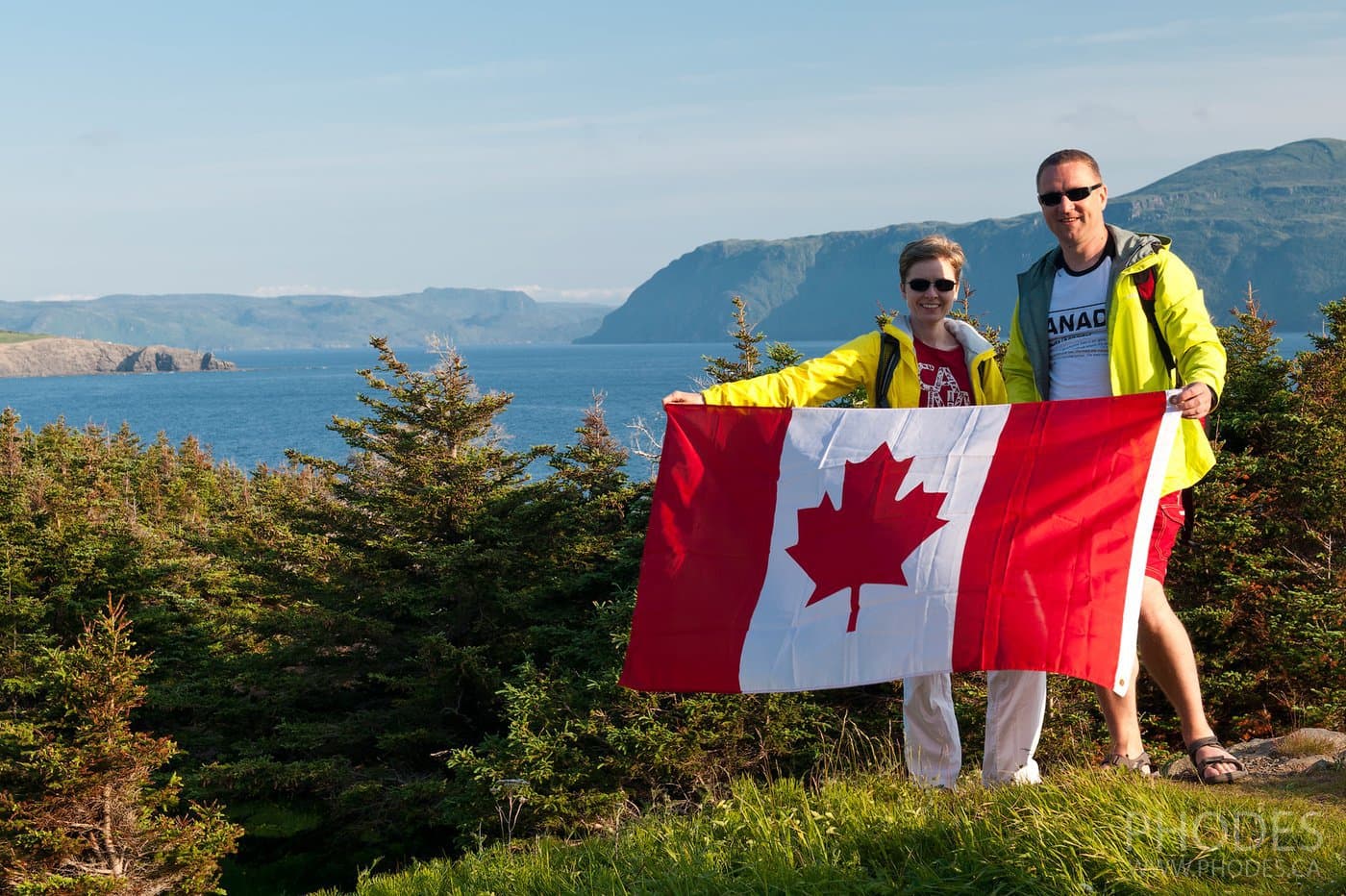 Special lobster dinner in Newfoundland
Of course, we could leave Newfoundland and not eat the lobsters! Near Twillingate, we found a small seafood restaurant Doyle Sansome & Sons Ltd.
Website: https://sansomeslobsterpool.com/
Address: 25 Sansome's Place, Hillgrade, NL A0G 2S0
When we made the order, it turned out the restaurant did not accept credit cards, only cash. We ran out of it. The waitress said that it was OK; the ATM is not far, and we can go after dinner to withdraw money to pay.
The restaurant was located on the beach. They have a large pool with lobsters. I confused the waitress with my question "Can I pick a lobster for my dinner?"
After checking with a manager, I chose a lobster and even took part in the cooking process! 🙂
After dinner, we checked the weather forecast and we decided not to book a motel, but go straight back to the ferry terminal Port aux Basques. The ferry in the morning still had some cabins available and we booked one of 2 berth cabin!
Goodbye, Newfoundland! One day we will travel back to you again to see more icebergs, explore your northern severe but breathtaking landscapes, and be charmed by your big-hearted Newfoundlanders!
Useful links